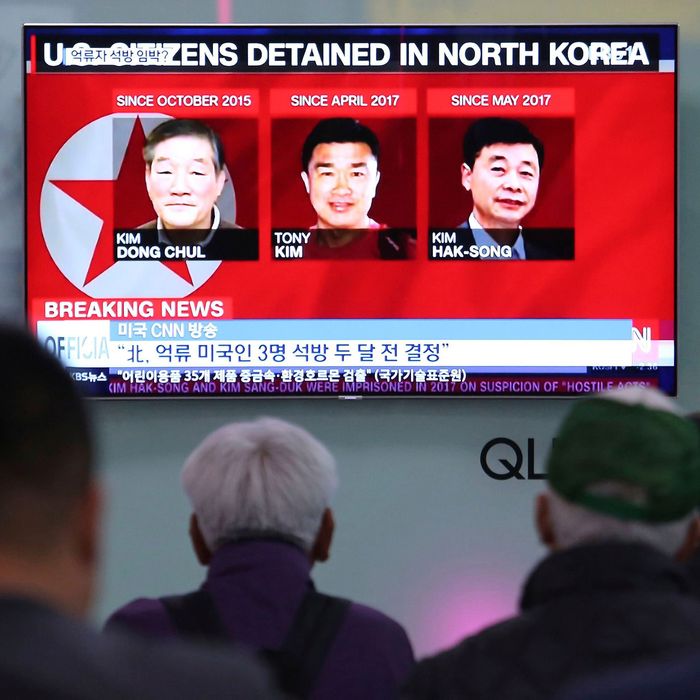 Three Americans detained in the North Korea are on their way home.
Photo: Ahn Young-joon/AP/REX/Shutterstock
Secretary of State Mike Pompeo is returning from Pyongyang with three Americans who have spent months detained in North Korea's brutal prisons, President Trump tweeted Wednesday morning.
Pompeo, who was on his second visit to North Korea in the past several months, was there to finalize the details of the coming meeting between Trump and North Korean leader Kim Jong-un. Trump tweeted that the time and place of meeting are now set.
News of the prisoner release was praised in Seoul, where President Moon Jae-in's spokesman said the "decision will work as a very positive factor for the success of the North Korea-U.S. summit." He also called for the release of six South Korean captives currently held in the North.
The release of the three Americans — Kim Hak-song, Tony Kim, and Kim Dong-chul — was not done purely out of goodwill, although Pyongyang might like the world to think otherwise. Rather, it was a precondition of the summit between Trump and Kim, a senior administration official tells the Times.
The prisoners, all taken captive within the past three years, are of Korean descent. Kim Dong-chul, arrested in October of 2015, is the longest imprisoned of the three men. In April of 2016 he was sentenced to ten years of hard labor after a conviction on espionage charges. Kim Hak-song and Tony Kim, both of whom spent time teaching at Pyongyang University of Science and Technology, were arrested last year on vague charges.
There will be intense interest in hearing from these three men once they return to the U.S., particularly after the last American captive to come home from North Korea died days later.