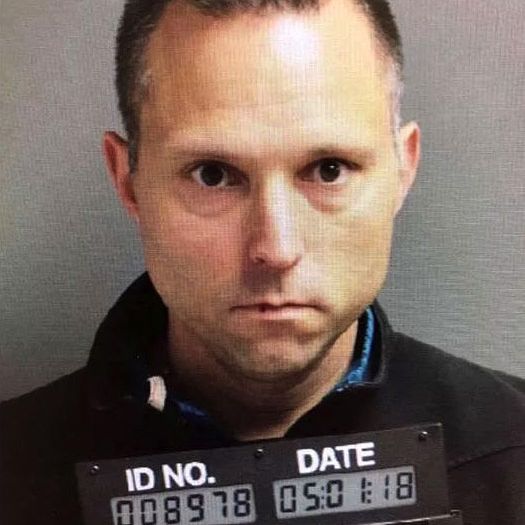 Thomas Tramaglini.
Photo: Holmdel Township Police Dept.
It became a part of the morning routine for track coaches at Holmdel High School in Holmdel, New Jersey. Show up to work, walk to the track, spot a pile of human excrement on the ground. Eventually, they reported their findings to school officials who set up a sting to bust the perpootrator.
On Monday, they found their man: forty-two-year-old Thomas Tramaglini, who happens to be the superintendent of the Kenilworth school district. Arrested at 5:45 a.m., Tramaglini has been charged with lewdness, littering, and defecating in public. He's now on paid leave from his $147,504-a-year job.
Tramaglini hasn't spoken up since his arrest, rebuffing attempts by reporters to get his side of the story. That's left local newspapers to probe the community for their thoughts on the man dubbed the "pooperintendent."
Carly Baldwin, a reporter for Holmdel Patch, dug into whether the avid runner might be suffering from a case of runner's diarrhea. She called Sandy Hookers Triathlon Club president Doug Rice, but he wasn't very understanding.
"Let's say out of 1,000 runners, you'd maybe have two that have a 'bathroom problem.' That's about the norm," he said. "But it shouldn't happen on a daily run of a few miles." … "I think he has some kind of issue," said Rice. "But he should address it if he's going to keep running."
Readers of the Asbury Park Press, on the other hand, have cut Tramaglini some slack. The paper compiled supportive notes about the "mad pooper" (he's earned a lot of nicknames) under the headline "School chief's defecation charge: Readers sympathetic."
"When ya gotta go ya gotta go."

Gaye Galluccio




"Maybe he was gonna poop his pants… It's not the end of the world. Who cares. Nature called."

Jaime Manley Krygier




"Come on. He obviously had to go to the bathroom. So what? They arrested him for it? Really? This needs to be dropped."

Sandra Formoso Markey​​​​​​​
The paper also polled its readers, asking, "What would you do if you had to defecate badly, but there were no public restrooms available nearby?" More than half said they would "find the nearest tree to squat behind."