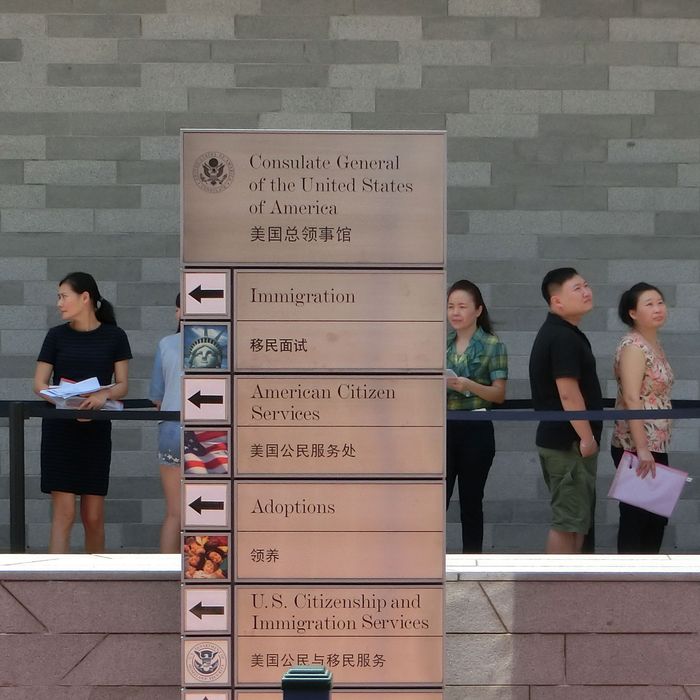 Outside the U.S. consulate in Guangzhou, China.
Photo: Freer Law/Getty Images
In an episode that recalls the so-called "sonic attacks" in Cuba from 2016 and 2017, a U.S. State Department employee in China has suffered a mild traumatic brain injury after reporting "subtle and vague, but abnormal, sensations of sound and pressure," according to a health alert issued Wednesday.
In the alert, the State Department tells Americans visiting China to be aware of the potential for "unusual acute auditory or sensory phenomena accompanied by unusual sounds or piercing noises." Should someone in China hear these noises, they should move somewhere where they don't hear them anymore, the alert says.
The State Department employee who suffered the brain injury worked in the city of Guangzhou in southern China. After first reporting symptoms in late 2017, the employee was sent back to the U.S. in May of 2018. Last week, the U.S. Embassy in Beijing learned of the diagnosis: mild traumatic brain injury.
That diagnosis matches those received by a couple dozen U.S. diplomats who suffered headaches, dizziness, and hearing loss after "sonic attacks" in Cuba. The sounds reported by the victims of the attack in Cuba range from "buzzing" and "grinding metal," to "piercing squeals" and "humming." The source of those sounds remains a mystery and Cuba has denied any involvement in the incident.
Back in China, the spokeswoman at the U.S. Embassy in Beijing said the incident is being taken "very seriously" by both the U.S. and China. "The Chinese government has assured us they are also investigating and taking appropriate measures," she said.