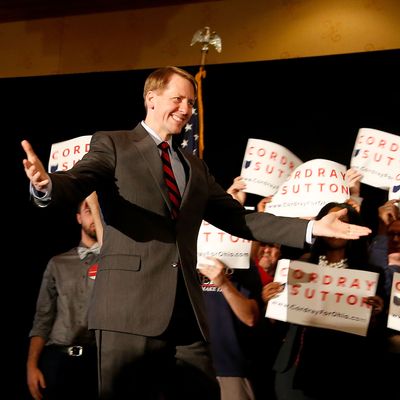 Democratic gubernatorial candidate Richard Cordray celebrates his win on May 8, 2018, in Columbus, Ohio.
Photo: Kirk Irwin/Getty Images
The candidates favored by the oddsmakers didn't win every single race in the four-state primaries held today: Republican U.S. representative Robert Pittenger of North Carolina lost his party's nomination for another term in a rematch with 2016 opponent Mark Harris. Other than that, though, this was simply not a night for upsets. The big shocker many had anticipated, a West Virginia GOP Senate nomination for rogue ex-con Don Blankenship, emphatically didn't happen. You can say the same about dogs that did not bark in the other three states' primary election results.
In the GOP primary to choose a challenger to vulnerable Democratic Senator Joe Donnelly, bitter rivals and House colleagues Luke Messer and Todd Rokita learned to their sorrow that beating up on each other simply opened a path to victory for a third candidate. Wealthy former state legislator Mike Braun won the nomination with just over 40 percent as the two congressmen split the remainder of the vote right down the middle. Braun outspent the duo and succeeded in depicting them as "swamp people" and himself as a sort of Hoosier version of President Trump: a "conservative outsider." Messer and Rokita tardily tried to remind voters that Braun was a former Democrat who had once (gasp!) voted for a gas-tax increase in the legislature.
Among the three, Braun probably has the best chance against Donnelly, particularly if he keeps coming up with money. Aficionados of political eccentricity will mourn the departure of Rokita and the cardboard cutout of Trump that he carried around with him on the campaign trail.
In the most competitive House district in Indiana, Democrats got the candidate party leaders wanted in Mel Hall. He'll take on potentially vulnerable Republican incumbent Jackie Walorski. And the vice-president's older brother Greg Pence easily won the GOP nomination for Mike's old House seat.
The aforementioned loss by U.S. Representative Robert Pittenger was not that big a shock, since Mark Harris (a very well-known Christian-right minister and pol) had come close to toppling him in 2016. Harris's extremist profile could, however, help Democratic nominee Dan McCready make this Charlotte-suburbs-based district quite competitive in November.
Another perpetually endangered Republican House incumbent, Walter Jones, won a plurality over two primary opponents. That means the conservative eccentric, who opposed both the Iraq War and last year's GOP tax bill, will win another term, as no Democrat is running against him.
Election night in the Buckeye State's closely watched gubernatorial primaries was almost over before it began, as Democrat Richard Cordray and Republican Mike DeWine immediately built huge leads based on early voting. Former Consumer Financial Protection Bureau director Cordray beat former congressman, Cleveland mayor, and presidential candidate Dennis Kucinich (who was being backed by the Sandernista Our Revolution organization) by a shocking 63/22 margin. Kucinich did not win a single county, even in his northeast Ohio base.
DeWine, Ohio's attorney general and a former U.S. senator, dispatched Lieutenant Governor Mary Taylor, who ran a hard-core conservative campaign, by a comfortable 60/40 margin. Unexpectedly, the closest of the big statewide primaries was the GOP U.S. Senate context, in which the Establishment- and Trump-backed favorite, Representative Jim Renacci, fell short of a majority in defeating banker Mike Gibbons. This isn't a great sign for Republicans hoping Renacci can defeat incumbent Democrat Sherrod Brown.
The key House battle in Ohio was in the 12th District, where the regular primary coincided with a special election primary to choose a successor to Representative Pat Tiberi, who resigned last year. Democratic front-runner Danny O'Conner won his primary fairly easily. But Tiberi's endorsed candidate, Troy Balderson, struggled against conservative firebrand Melanie Leneghan in an expensive slugfest that became a surrogate fight between D.C.-based moderate and conservative PACs. With nearly all the votes in, it appears Balderson survived, but he could have a tough time with O'Conner in an August special general election.