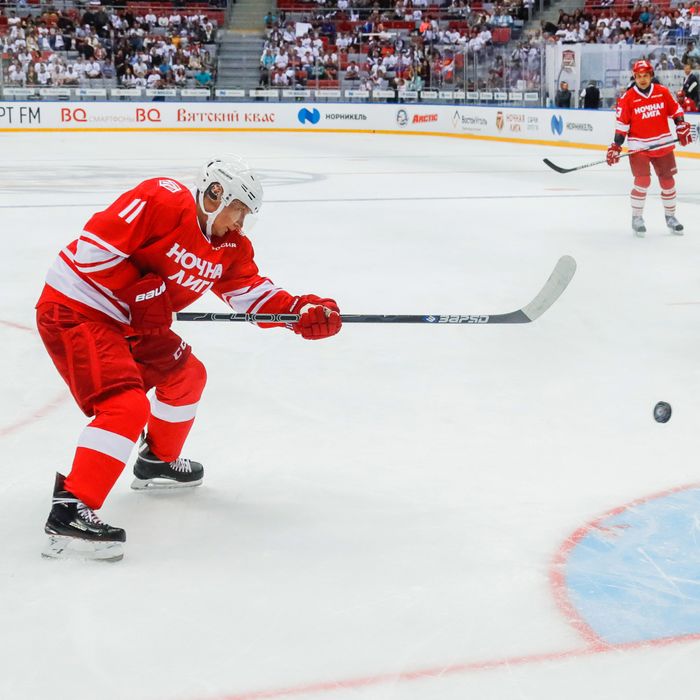 He shoots, he scores!
Photo: Mikhail Metzel/TASS via Getty Images
Russian president Vladimir Putin isn't the athlete he used to be.
The 65-year-old, who was reelected to a fourth term as president in March, took part in an annual hockey game with former pros on Thursday and scored only five goals. That's down from the seven he scored last year and the eight he notched in 2015.
Playing alongside former NHLers Pavel Bure and Slava Fetisov, Putin was all but guaranteed to be on the winning side. Not just because he'd send anyone who dare defeat him a special glass of tea, but because the opposing team was made up of amateurs, a governor, and a "pro-Putin billionaire."
He may score a lot of goals, but Putin isn't exactly Wayne Gretzky. Last year, a USA Today hockey scout provided this scouting report:
"He skates fine in a straight line, but his turning radius exhibits all the grace of a 500 foot-long Russian battleship," Woodlief said. "He must be well known in Russian hockey circles for having Gordie Howe's well-educated elbows, because everybody seems to give him a wide berth — he certainly knows how to make room for himself.




"As for the other aspects of his game depicted in the video, well … let's just say his wrist shot is a little weak."
Putin began playing in the annual hockey exhibition in 2012, and he's dominated each every time he's suited up, which is easy when your opponents are scared to play defense.