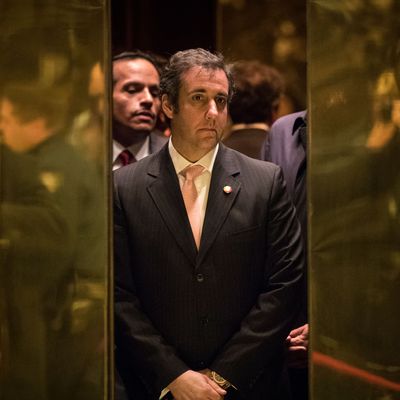 Michael Cohen, taking care of business, in December 2016.
Photo: Drew Angerer/Getty Images
On Tuesday night, the British tabloid the Daily Mail reported that Michael Cohen had asked Ahmed al-Rumaihi, who runs a $100 billion Qatari sovereign wealth fund, to send him "millions" of dollars, which he would then pass on "to Trump family members."
The tabloid attributed this claim to a "senior Kuwaiti government source" — who said that Rumaihi had told him of the attempted bribe "so that he would not appear to be 'going behind Kuwait's back' in his relationship with the Trump administration."
As Jonathan Chait noted Wednesday morning, there was reason to accept the veracity of this report (despite the tabloid's mixed reputation for accuracy) :
One is that, after Stormy Daniels's lawyer Michael Avenatti published Trump Tower surveillance video of al-Rumaihi, he suspiciously denied attending the meeting, only for his firm to admit it later. Another reason is that multiple reports have linked both Qatar as a source of players in the broader web of shady Trump financial dealings with Russia, and Cohen as a key conduit. So it would fit the pattern for Cohen to be soliciting a bribe from Qatar on behalf of the Trump family. And yet another reason is Trump's notorious resentment of other people making money off of him. If Cohen used Trump's election to solicit bribes, it seems highly likely Trump would demand a taste.
Alas, on Wednesday, Rumaihi put the whole scandal to rest. In an interview with the Intercept, the Qatari investor revealed that Michael Cohen had never asked him for "millions" to send to the Trump family — rather, the president's personal lawyer merely asked the manager of a foreign government's sovereign wealth fund for a measly $1 million bribe, without specifying where those funds might end up once they left the Qataris' pockets.
In Rumaihi's account, he first met Cohen at a presidential-transition fundraising breakfast in Manhattan on December 7, 2016. There, he asked Cohen if he could "pick his brain on an infrastructure fund the Qatar Investment Authority had been contemplating, worth more than $50 billion." Cohen invited him to pick away.
Days later, they met at a restaurant in midtown Manhattan. Cohen suggested that Rumaihi could use his infrastructure fund to revitalize some Rust Belt towns, saying, in Rumaihi's telling, "'For example, we can find a steel factory that is about to shut down. You guys can invest. I'll give you some names to appoint as partners. You guys put in the money, we will put in the know-how, and share the profits 50-50. We can perhaps get a federal government 'off-take agreement' for 10 to 15 years. It will revitalize the city, great PR, you guys will look like you're saving the city, everybody wins.'"
Rumaihi concluded that this arrangement was designed to benefit Cohen's proposed "partners" more than his investment fund or the American midwest. The conversation did not improve from there:
When al-Rumaihi asked Cohen more generally about important projects that the investment fund should back, Cohen said there were plenty of options. But Cohen said he would need $1 million first, as part of his fee, al-Rumaihi told the Intercept. 




Cohen moved the discussion along, saying "we can discuss those details later," al-Rumaihi said. Al-Rumaihi remembered struggling to find words to reply, and finally saying, "OK." Al-Rumaihi said he didn't mean to signal agreement, but rather, as he recalled later, "that we would discuss those details later and explain why QIA, as a matter of strict policy, does not pay middleman fees in any transactions."   
Rumaihi denies making any payments to Cohen. And the recently revealed financial documents from Cohen's Essential Consulting LLC suggest that the Qatari investor did not, in fact, take Trump's lawyer up on his "services."
Further, Rumaihi's account of the meeting is quite consistent with preexisting reports about Cohen's "aggressive" approach to selling well-heeled special interests influence over the White House. Previous reports have already established that Cohen pitched his consulting services — at a very similar price — to the Swiss drugmaker Novartis, among multiple other major corporations.
That said, Rumaihi's honesty and ethical scruples have recently been called into question by a mutual business partner of Steve Bannon and the rapper Ice Cube. That individual, Jeff Kwatinetz, along with Ice Cube, are currently suing Rumaihi for failing to honor a financial commitment he made to their three-on-three basketball league. As part of that suit Kwatinetz filed an affidavit alleging that Rumaihi tried to use him as a conduit for bribing Bannon:
Mr. Al-Rumaihi requested I set up a meeting between him, the Qatari government, and Steve Bannon, and to tell Steve Bannon that Qatar would underwrite all of his political efforts in return for his support.




I immediately let Mr. Al-Rumaihi know that I was offended by this request, that I was trying to run a basketball league and need our money paid, and I stated that neither I nor Steve Bannon would ever take, or even entertain the concept, of a bribe of any kind. I was appalled.




Mr. Al-Rumaihi laughed and then stated to me that I shouldn't be so naïve, that so many Washington politicians take our money, and stated "do you think [Michael] Flynn turned down our money?"
All of this comes on top of the public facts that Jared Kushner's family sought Qatari financing for their financially embattled 666 5th Avenue building, and that the Trump administration gave its blessing to a Saudi blockade of Qatar shortly after the Kushners' overtures were rejected.
All of which is to say: It's not terribly clear what exactly is going between the Qatari financial elite and Trump world, but there's every reason to assume that it's totally normal, and that everyone involved only has the best interests of their countrymen at heart.