Rockstar Games (best known for the Grand Theft Auto series) put out the third trailer for Red Dead Redemption 2, the prequel to the critically acclaimed 2011 title Red Dead Redemption, due out October 26, 2018, for PlayStation 4 and Xbox One.
For fans of the original, there's plenty to chew on. The first Red Dead Redemption was set in 1911 and centered around former outlaw John Marston as he galloped along on horseback while automobiles puttered along and telephone lines were strung up. Marston, a reluctant bounty hunter, spent the majority of the game tracking down members of the Van der Linde Gang, a group of outlaws he once ran with, led by its charismatic leader, Dutch Van der Linde.
The prequel will be set 12 years earlier and introduces the rest of the Van der Linde Gang. "By 1899, the West had nearly been tamed," reads text in the trailer. "The age of gunslingers and outlaws had almost passed into myth." This time around, the main character is Arthur Morgan, another member of the Van der Linde Gang. After a train robbery goes bad, the gang flees into the countryside, and begins to fracture. Judging from the trailer, Morgan is already feeling like their time is up. "This whole thing is pretty much done. We're more ghosts than people," he tells another character in the trailer.
There's also some hints of gameplay to be gleaned from the trailer. Tense gun duels seem to be making a comeback, and hand-to-hand combat seems to have taken a big leap forward. Sharp-eyed viewers will spot plenty of characters from the original game, most conspicuously, this shot of Red Dead Redemption's protagonist John Marston, looking much younger and with his distinctive facial scars (long faded in the original game) still very fresh on his face.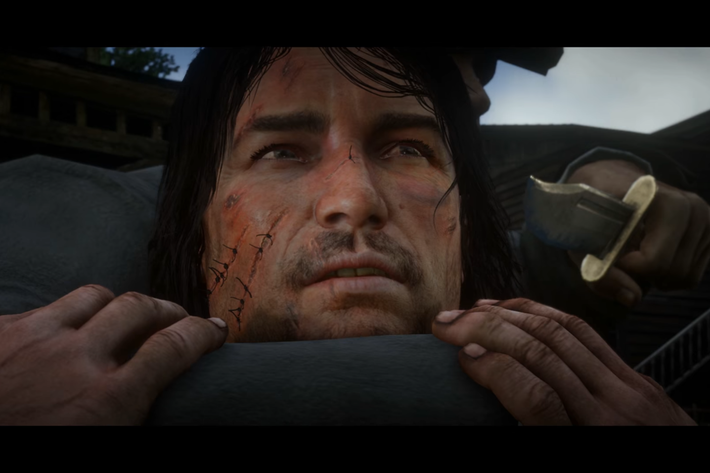 One of the reasons Red Dead Redemption is still so highly esteemed was its elegiac tone — Marston was a man living a way of life that had already come to an end, trying to atone for his sins and start again with a wife and son he loved. Unlike the Grand Theft Auto series, which at its worst is mostly nihilistic rage and sledgehammer-subtle commentary about American excess, Red Dead Redemption allowed for moments of regret, tenderness, and grief. In Red Dead Redemption 2, that same fin de siècle atmosphere seems to pervade, but we're going to get a much more detailed look at what exactly Marston, Morgan, and the rest of the Van der Linde Gang did — and how they went from a tight-knit gang to a disparate band of killers out to murder one another.