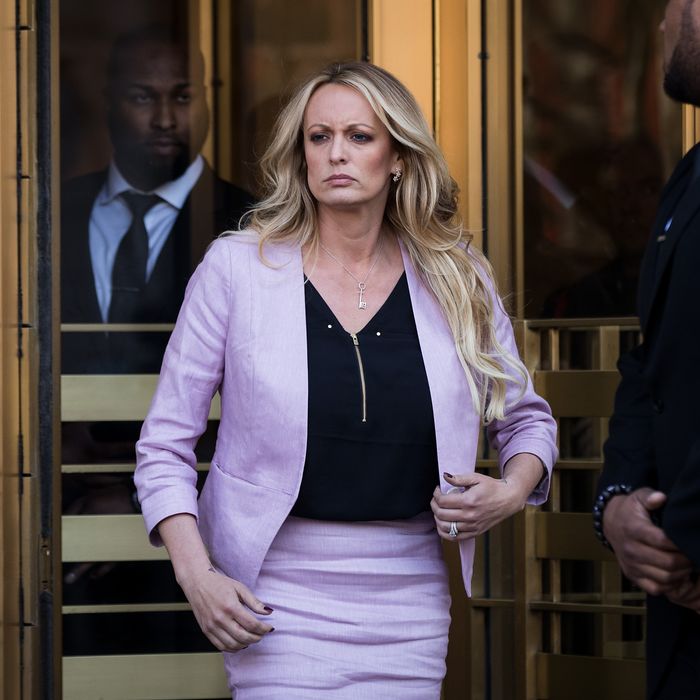 Not going away.
Photo: Drew Angerer/Getty Images
The New York Times reported on Friday night that, according to two sources, President Trump knew Michael Cohen paid Stormy Daniels $130,000 in hush money for months before he denied any knowledge of the transaction to reporters in April.
On Wednesday, Trump's new lawyer Rudy Giuliani ignited a firestorm when he told Sean Hannity that Trump had reimbursed Cohen for the payment, which was made in October 2016. Giuliani said that Trump had paid Cohen $460,000 or $470,000 in total over several months. It's not clear what the additional money, beyond the $130,000 slotted for Daniels, was for. Giuliani tried to walk back his explosive comments on Friday, though he didn't clarify much of anything.
Cohen had previously maintained that he made the payment on his own, without any knowledge or reimbursement on Trump's part. The lawyer, often referred to as Trump's "fixer," said he did so to prevent Daniels's story from appearing in tabloids, thus embarrassing Melania Trump. (If he admitted the more likely reason, which was to help swing the election in Trump's favor, he would more clearly expose himself to likely campaign-finance violations.)
Daniels signed a nondisclosure agreement, but appeared on 60 Minutes in March to tell her story of her affair with Trump — which the president denies — and of an unidentified man who threatened her if she came forward with it.
Sarah Huckabee Sanders said that Trump had no knowledge of the payments at a press briefing in March, and Trump himself told reporters the same story on Air Force One in April.
Trump appeared to confirm Giuliani's new version of events — that he knew about the payments after all — in a series of tweets on Thursday. But he distanced himself from his new attorney on Friday, telling reporters that Giuliani, whom he falsely said "started a day ago," would soon "get his facts straight." Two sources told the Times that, despite his quasi endorsement, Trump was actually "displeased" with Giuliani's conduct.
On Saturday morning, Trump said he had remained consistent on the Daniels payments, which is plainly not true.
"We're not changing any stories," he said, accusing reporters of repeatedly bringing up "that kind of crap" and "witch hunts."
"You take a look at what I said, you go back and take a look, you'll see what I said."
(What he said was that he had no knowledge of the payment.)