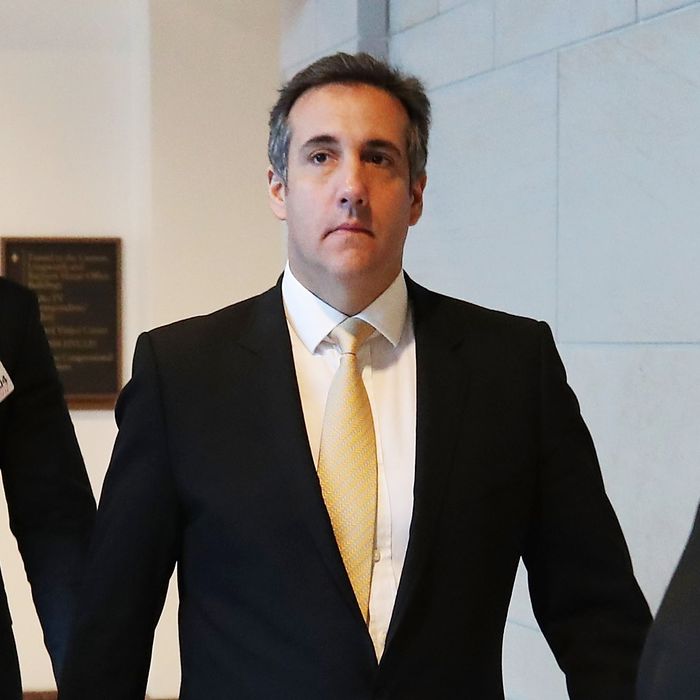 We've just scratched the surface on Cohen's financial dealings.
Photo: Mark Wilson/Getty Images
On the eve of the first anniversary of Robert Mueller's appointment, there was a flood of new reporting on topics of interest to the special counsel. Focusing on just Michael Cohen, there was President Trump's formal acknowledgement that he reimbursed his "fixer" for paying off Stormy Daniels, the resignation of a Novartis executive who signed off on the pharmaceutical company hiring Cohen as a consultant, and a report that Cohen asked a Qatari investor for "millions" of dollars, which would go "through him to Trump family members." (The investor later said Cohen asked for just $1 million, and didn't specify where it might go.)
The revelations kept coming on Wednesday night. Yahoo News reported that while Cohen claimed he stopped pursuing Trump World Tower Moscow in January 2016, text messages and emails obtained by prosecutors and congressional investigators suggest he was still working on the deal in May 2016, when Trump was clinching the Republican presidential nomination. And a man who worked as a translator for Cohen and a South Korean aerospace firm that paid Cohen's company $150,000 last year told the Washington Post that he was contacted by FBI agents — suggesting that either Mueller's team or other federal investigators are examining his contract with Korea Aerospace Industries.
The biggest bombshell concerned how the public learned about that contract and other payments received by Cohen's company, Essential Consultants. The New Yorker's Ronan Farrow (who seems determined to show that NBC News never should have let him go) spoke with the person who leaked Cohen's confidential financial documents. They said information Stormy Daniels's lawyer, Michael Avenatti, and reporters revealed in the last week comes mainly from one "suspicious-activity report" filed by First Republic Bank, where Essential Consultants had an account. The "law-enforcement official" said they decided to make that document public because it appeared two similar reports were missing from a government database, and they feared they were being hidden from law enforcement.
Banks are are required to file suspicious-activity reports with the government about any transactions that could possibly constitute fraud, money laundering, or other financial crimes. These are kept in the Treasury Department's Financial Crimes Enforcement Network, or FINCEN, a database that can be searched by law enforcement or certain federal officials.
As of January, First Republic had filed three suspicious-activity reports about Cohen's account. The latest is the one that fueled last week's reports; it describes transactions with companies including Novartis and AT&T, which occurred from September 2017 to January 2018 and totaled nearly a million dollars. That document refers to two previous reports, but the official could not find them in the FINCEN database.
Cohen founded Essential Consultants in October 2016 to make a $130,000 payment to Daniels. The first missing report covered nearly seven months and listed a little over $1 million in activity. The second missing report covered June 2017 to September 2017, and included more than $2 million in suspicious transfers.
Suspicious-activity reports are not proof of criminal wrongdoing, but if the source is correct, last week's reports only covered about a quarter of the $4 million worth of transactions that the bank found fishy.
It's highly unusual for a suspicious-activity report to be removed from the FINCEN database, which is why the source was so alarmed. "I have never seen something pulled off the system," they said. "That system is a safeguard for the bank. It's a stockpile of information. When something's not there that should be, I immediately became concerned."
While this sparked online speculation about various government officials meddling in the system, Farrow noted there are less nefarious explanations. It's possible access to the first two documents was restricted because prosecutors were worried that someone might leak confidential information about the president's lawyer to the press:
Seven former government officials and other experts familiar with the Treasury Department's FINCEN database expressed varying levels of concern about the missing reports. Some speculated that FINCEN may have restricted access to the reports due to the sensitivity of their content, which they said would be nearly unprecedented. One called the possibility "explosive." A record-retention policy on FINCEN's Web site notes that false documents or those "deemed highly sensitive" and "requiring strict limitations on access" may be transferred out of its master file. Nevertheless, a former prosecutor who spent years working with the FINCEN database said that she knew of no mechanism for restricting access to SARS. She speculated that FINCEN may have taken the extraordinary step of restricting access "because of the highly sensitive nature of a potential investigation. It may be that someone reached out to FINCEN to ask to limit disclosure of certain SARS related to an investigation, whether it was the special counsel or the Southern District of New York."
Removing the reports from the system wouldn't be a very effective method of keeping the information from prosecutors (and not just because one was left in the system). As Benjamin Wittes notes, deleting Treasury Department reports wouldn't make other records of the transactions disappear.
Other banks have filed suspicious-activity reports about Cohen's transactions, and Avenatti told Farrow that the Treasury Department should release them to the American public immediately. However, the reports are supposed to be confidential, and there are hefty penalties for unlawfully disclosing them: fines of up to $250,000 and five years in prison. The leaker said they knew the risks, and "to say that I am terrified right now would be an understatement." But they added, "This is a terrifying time to be an American, to be in this situation, and to watch all of this unfold."