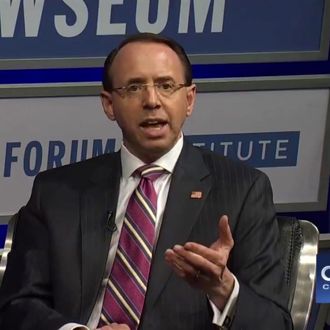 Donald Trump has been threatening to fire Rod Rosenstein, the deputy attorney general and the supervisor of Robert Mueller's investigation into Russian election interference. Conservative media has agitated against him, and a cabal of right-wing House Republicans has drafted articles of impeachment to remove him. The purpose of this campaign is either to intimidate Rosenstein into doing Trump's bidding and turning his department into the partisan weapon Trump craves, or to lay the groundwork to justify his removal if and when Trump pulls the trigger.
Previous reports have described Rosenstein as fatalistic and stoic about his fate. But at a Newseum appearance today, Rosenstein displayed a new side: overt determination to defend the values of his department. He said he was receiving private threats, which we didn't know, in addition to public threats, which we did (because they're, well, public). Rosenstein explicitly identified what Republicans are doing: They're attempting to extort the Department of Justice:
And he further identified the value at stake in the conflict: the rule of law. Trump has stated not only that he wants to end the Mueller probe, and to open up new investigations into and criminal charges against his various political enemies, but that he intends to break the norm of staying away from the department. Rosenstein is serving notice that, if Trump and his party want to undermine the rule of law, the people in charge of upholding it will at least state plainly what they are doing.