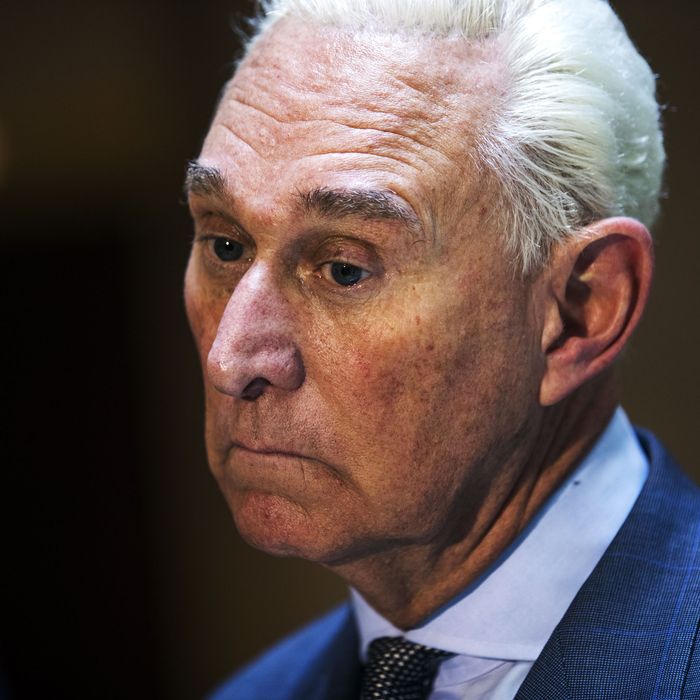 Roger Stone
Photo: Jim Lo Scalzo/EPA-EFE/REX/Shutterstock
Roger Stone, a longtime confidante to Donald Trump, appeared on the Alex Jones show to ask listeners to fund his legal defense. Stone's associates have been questioned by Robert Mueller's investigators, and Stone has casually mentioned he might be indicted for what he called "extraneous crimes." But, Stone promises, he "will never roll on Donald Trump."
"John Dean I am not," Stone declares. Dean, a former counselor to President Nixon, eventually confessed to having been party to serious crimes by the president and his associates. Stone, who is such a Nixon buff he has the disgraced former president's face tattooed on his back, surely knows that the analogy does not imply Trump is innocent.
Indeed, Stone has a long trail of contacts with Russian hacking cutout Guccifer 2.0 and WikiLeaks, requested access to hacked Clinton emails from Julian Assange, and displayed advance knowledge of WikiLeaks emails during the campaign (he has attempted, implausibly, to explain these comments away).
Of course, rolling on Trump would not be a choice he had to disavow if Trump and Stone had not committed any crimes.