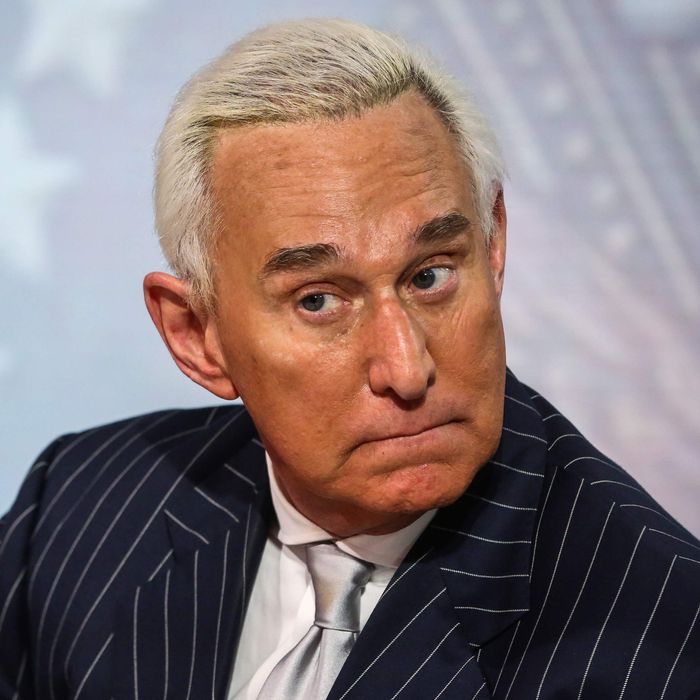 Roger Stone says Mueller's investigators have yet to come calling, but he's not going to be surprised if they do.
Photo: Christopher Goodney/Bloomberg via Getty Images
Longtime Trump ally Roger Stone said on Sunday that he is "prepared" to be indicted by Special Counsel Robert Mueller, though he insisted that he has done nothing illegal, did not collude with Russia, and characteristically explained any such charges are a part a conspiracy to "silence" him and other Trump supporters.
"It is not inconceivable now that Mr. Mueller and his team may seek to conjure up some extraneous crime pertaining to my business, or maybe not even pertaining to the 2016 election," the self-proclaimed dirty trickster remarked on Sunday's Meet the Press. Stone also said that eight former colleagues have been "terrorized" by the Mueller investigation, but that neither he nor his lawyer have yet been contacted by the special counsel's team. This likely indicates that Stone is a target for investigators.
In March, the Washington Post reported that Stone had advance knowledge that WikiLeaks leader Julian Assange had hacked emails from DNC members including Hillary Clinton's campaign manager, John Podesta. Stone had publicly predicted that Podesta would face scrutiny before anyone else knew about the emails. He has repeatedly denied that he coordinated with Assange or the Russian hackers.
Mueller's investigators recently subpoenaed two of Stone's associates. Jason Sullivan, a consultant who worked for Stone's pro-Trump PAC and was his social media adviser for four months before the 2016 election, received subpoenas last week for his documents and testimony before a grand jury. John Kakanis, who worked as an accountant, driver, and operative for Stone, has also been served with a subpoena, and has already been questioned by the FBI as part of the Russia investigation.
The special counsel has also reportedly looked into whether Stone had dinner, as he tweeted he had, with Assange in 2016 before WikiLeaks began releasing hacked Democratic emails. The GOP operative now says he was joking when he said he had dinner with Assange, though it's not clear why that was supposed to be funny. That's not the only time Stone has contradicted himself regarding contacts with Assange, either.