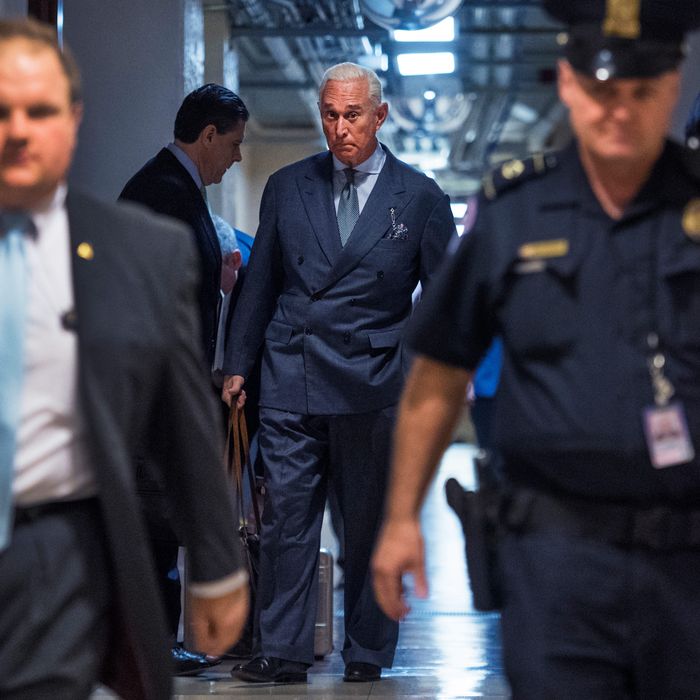 Roger Stone, former adviser to President Trump, spoke to the House Intelligence Committee on possible Russian interference in the 2016 election on September 26, 2017.
Photo: Tom Williams/CQ-Roll Call,Inc.
We've known for a while now that former Trump campaign adviser Roger Stone had claimed to be touch with Julian Assange during the 2016 campaign — and that he appeared to publicly predict the release of information damaging to Hillary Clinton. But on Thursday, The Wall Street Journal revealed, for the first time, that Stone privately requested access to stolen Clinton emails that he believed to be in WikiLeaks's possession:
In a Sept. 18, 2016, message, Mr. Stone urged an acquaintance who knew Mr. Assange to ask the WikiLeaks founder for emails related to Mrs. Clinton's alleged role in disrupting a purported Libyan peace deal in 2011 when she was secretary of state, referring to her by her initials.




"Please ask Assange for any State or HRC e-mail from August 10 to August 30–particularly on August 20, 2011," Mr. Stone wrote to Randy Credico, a New York radio personality who had interviewed Mr. Assange several weeks earlier. Mr. Stone, a longtime confidant of Mr. Trump, had no formal role in his campaign at the time.
Credico replied by advising Stone to consult WikiLeaks's website, where such emails would presumably be, if they existed. Stone responded, "Why do we assume WikiLeaks has released everything they have ???"
Hours later, Credico assured Stone that "that batch probably coming out in the next drop…I can't ask them favors every other day. I asked one of his lawyers…they have major legal headaches riggt [sic] now…relax."
In an interview with the Journal, Credico insisted that he had never forwarded Stone's request to Assange, and merely wanted to get the onetime Trump ally to leave him alone.
Stone, for his part, said he "never had possession or access to any Clinton emails or records."
Requesting access to leaked emails is not a criminal act. But lying in sworn testimony to Congress is. And when Stone testified before the House Intelligence Committee last September, he suggested that he had never requested access to stolen Clinton emails, but merely sought "confirmation" that Assange had information about Clinton.
Regardless, the emails published by the Journal Thursday do lend credence to a separate piece of Stone's testimony — that Credico served as his "go-between" or "intermediary" to WikiLeaks during the last stages of the 2016 campaign.
Last year, Credico refused to testify before the House Intelligence Committee, invoking his Fifth Amendment right against self-incrimination. But he now says that he has changed mind — and already met with the committee's Democratic staff members Wednesday for "a limited conversation about WikiLeaks, the 2016 campaign and Mr. Stone."
On April 7, in an email obtained by the Journal, Stone wrote to Credico, "Everyone says u are wearing a wire for Mueller." Stone followed up two days later with the missive that read, "Run your mouth = get sued."