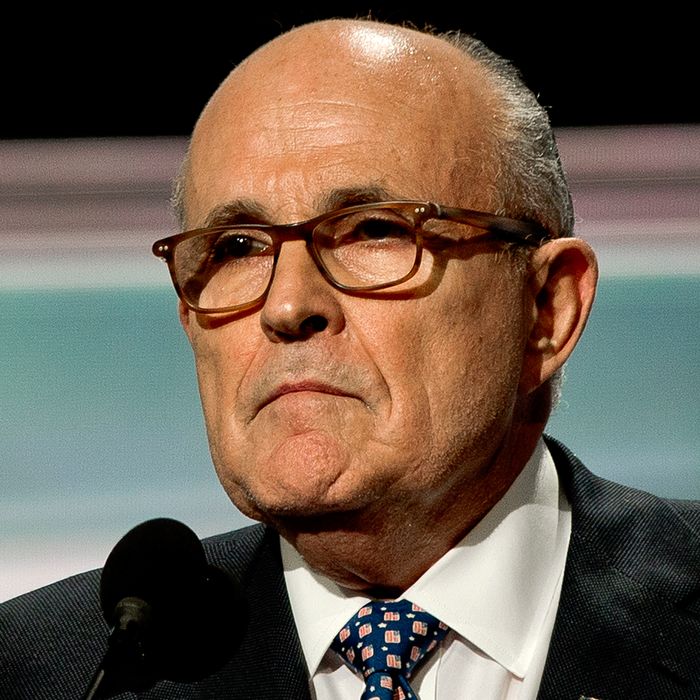 Better call Rudy.
Photo: Mark Reinstein/Getty Images
After a rocky introduction as President Trump's newest lawyer — highlighted by the major unforced error he committed on Sean Hannity's show Wednesday night — Rudy Giuliani appeared on This Week with George Stephanopoulos and gave another eye-opening (though less damaging) interview. Some of the highlights:
Trump might invoke the Fifth Amendment:
The president has repeatedly expressed his desire to sit down with Special Counsel Robert Mueller and clear his name once and for all. Almost everyone else thinks this is a bad idea, for obvious reasons. If the president listens to his lawyers, he may exercise his constitutional right and clam up.
Trump may not comply with a Mueller subpoena:
Hey, remember Bill Clinton? He "negotiated a deal," Giuliani said, "in which he didn't admit the effectiveness of the subpoena." When Stephanopoulos pointed out that Clinton did testify before a grand jury, and asked if Trump would be willing to take that step, Giuliani dodged the question by raising the Hillary Clinton investigation.
Other presidents have lied!
Hey, remember Bill Clinton? He wasn't such a truth-teller, was he? Also, Trump never lied.
$130,000 isn't that much money:
Pennies, really. Stormy Daniels may as well have paid Cohen.
Michael Cohen may have paid women besides Stormy Daniels and Karen McDougal:
Sure, it's possible, but who can say? Certainly not, you know, the president's lawyer.
Pardoning Michael Cohen is not on the table:


Let's check back on this one in a few weeks.
Giuliani still doesn't really know what's going on:
This makes him the perfect TV representative for the Trump administration.