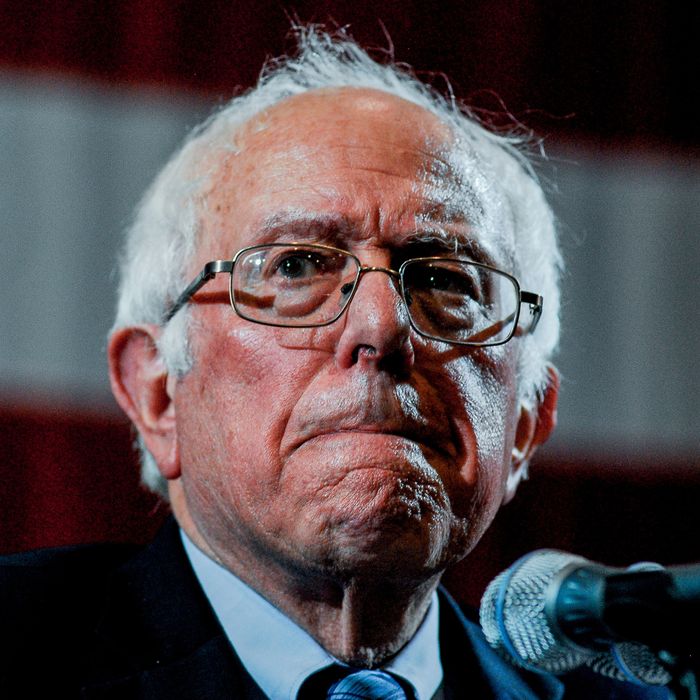 Bernie's running again — for the Senate, at least — but his legacy organization is reportedly in some trouble.
Photo: Mark Reinstein/Getty Images
There were two big developments on May 21 in the political universe of Bernie Sanders, one upbeat, one not so much.
On the positive side, Sanders formally announced he is a candidate for reelection to a third term in the Senate, as was universally expected. The only slight mystery about his bid was resolved when he indicated that he would follow his past procedure by running in the Democratic primary and then declining the nomination and running as an independent while accepting the "endorsement" of Vermont Democrats. The Washington Post's Aaron Blake had a sardonic comment about that:
 Sanders is going to run in the Democratic primary for no reason except to preclude anybody else from winning it — despite having no intention of running as a Democrat in the general election. Sanders basically wants to ensure he will face no Democratic opponent in November. A cynic might say the guy who complained about the rigging of the 2016 Democratic presidential primary is kinda, sorta rigging the 2018 Vermont Senate race for himself.
On the other hand, Sanders perpetually has the highest job approval ratings in the Senate: 72 percent of Vermont's registered voters give him a thumbs-up according to the last quarterly assessment from Morning Consult (Senate Majority Leader Mitch McConnell is at the other end of the spectrum as the least popular). So his constituents don't seem to care what label he chooses for the November ballot.
The announcement is also another indication that Sanders thinks he's good to go in national office until 2024 at least, when he'll turn 83. Whether that means he'll run for president in 2020 is another matter, of course.
If he does, he may want to lend some attention (at least indirectly, since he cannot legally direct it) to the legacy organization he set up as a vehicle for Sandernistas, Our Revolution. A big piece in Politico on Monday from Edward Isaac-Dovere suggests that Our Revolution is not doing well:
[A]n extensive review of the Sanders-inspired group depicts an organization in disarray — operating primarily as a promotional vehicle for its leader and sometimes even snubbing candidates aligned with Sanders. Our Revolution has shown no ability to tip a major Democratic election in its favor — despite possessing Sanders' email list, the envy of the Democratic Party — and can claim no major wins in 2018 as its own.




The result has left many Sanders supporters disillusioned, feeling that the group that was supposed to harness the senator's grass-roots movement is failing in its mission. The problems have also fueled doubts about Sanders' organizational ability heading into 2020, even after his out-of-nowhere near-march to the nomination two years ago.
A lot of the Politico account points fingers at Our Revolution president Nina Turner, a former state legislator from Ohio who became a well-respected spokesperson for Sanders in 2016. It even suggests she's preparing to make the organization a vehicle for her own presidential ambitions if Sanders chooses not to run in 2020. And there's a particularly nasty strain of tensions between Turner and Latinos previously active in the Sanders campaign and in Our Revolution, based in part on her efforts to hire a "consultant and friend" named Tezlyn Figaro as the group's chief of staff:
Board members flagged Figaro's frequent appearances on Fox News praising Trump. She has said on the network as recently as the end of April that the president's critics mostly don't like that he's shaking up the system. And last year she said immigrants are "coming into the country and getting benefits that Americans do not get," and getting away with crimes while African-Americans go to prison.
Not a good vibe for a group supposedly driven by a strong esprit de corps.
It's possible, of course, that a Washington insider outfit like Politico doesn't understand Our Revolution, or is cherry-picking some internal gripes and gossip. But The New Republic's resolutely progressive Sarah Jones seems to have picked up on some of the same talk:
To the extent that the Democratic Party has moved left since the 2016 election, it is largely thanks to pressure from its left flank. The question isn't whether or not the party needs a revolution. It's whether Our Revolution and groups like it can actually compel the institution to change. For that to happen, the House of Sanders needs to put its affairs in order.
Maybe Sanders needs to lend a bit more of his own political mojo to his followers.