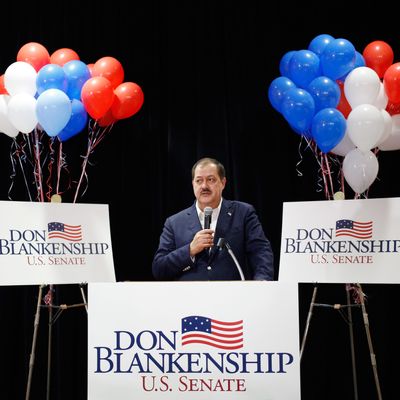 It's always darkest before the Don.
Photo: Luke Sharrett/Bloomberg via Getty Images
Don Blankenship is a coal baron who tried to inflate his profits by ignoring safety regulations — at a mine where 29 of his workers were subsequently killed in a coal dust explosion. He is a convicted criminal, who regularly accuses the Republican Senate Majority Leader of being a cocaine smuggler, whose marriage to a Taiwanese-American reflects a traitorous preference for "Chinapeople" over American ones.
Alas, none of this was enough to secure Blankenship the Republican nomination for Senate in West Virginia: Despite the GOP base's famous affinity for nominating lawless racists, the coal magnate finished in a distant third in last month's primary.
But while Blankenship's bid for the Republican ballot line is dead, his dream of increasing Joe Manchin's job security lives on. On Monday, Blankenship announced that he would run in his state's general election for Senate this fall, as the nominee of the Constitution Party.
"It is especially appropriate for me to be nominated by the Constitution Party given its staunch and uncompromising commitment to upholding the United States Constitution," Blankenship observed Monday morning. The candidate went on to say that the GOP Establishment was "determined to keep me — the most anti-establishment candidate in the nation — out of the United States Senate," while "the press and the establishment have colluded and lied to convince the public that I am a moron, a bigot, and a felon."
It is not clear what, if any, major policy differences Blankenship has with the man who beat him for his party's nomination, West Virginia attorney general Patrick Morrisey, or with the GOP Establishment, more generally. Like Roy Moore before him, Blankenship's "anti-Establishment" campaign appears to be built almost entirely around the issue over whether Mitch McConnell deserves to be publicly humiliated on a regular basis (admittedly, Blankenship's stance on that question does have some bipartisan appeal).
Anyhow, conventional wisdom had suggested that Blankenship's nomination would all but guarantee Democratic incumbent Joe Manchin's reelection this fall. West Virginia is among the most Republican — and pro-Trump — states in the union. But Manchin's personal brand is strong enough that he remains a narrow favorite for reelection, even running against a Republican who isn't personally responsible for one of the worst coal-mine disasters in American history.
Now, Blankenship is poised to give Manchin a gift even more valuable than a weak Republican opponent: Should the coal magnate make it onto the ballot as a third-party challenger — and invest some of his considerable fortune into his outside campaign — he would very likely siphon "anti-Establishment" GOP votes from Morrissey's column, and allow Manchin to keep his seat without breaking a sweat.
But if Blankenship is to help Manchin prevail in November, he'll need to win a victory of his own in a courtroom first. West Virginia's "sore loser" law prohibits candidates who lose major-party primaries from running in general elections as third-party challengers.
Blankenship said Monday that he's prepared to challenge that law in court, and that he is confident "our legal position will prevail, absent a politically motivated decision by the courts." There's a (small) chance he could be right: According to experts who spoke with the Charleston Gazette-Mail, the law's sloppy wording could give Blankenship a real case:
Michael Kang teaches elections law at Emory University and has authored academic work on "sour grapes" laws around the country. He said a potential wording error in the law could leave the door open for Blankenship's run … Specifically, Kang noted the law cited by the Secretary of State prohibits independent runs after a primary loss from "candidates who are not already candidates in the primary election for public office."




He said because Blankenship was — not is — a candidate for the primary election for public office, he may have room to argue.
Whether he's able to make it onto the ballot or not, Blankenship seems prepared to continue working to keep Joe Manchin in the Senate by other means. In the days since his primary loss, his top political strategist, Greg Thomas, has said that Blankenship intends to see to it that Morrissey loses in November, while the candidate himself published a Facebook video promising Cocaine Mitch that "it's not over."