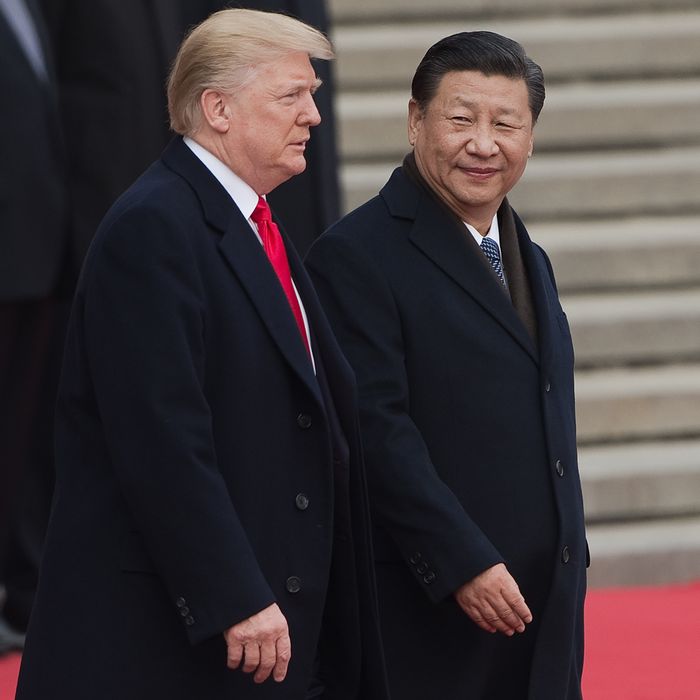 Friends again?
Photo: AFP Contributor/AFP/Getty Images
Treasury Secretary Stephen Mnuchin told Fox News on Sunday that the U.S.-China trade war is "on hold" while "we try to execute the framework" for a larger deal between the two countries.
Following multiple days of meetings between Chinese and U.S. trade representatives in Washington this week, the two countries issued a joint statement on Saturday that appeared optimistic about a less confrontational, more pragmatic approach going forward between the two countries.
But the Wall Street Journal reported  that its sunny tone contrasted with the  tug-of-war going on behind the scenes. The paper reported that "the two days of deliberations in Washington ended with both sides arguing all night on Friday over what to say" in the statement, according to people briefed on the meetings.
In the end, China pledged to "significantly increase purchases" from the U.S., which would fulfill a key American demand.
But Trump, who has railed against what he considers unfair Chinese trade practices for decades, had demanded that China buy $200 additional billion worth of American goods to shore up the trade deficit between the countries – a number that struck many experts as both unrealistic and impractical.
China stopped short of committing to that number. But on Saturday, the Chinese news agency Xinhua said that the countries had agreed not to impose retaliatory tariffs going forward — at least for now — which Mnuchin appeared to confirm on Sunday. This would be a major step in ratcheting down tensions, and is likely to soothe worried markets and investors, even if China and the U.S. remain far from a broader agreement.
The U.S. has already imposed steel and aluminum tariffs on China, and has threatened up to $150 billion more on other products. China has retaliated by, among other things, purchasing its soybeans elsewhere to punish American farmers, and threatening strict duties on major U.S. imports. If the tariff war is (temporarily) over, it's not clear what will happen to the ones that have already gone into effect.
In the statement, the two countries also agreed to work together on issues around intellectual property, another key sticking point on the American side. (Not mentioned was ZTE, the sanctioned Chinese tech company Trump had suddenly promised to rescue from collapse.)
Attendees of this week's talks included Chinese Vice Premier Liu He, Mnuchin, Secretary of Commerce Wilbur Ross, and U.S. Trade Representative Robert Lighthizer.