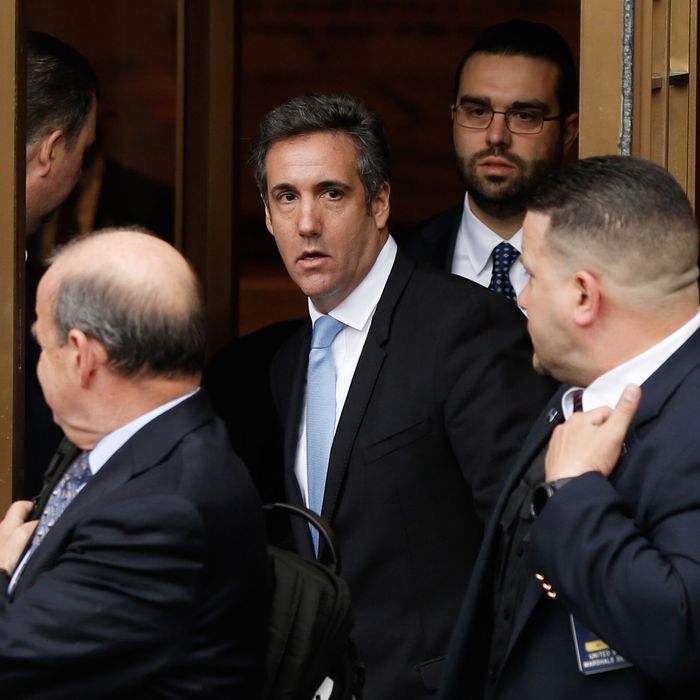 Things aren't looking great.
Photo: Eduardo Munoz Alvarez/AFP/Getty Images
Michael Avenatti, Stormy Daniels's high-profile lawyer, tweeted on Monday that Trump fixer Michael Cohen had received $500,000 from a company controlled by a Russian oligarch last year, and that the money may have acted as a repayment for Cohen's $130,000 payoff to Daniels.
In a second tweet, Avenatti attached a document purporting to show that the oligarch, Viktor Vekelsburg, and his cousin Andrew Intrater "routed eight payments to Mr. Cohen through a company named Columbus Nova LLC beginning in January 2017 and continuing until at least August 2017."
The document includes a perhaps even more explosive detail: that multiple large companies had also made payments to a different Cohen company, perhaps in an effort to influence Trump administration policy.
AT&T confirmed that it had made the payments shortly after Avenatti's tweets were posted.
As did Novartis:
Vekelsburg, who is one of the world's richest men, was recently sanctioned by the Trump administration over suspected 2016 election meddling.  The New York Times reported last week that Vekelsberg was stopped at an aiport and questioned by agents working with Special Counsel Robert Mueller about two months ago; CNN reported on Tuesday that agents asked him about the payments to Cohen,  seemingly confirming Avenatti's assertion of the transaction.
Cohen's lawyer denied Avenatti's characterization:
Cohen is in dire legal and emotional straits after federal investigators raided his office last month.