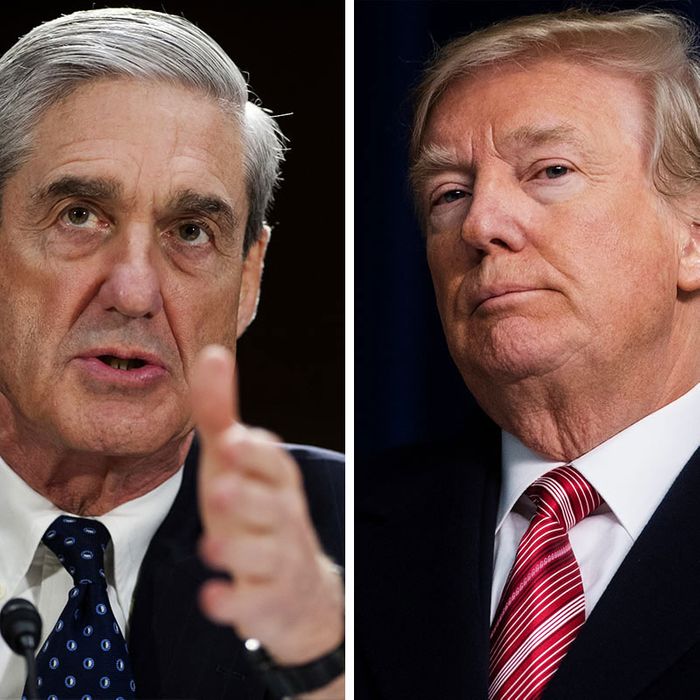 A SCOTUS showdown probably won't work out in Trump's favor.
Photo: Getty Images
Rudy Giuliani may have just made the case for why Robert Mueller, the special counsel getting to the bottom of Russia's role in the last presidential election, has a real need to speak with Donald Trump. And it has everything to do with the president's state of mind during a key moment under the microscope: the firing of James Comey, the former FBI director.
"He fired Comey because he would not, among other things, say that he was not a target of the investigation," Giuliani told Fox News' Sean Hannity late on Wednesday. "He's entitled to that. Hillary Clinton got that, and he couldn't get that. So he fired him, and he said 'I'm free of this guy.'"
There is some happy legal context for anyone eager to see Mueller and Trump chat: United States v. Nixon, the landmark Supreme Court case that forced President Richard Nixon to comply with a prosecutorial subpoena to turn over the Watergate tapes, is still good law. And of all the important principles the decision stands for — beyond precipitating the fall of a sitting president — one that rises to the top is the American public's interest in the fair and impartial administration of justice. The court system must be able to get a full picture of the facts of a criminal investigation. "To ensure that justice is done," Chief Justice Warren Burger wrote for an 8-to-0 court, "it is imperative to the function of courts that compulsory process be available for the production of evidence needed either by the prosecution or by the defense."
Nixon would seem to be controlling law for the Mueller investigation. And in light of reporting this week that the special counsel still has a keen interest in interviewing Trump — and an apparent willingness to rely on compulsory process — there is a distinct possibility that Mueller may go to court and invoke Nixon if the president doesn't cooperate, either voluntarily or in the face of a valid subpoena. That's the kind of momentous confrontation that no doubt would quickly make its way to the Supreme Court, which so far has seemed willing to treat Trump just like any other president, rather than carve out Trumpian exceptions to presidential powers that may bind later chief executives.
There's little reason to think that the Supreme Court would veer far away from its own precedent to give Trump a victory he doesn't deserve. As Steve Vladeck and Benjamin Wittes lay out in Lawfare, there are significant distinctions between a subpoena for tapes to be used in an ongoing criminal trial, where Nixon himself was an unindicted co-conspirator, and a subpoena compelling a sitting president to testify before an investigatory grand jury — a secret proceeding where prosecutors are simply presenting evidence that may or may not give rise to a fresh round of indictments. Trump already knows that he's not a target of a criminal investigation, but even investigatory subjects (the president's apparent current designation) are still attractive and sometimes necessary actors in a criminal prosecution targeting someone else.
Even if he's not a target, courts may still determine that Trump is required to give the evidence that's asked of him — especially in a probe where he may hold the key to many of its mysteries. "The need to develop all relevant facts in the adversary system is both fundamental and comprehensive," the Supreme Court said in Nixon. "The ends of criminal justice would be defeated if judgments were to be founded on a partial or speculative presentation of the facts."
That's precisely the state of affairs with a number of unresolved strands of the Russia investigation. We don't know Trump's frame of mind or what he knew when he fired Mike Flynn. We don't know if he ever learned during the campaign that two of his family members and his campaign chairman wanted to obtain "dirt" on his rival from Russians during a meeting in Trump Tower. Or the reason he dictated the White House response to news reports revealing that the meeting took place. Or what he meant when he told NBC News' Lester Holt that he dismissed Comey on account of "this Russia thing." And what about his reported comments to Russian officials in the Oval Office, one day after Comey's firing, that getting rid of the FBI director relieved "great pressure" from his presidency?
These are all open questions that may be critical to Mueller and that only Trump can answer. And notice how all of these queries are far more focused than the broad, open-ended questions that Trump's legal team leaked to the New York Times this week — not even Fox News' Howard Kurtz buys the spin that these disclosures came from Mueller's side. There's a simple reason for that: The special counsel is known to not give away his game ahead of time, and it would be foolish to expect him to turn over his theory of the case for many of the prongs of his investigation. The opposite suggestion — that he remains on a never-ending fishing expedition — is just red meat for Trump's base and a tactic to discredit Mueller's work. Getting Trump's direct testimony for a narrower set of interrogatories is Mueller's way of tying up loose ends.
That the special counsel runs a tight ship and almost certainly has a clear, sharp focus matters not just because it gives the public a proper perception of Mueller's role; it will also become relevant in the event of a contentious court battle. With an eye toward prospective litigation over subpoenaing Trump, an interview that is limited in nature would help a judge — and later, the Supreme Court — to recognize that Nixon is still fully applicable to the case at hand, despite former Trump attorney John Dowd's reported declaration that Mueller is engaged in a "game" and somehow "screwing with the work of the president of the United States." If Mueller can show that he has, as Nixon observed, a "demonstrated, specific need for evidence," he'll likely get it. Trump may kick and scream. He may refuse to comply. He may even plead the Fifth, as Michael Cohen recently did. But the politics wouldn't be in his favor. Complying would be: The republic, the separation of powers, and the office of the presidency won't crumble. The opposite may be true if the courts and the office of the special counsel are stonewalled by Trump and aren't allowed to do their job.
Now that the widely respected Emmet Flood, President Bill Clinton's former impeachment lawyer, has joined Trump's criminal-defense team, maybe a lesson from the past is in order. Rather than put up a fight, constitutional or otherwise, Clinton made history some 20 years ago by voluntarily agreeing to go before a grand jury and clear up any doubts that he'd committed perjury or obstructed justice in the course of the sordid Monica Lewinsky scandal. His testimony before independent counsel Kenneth Starr became his undoing politically, but that shouldn't be a worry for Trump. It remains the case, as I wrote back in January, that no competent lawyer would recommend he talk to the special counsel. But we're past the hardball stage. As the president has maintained all along, he never did anything wrong. And Russia, in his mind, remains a phony witch hunt.
Short of a Supreme Court showdown, which, as with Nixon, could hurt Trump in the eyes of the American public, a voluntary sit-down with Mueller — televised, if he wants, just like Clinton's — may just be what he and the country really need to make it all go away. And it will help Mueller get the evidence he needs to finish up his work.