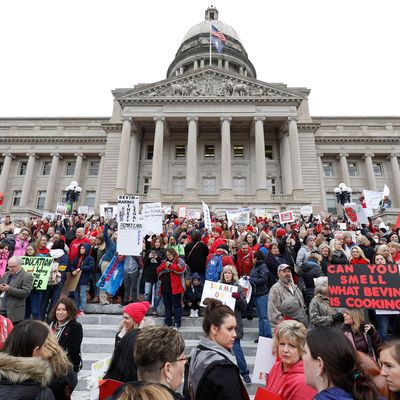 Teaching Republicans a lesson.
Photo: Bill Pugliano/Getty Images
Conservative voters in America have it rough. Sure, they have one of the best-funded — and most influential — ideological movements in any Western democracy; our bizarre political institutions make their votes count more than anyone else's; and their preferred political party currently controls every branch of the federal government, along with a hefty majority of statehouses and governors' mansions.
But in Western Europe, voters can cast ballots for politicians that give voice to their religious traditionalism, resentment of ungrateful minority groups, and fears of mass immigration — without getting their schools defunded, health-care subsidies cut, streams poisoned, and workplace protections repealed.
Like their counterparts across the Atlantic, most self-identified conservatives in America do not actually support tax breaks for the rich funded by cuts to public goods and social programs that benefit the working class. Nor, for that matter, are they typically passionate about allowing corporations to pollute the environment with impunity, steal wages from their workers, or gamble with their clients' retirement savings.
In fact, a recent analysis of public opinion data by the political scientist Larry Bartels found that "a majority of Republicans endorse government efforts to regulate pollution, provide a decent standard of living for people unable to work, and ensure access to good health care." That finding is buttressed by the past two years of polling on the Republican rank and file's views about supply-side tax cuts (they're against them) and federal spending on health care (they want more of it), and validated by Voter Study Group data showing that more than 70 percent of 2016 voters held left-of-center opinions on economic policy.
To this point, GOP officeholders have paid little price for defying their voters' preferences on fiscal policy. Economically populist ballot measures often win majority support in red states — but when such policy disputes are filtered through an electoral contest between a Democrat and Republican, conservatives' partisan identities have proven sturdy enough to render their fondness for Medicaid and a higher minimum wage irrelevant.
This is why what happened in Kentucky last night is so significant. Teachers in the Bluegrass State walked out of their classrooms last month to protest Republican governor Matt Bevin's cuts to their pensions and school budgets. Like their peers in other red states, Kentucky's striking teachers forced a public debate about the GOP's fiscal priorities — outside of a partisan electoral context — and won substantial public support for their side of the argument. And yet, it was far from clear that these strikes would produce a durable change in red-state governance. While teachers consistently won concessions from their lawmakers, these were generally funded with a combination of baselessly optimistic revenue projections and regressive tax hikes on the middle class. To reverse decades of state-level, supply-side tax cuts — and restore pre-recession levels of public funding for education — the teachers movement would need to elect different state legislators. And given the toxicity of the Democratic brand in places like Kentucky, West Virginia, and Oklahoma — and the immense resources at GOP megadonors' disposal — it was difficult to see how striking teachers could accomplish that feat.
But on Tuesday night, an outraged teacher defeated the Kentucky GOP's House Majority Leader — in a Republican primary. State representative Jonathan Shell, who had occupied Kentucky's 71st state house seat since 2012, was seen as rising star in his party, and enjoyed the personal backing of Mitch McConnell. But Shell decided to lead the legislative push to cut the pensions of teachers and public workers. That inspired a high-school math teacher named Travis Brenda to challenge him for the GOP nomination — and now, Shell will be returning to the private sector.
It's important not to mischaracterize the nature of this victory. By all appearances, Brenda is no progressive — just a teacher who doesn't like getting ripped off by his elected representatives. Brenda is not a member of his local teachers' union, the Kentucky Education Association, because "he has had issues with" the predominantly Democratic candidates it backs. Further, Brenda did not run on a promise to transform his state's fiscal priorities, only to restore its public workers' pensions.
But Brenda's victory is, nonetheless, potentially transformative. Ambitious Republican legislators just learned that supporting cuts to education might cost them their jobs. Assuming Brenda prevails over his Democratic rival this fall, one of the newest Republicans in Kentucky's state house will be a politician who owes his seat to a coalition of public workers and opponents of austerity. In his victory speech Tuesday night, Brenda thanked state employees and teachers for helping him punish the Republican leadership "for what they did on the pension bill."
And he wasn't the only one thanking such constituencies for an election victory last night, as the Huffington Post reports:
Unofficial results from the Kentucky Secretary of State showed that retired teachers Linda Edwards and Tom Williamson and current educators Jenny Urie and Lisa Willner appeared to have won Democratic primaries in state House races. Western Kentucky University history professor Patti Minter had a lead in her Democratic primary with nearly all precincts reporting late Tuesday night. And Scott Lewis, a school superintendent in Ohio County, won the Republican nomination in his House district.
By itself, Brenda's 123-vote victory won't reverberate too far beyond Kentucky's borders. But if other Republican challengers emulate his example, they could transform American conservatism. So long as GOP voters put their cultural resentments and partisan prejudices above their policy preferences, the Republican Party had little trouble implementing its donors' wildly unpopular agenda. But the GOP Establishment has had a lot of difficulty anointing its ideal candidates in primaries. If economically progressive Republicans start to contest the party's fiscal agenda — from inside its own tent — the GOP could quickly become a less reliable mercenary in the one percent's class war.