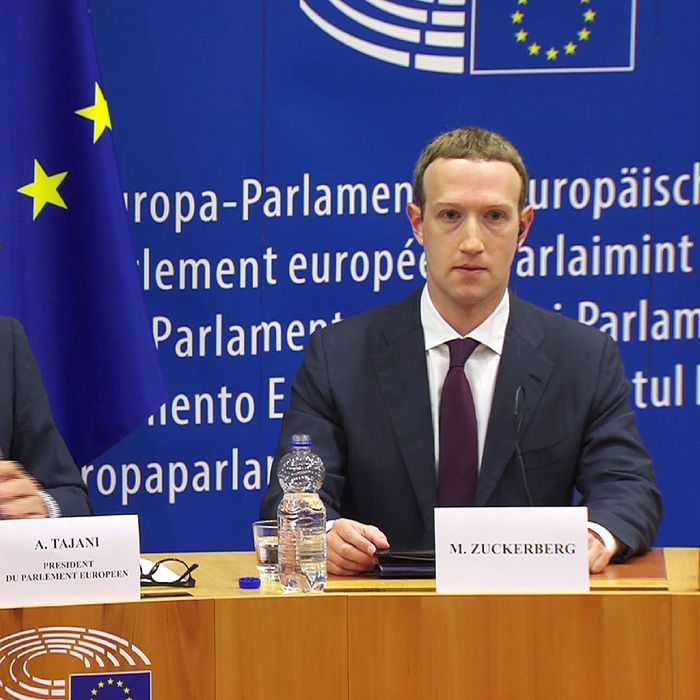 Photo: European Parliament via EPA-EFE/REX/Shutterstock
In front of members of the European Parliament today, and ahead of sweeping privacy regulations that go into effect on Friday, Mark Zuckerberg played his greatest hits — old standards like "Facebook is heavily investing in artificial intelligence to prevent the spread of false information and cyberbullying" and "Facebook uses targeted ads to keep the service free," and new classics like "Facebook absolutely wants to comply with GDPR across the globe" and "Facebook messed up with Cambridge Analytica and will begin more heavily auditing developer access." Whether he was talking about user tracking and targeting, fake news, free speech, harassment, or industry competition, Zuckerberg stuck to the vague and well-worn talking points he used in front of Congress last month and the press all year.
Facebook is not a monopoly — it's just one of many digital communications platforms, and most people use eight different apps. Facebook offers a competitive advantage to the 70 million small businesses that use its targeted ad platform. Facebook is hiring thousands of content moderators to make sure its platform is safe for everyone. Facebook is very sorry and it will do better.
Sure, fine.
Zuckerberg's appearance before members of the European Parliament today brings to a close the olive-branch stage of regulating Facebook. He has now met with regulatory bodies in North America and Europe (although British Parliament is still trying to get him in the room). While Facebook is a global beast, it derives most of its revenue from advertisers on these two continents, making them the most powerful bodies for curbing its activity.
Zuckerberg's appearances before Congress and the E.U. were underwhelming, and neither was particularly surprising. That Facebook would be resistant to regulations that limit its collection and retention of user data, which is necessary to power the company's ultraprecise ad-targeting system, was not shocking. Outwardly, the ads are necessary to subsidize the free services that Facebook provides, and left unstated is that they also make Facebook — its executives, its shareholders, and its employees — obscene amounts of money.
On both sides of the Atlantic, the CEO left regulators wanting. Zuckerberg declined to adequately answer questions that most reporters on the Facebook beat could. He refused to make all but the easiest of concessions (he endorsed transparency regs, not anything that would alter the company's business model). Zuckerberg's government road show was a lot of broad statements, few specifics, and the repeated, disingenuous use of "I'll have my team follow up with you."
And now, at last, mercifully, it is over. Now regulators can get to work addressing the problem of Facebook's harmful practices (and issues posed by Big Tech more broadly) without worrying about being fair to Facebook. Aided by an army of consultants and PR experts, Zuckerberg was given countless opportunities to present the case for Facebook to the public and to present his company as amenable to changes in the best interest of its users. If the reactions of American and European regulators are anything to go by, he still managed to whiff it.
The courtesy stage of this process has now concluded. Facebook has had its say. Now its time for 2 billion users to have theirs.