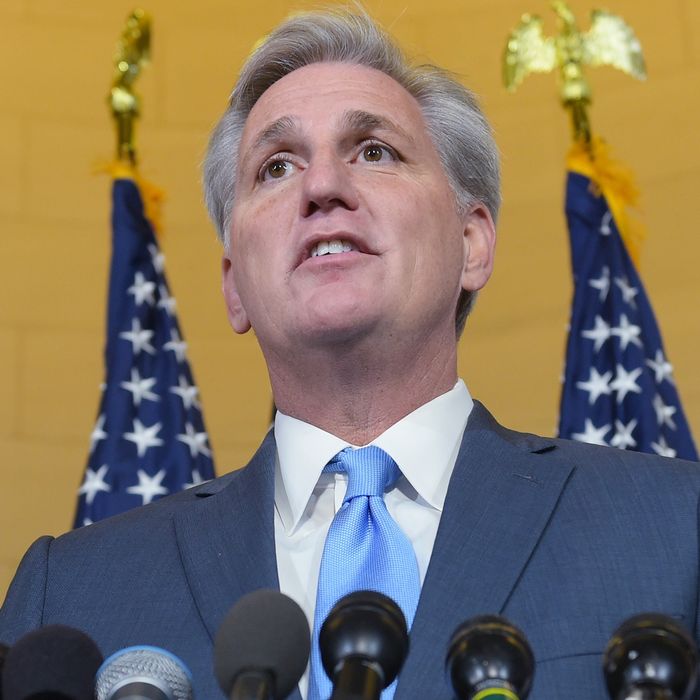 McCarthy explains why he shouldn't be speaker back in 2015.
Photo: MANDEL NGAN/AFP/Getty Images
Since House Speaker Paul Ryan announced his retirement a month ago, the position has been seen as Majority Leader Kevin McCarthy's to lose. In fact, according to The Weekly Standard, top Republicans are so eager to oust the lame-duck speaker that there's talk of pushing Ryan out this summer, months before the end of his term, to make way for McCarthy.
But wait — wasn't McCarthy also the front-runner to take the speaker's gavel from John Boehner in 2015? And didn't he drop out at the last minute, leaving Republicans to beg Ryan to save them?
In The Weekly Standard's telling, "McCarthy's first run for speaker failed for a number of reasons." First, he made comments suggesting that Republicans were only investigating Benghazi to stick it to then-Democratic presidential candidate Hillary Clinton. Also, he "struggled to win the support of conservative members, some of whom were reluctant to support him amid concerns that he would not represent enough of a change from the tactics of former speaker John Boehner."
There's no mention of the other major factor that may have contributed to the abrupt end of his campaign to be speaker: the rumor the he had an affair with then-congresswoman Renee Ellmers.
The Weekly Standard's description is typical of recent reports on the race to be the next speaker. The L.A. Times mentions only the Benghazi gaffe and opposition to McCarthy from the ultraconservative House Freedom Caucus. Slate notes, "And then there were allegations of an affair," but says only questions about McCarthy's conservatism — not the Benghazi probe or alleged extramarital dalliance — are likely to be a factor this time around.
That does seem to be the case, but back in 2015, the rumors were more than a side note in the story of McCarthy's stumble. At the time, journalist Mark Halperin suggested they were key to understanding what happened in an annoyingly cryptic tweet:
Most of the mainstream press was similarly vague, as few wanted to print a headline like "Unsubstantiated Gossip Takes Down McCarthy." Rumors of the affair percolated through the conservative blogosphere, and drew more attention when Ellmers made an odd remark about McCarthy failing to ask for her support, saying, "I'm apparently not high on his priority list."
GOP Representative Walter Jones added more fuel to the fire when he issued a letter calling on candidates to withdraw from the race for speaker if "there are any misdeeds he has committed since joining Congress that will embarrass himself, the Republican Conference and the House of Representatives if they become public." Jones later confirmed that his letter was partly inspired by a blog post he read about McCarthy and Ellmers.
McCarthy changed his mind on pursuing the speakership within a matter of hours, making the case for his candidacy at an early morning meeting, then saying he was dropping out by noon. Steven Baer, a conservative activist known for flooding lawmakers' inboxes, had been emailing many top Republicans about the affair rumor, and according to the HuffPost, he sent an email that morning with the subject line, "Kevin, why not resign like Bob Livingston?" Representative Bob Livingston quickly withdrew his bid to be speaker and resigned in 1998 after acknowledging an affair.
Both parties denied that there was any truth to the rumor. McCarthy explained his flip at the time by saying he didn't want to force his colleagues into a tough vote, and the party needed someone new at the top. "For us to unite, we probably need a fresh face," he said. If McCarthy becomes speaker in January 2019 (the date Ryan would like to exit), he'll have served in the GOP leadership for a decade.
It's possible that McCarthy's speakership bid will be derailed once again, but much has changed in the past three years. First, the rumor is now about McCarthy and a former member of Congress. As the Daily Beast reports, Ellmers was primaried in a redrawn district in 2016. At least one of her opponents alluded to the affair rumor in an ad, and she lost by 30 points to a man who didn't even live in the district. She now works for the Department of Health and Human Services in Atlanta, Georgia.
Last month Representative Jones lamented that Ryan was so quick to give McCarthy his endorsement, and said he would support Steve Scalise or Jim Jordan for speaker — but he didn't attack McCarthy or make any declarations about the moral requirement for the job.
Baer could be preparing another round of nasty emails as we speak, but presumably he has bigger fish to fry. He's now a passionate Never Trumper, and was one of two people pushing the story of a woman who claimed she was raped by Trump when she was 13. The woman known as "Katie Johnson" eventually dropped her suit, and some journalists came to wonder if she really existed.
Trump, of course, is the biggest reason that it's hard to imagine affair allegations stopping McCarthy (or as he calls him, "my Kevin") once again. Today's House GOP is too busy shrugging off the president's admission that he reimbursed his lawyer for paying off a porn star; who has time for a meltdown over a story about a consensual affair between two Republican lawmakers?