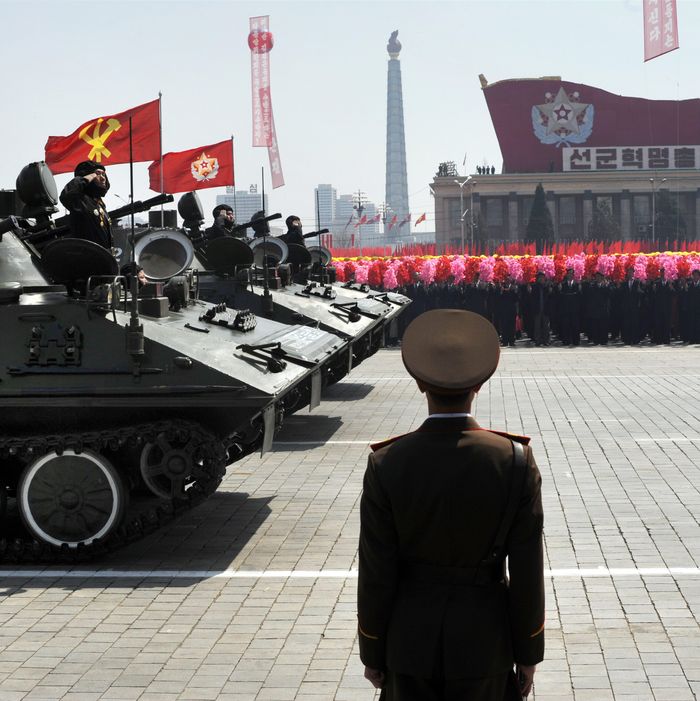 The president seems to be suffering from parade envy. His loyal supporters in the House GOP are trying to ease his pain.
Photo: Pedro Ugarte/AFP/Getty Images
His liberal critics have chortled about the president's stated desire to review a big bristling military parade in Washington in the near future. It's in keeping with his image as a grown-up boy excited about his power and eager to play with real, not toy, soldiers.
But in keeping with their own increasingly clear image as enablers who want to give Trump whatever he wants, House Republicans are preparing to authorize that very parade, as Bloomberg reports:
The display in Washington would be authorized under the Republican-proposed draft for the annual defense policy measure, according to a bill summary released Friday. The measure is scheduled to be taken up by the House Armed Services Committee on May 9 …




The House measure would authorize the use "any kind of motorized vehicle, aviation platform, munition, operational military unit, or operational military platform," unless the defense secretary believes "its use will affect its readiness."
Sounds like that would be enough for a gaudy spectacle that might even impress the president's friends and rivals in Moscow, or at least those of them old enough to remember those big May Day parades in Red Square, which will be echoed this year in a slightly modified form as Russia celebrates the anniversary of victory in Stalin's Great Patriotic War (World War II) on May 9. Military parades are also a big deal in North Korea.
The official rationale for the House GOP plan is not, of course, to help the president realize a puerile dream. It's to honor a group to which the president does not actually belong: veterans.
The parade would look back "on a century of military service and focuses on the men and women who sacrificed to secure America's freedoms," according to the summary released by committee chairman Mac Thornberry, a Texas Republican. "Far too many American veterans and their families believe their sacrifices have not been given the public recognition that they deserve."
You can make the argument that there's never anything the country can do to adequately recognize the sacrifices of people who risked or suffered death to defend Americans. But public displays of respect for veterans and active military are probably at an all-time post-Vietnam high. What might work better is official encouragement of private, individual acts of gratitude and kindness, not the sort of jingoistic spectacle a military parade normally provides, which uses the sacrifices of citizens in uniform to glorify the politicians eager to put them into harm's way more often.
Thornberry tried to make his and Trump's parade sound nonpolitical:
"For too long, our men and women in uniform have been victims of political discord," he said. "Honoring those who served in Korea, Vietnam, Iraq and Afghanistan should not be a political matter. Veterans of those conflicts did not let politics stand in the way of their service to the country."
That is true, which is precisely why it may be wrongheaded to conflate respect for veterans with cheerleading for military might and its deployment, particularly at the expressed request of a would-be warlord in the White House.
Maybe someone should convince the president that planning this sort of a parade could undermine his case for receiving a Nobel Peace Prize.