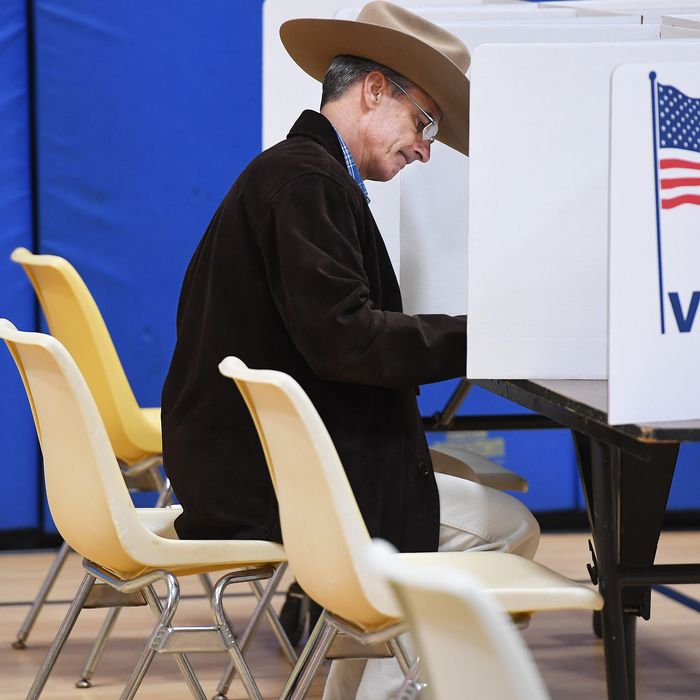 Four states are holding primaries today.
Photo: Matt McClain/The Washington Post/Getty Images
Compared to last week's statewide slugfests in Indiana, Ohio, and West Virginia, the primaries being held in four states today are relatively quiet, even if the outcomes aren't always clear.
The lack of clarity is particularly strong in Pennsylvania, where in February the State Supreme Court declared the Republican-crafted congressional map that had been used since 2012 an unconstitutional gerrymander, and then redrew the 18 districts itself. That decision — in combination with a sex scandal — led to two resignations and one retirement from Republican incumbents in the state, and a landscape in which Democrats have got a shot at picking up four net House seats, and possibly more. Some general-election races are set, but in others the primary resorts could make a difference.
In the Pennsylvania's Seventh, incumbent Republican veteran Charlie Dent earlier retired and then resigned as of May 12. Under the new lines the Seventh is a district carried by Hillary Clinton by a point in 2016, and with a decent wind at the back, a Democrat should be favored over the likely GOP nominee, former Olympic cyclist Marty Nothstein. But a three-way field that includes a progressive activist pastor backed by Bernie Sanders's Our Revolution organization (Greg Edwards), Allentown City Solicitor Susan Ellis Wild, supported by EMILY's List, and blue-doggy-ish Northampton County DA John Morganelli (who has taken conservative positions on abortion and immigration) has created some suspense. If Morganelli (nicknamed MAGAnelli by his critics) wins the nomination, which he could based on name ID alone, Democrats could split in the general election.
Another important Democratic primary in the Keystone State is in the suburban Philadelphia First District, where incumbent Republican Brian Fitzpatrick is now running in a district Clinton carried by two points in 2016. Wealthy photojournalist Scott Wallace — whose grandfather was Vice-President Henry Wallace — has relatively weak ties to the district, but also has money to burn, which he's used to blast rival Rachel Reddick, a Navy veteran, for having been registered as a Republican until recently. Recriminations could weaken the winner in November.
Pennsylvania is the rare Trump '16 state that has both a Democratic senator (Bob Casey) and governor (Tom Wolf) up for reelection this year. Both are favored, though not heavily, in November. U.S. Representative Lou Barletta is the party favorite to win the Senate primary, though state legislator Jim Christiana is running one of those "I'm not a Washington insider" kind of campaigns. In the gubernatorial primary, front-runner and state legislator Scott Wagner and first-time candidate Paul Mango have set up a potential murder-suicide scenario with nasty ads attacking each other, and a third candidate, Laura Ellsworth, may be benefitting. Wagner is from southeast Pennsylvania, and his two opponents are both from near Pittsburgh.
In the other three states holding May 15 primaries (Idaho, Nebraska, and Oregon), there is only one highly competitive House race in the offing for November: a likely rematch of the 2016 race in the Omaha-based Second District of Nebraska, in which Republican Don Bacon toppled freshman Democratic Representative Brad Ashford (though Ashford must survive a primary challenge from progressive Kara Eastman).
In Oregon, the most interesting primary is the GOP contest to choose an opponent for Governor Kate Brown. The incumbent isn't terribly popular, but she's vastly more popular in Oregon than Donald Trump, which is bad news in a midterm election year for the three competitive Republican gubernatorial candidates, described this way by the Salem Statesman Journal:
Their pitches varied: [state legislator Knute] Buehler relied on his legislative experience and more-moderate track record; [Greg] Wooldridge said he is a "pragmatic conservative" with the right demeanor and leadership experience to guide the state; [Sam] Carpenter described himself as a Trump conservative who will be able to rally the Republican base needed for victory.
In Idaho, Republican Governor Butch Otter is retiring, and the GOP primary is a classic three-way Establishment/ideologue/"outsider" affair. The Establishment candidate is Lieutenant Governor Brad Little, who is benefiting from a strong local economy and a lot of civic optimism. The "outsider" is real-estate developer Tommy Ahlquist. But the best-known candidate nationally is U.S. Representative Raúl Labrador, a founding member of the House Freedom Caucus and before that a tea party stalwart.
There is also, unusually, a vibrant Democratic gubernatorial primary in Idaho this year, involving an clear ideological and cultural choice:
Paulette Jordan, a 38-year-old two-term Idaho state legislator and a member of the Coeur d'Alene Tribe, represents the young, fresh progressive face in the race. She's picked up all the national endorsements, from Planned Parenthood to People for Bernie Sanders. But the state's Democratic establishment is lining up behind A.J. Balukoff, a 72-year-old Idaho businessman who ran for governor in 2014.
For true political junkies the evening of May 15 will offer a steady stream of returns, with polls closing at 8:00 p.m. EDT in Pennsylvania; 8:00 p.m. CDT in Nebraska, 8:00 p.m. MDT in Idaho, and (for the most part) 8:00 p.m. PDT in Oregon. In all-mail-voting Oregon, that actually means ballots must be in the hands of election officials or dropped off at collection centers by then. As always, a host of locally significant primaries will occur everywhere, and we won't know the full story until November.