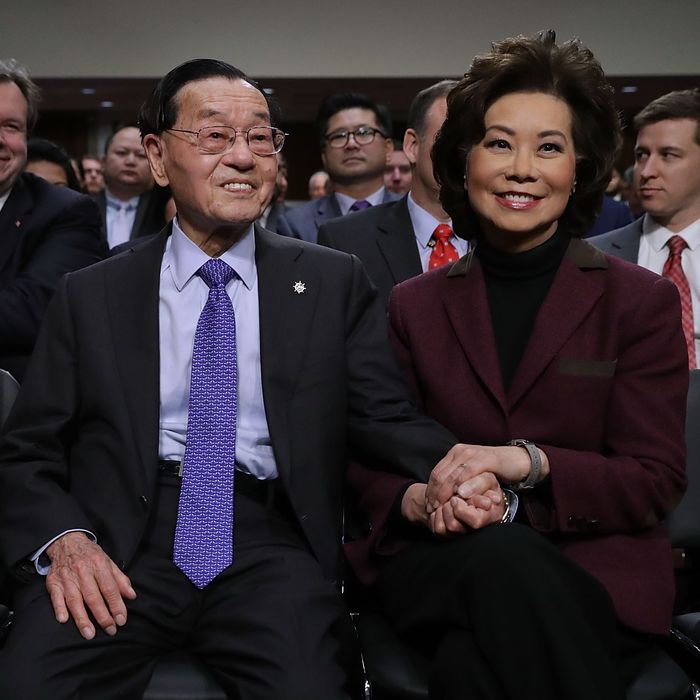 Elaine Chao ad her father James Chao sit together before her confirmation hearing on January 11, 2017.
Photo: Chip Somodevilla/Getty Images
While other Trump Cabinet officials have been in the news constantly for all sorts of ethical violations, we've barely heard anything about Secretary of Transportation Elaine Chao. She drew attention most recently for two issues that involved no wrongdoing on her part: her revelation that the president personally asked House Speaker Paul Ryan to block funding for a New York infrastructure project, and being subjected to racist attacks from a Republican candidate in West Virginia who doesn't care for her husband, Senate Majority Leader Mitch McConnell.
So is Chao the rare Trump official who's doing her job and not abusing her office in any way? Apparently not. Politico reported on Sunday that since her nomination, she's appeared in at least a dozen interviews with her father James Chao, the founder and chairman of the Foremost Group shipping company, which carries goods between Asia and the U.S. All of the interviews are with Chinese and Chinese-American media outlets, and the secretary is otherwise press shy; she's never held a press conference for beat reporters and usually refuses to answer reporters' questions after public events.
Federal employees are prohibited from using their office for their "own private gain, for the endorsement of any product, service or enterprise, or for the private gain of friends, relatives, or persons with whom the employee is affiliated in a nongovernmental capacity." But Chao makes no apparent effort to show she's promoting her family's business only as a daughter, not as U.S. Transportation secretary, and in fact, it appears several of the videos were filmed in her government office. DOT flags are shown in several of the spots, like the New China Press interview below, and one video features the state flag of Kentucky, highlighting her tie to the majority leader.
Government connections are an important part of doing business in China, and Politico notes that in many of the videos James Chao brags about his daughter's government work and contacts. In one video he describes talking with Trump on Air Force One. "The president spent several minutes with me," he said. "We were talking about business."
He also describes how his daughter worked to build up the company when she was in college, though her involvement is not listed on her financial-disclosure form. Two of Chao's sisters have high-level positions at the company, which expanded its capacity by more than 40 percent since Trump's inauguration. While the secretary has no formal role in the company, her father has given her and McConnell at least $5 million in the past decade.
A spokesperson for Chao said her press appearances with her father are "motivational and not promotional in any form," and suggested that she's merely responding to the high demand for interviews with the first Asian-American woman to hold a U.S. Cabinet position (presumably there was more interest when Chao first earned that distinction as President George W. Bush's Labor secretary).
"There is nothing inappropriate with a Cabinet member appearing with her father or other family members," the spokesperson said. "The secretary's appearances are intended to share an inspirational story about immigrants from a minority community who have become successful in our country."
If Chao had to engage in some ethically questionable behavior, she picked a smart way to do it. President Trump might admonish members of his Cabinet for enjoying lavish trips and office furniture on the taxpayers' dime (though Ben Carson, Scott Pruitt, and Ryan Zinke still have their jobs). However, it seems highly unlikely that Trump is going to punish anyone for publicly promoting their wealthy dad's business.