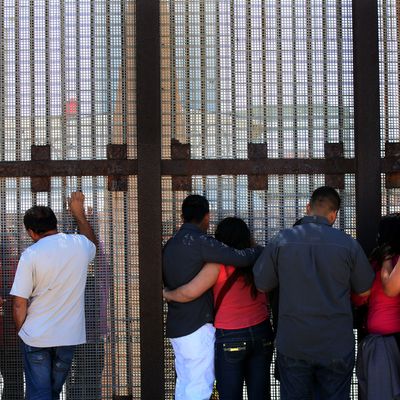 A U.S.-Mexico border fence in 2014.
Photo: Sandy Huffaker/Corbis via Getty Images
In a speech before law-enforcement officials in Arizona on Monday, Attorney General Jeff Sessions announced that the federal government seeks to separate parents from their children at the U.S.-Mexico border in an effort to discourage more crossings.
The Los Angeles Times reports that the policy officially went into effect last week, though hundreds of children have already been taken from their parents in recent months.
"If you are smuggling a child, then we will prosecute you and that child will be separated from you as required by law. If you don't like that, then don't smuggle children over our border," Sessions said, in typically severe remarks.
"We are not going to let this country be invaded. We will not be stampeded. We will not capitulate to lawlessness," he added.
Under the new system, children will be treated as if they arrived in the United States alone, The Wall Street Journal reports. If they are from a country other than Mexico or Canada, they are placed with a family member or in a shelter while their case is considered. Their parents are allowed to apply for asylum once they are apprehended, but may be detained while their applications are considered.
Sessions also announced the Justice Department's intention to criminally prosecute every immigrant who illegally crosses the border, as opposed to simply busing them back over the border.
The extreme family-separation measure, which had been reported to be under consideration in March, marks a dramatic shift from current policy, in which authorities generally try to keep detained families together by sending them to the same detention facilities.
The new rule does not apply to families who present themselves to authorities at the border and apply for asylum.
Crossings between the U.S. and Mexico have surged in recent months, an uptick that prompted President Trump to send the National Guard to the border, though arrests remain at historic lows.