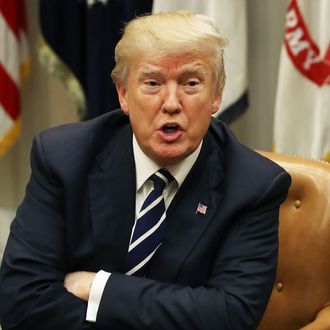 President Donald Trump.
Photo: Mark Wilson/Getty Images
Conservatives have spent decades building a critique of mainstream news, lovingly compiling examples of biased or allegedly biased reporting, and constructing an echo chamber in which the dread Liberal Media can be ignored. Donald Trump is in many ways the culmination of these habits, which he exploited by grasping early on that Republican voters would be willing to forgive literally any lies he uttered, however obvious, because they had been trained to disregard all sources of independent fact.
In a tweet this morning, Trump casually opened a window into the source code for his method of identifying liberal media bias. Anything that's negative is, by definition, fake:
It was completely obvious that "negative" and "fake" were synonymous terms for Trump. What differentiates Trump from the rest of his party is that he is sloppy enough to come out and say it.