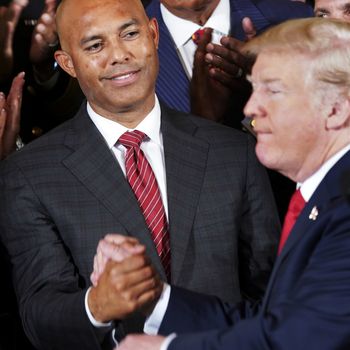 Donald Trump and Mariano Rivera, former New York Yankees closer.
Photo: AP/REX/Shutterstock
The White House on Friday announced a slate of appointments to President Trump's "Council on Sports, Fitness, and Nutrition," and it reads like the casting announcement for the latest season of Celebrity Apprentice. There's a reason for that: A handful of the appointees were once contestants on the show.
Among those who once "worked" for Trump on NBC and will now "work" for Trump on this largely ceremonial panel are former Yankees and Red Sox outfielder Johnny Damon, bodybuilder and Incredible Hulk actor Lou Ferrigno, former NFL running back Herschel Walker, and pro golfer Natalie Gulbis.
The rest of the panel is made up of business and nonprofit types, along with New England Patriots head coach Bill Belichick and TV doctor Mehmet Oz.
The naming of the council's members comes several months after Trump signed an executive order shuffling the name of the body so the word "sports" came first. It was a small change but it was cheered on the right, where Trump's fans interpreted it as a middle finger to Michelle Obama and her efforts to promote individual exercise and healthy eating. Now the council will now promote participation in team sports instead. Wouldn't want kids only spending their time on individual sports and growing up to look like this.