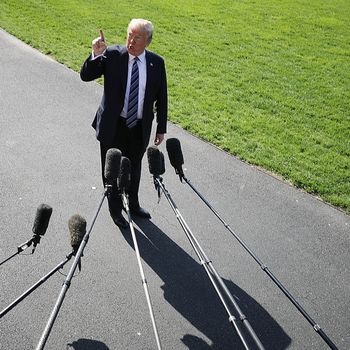 In his own world.
Photo: Chip Somodevilla/Getty Images
President Trump's dual obsession with lying and ridiculing the media reached a new level of lunacy on Saturday when he claimed that one of his White House aides did not exist in an attempt to discredit a news report based on what the aide had said to dozens of reporters during an officially sanctioned press briefing. Insisting that negative media coverage relies on fictional sources is one of Trump's best known routines, but in this case, the existentially challenged aide's comments were recorded and that recording has now come out.
According to President Trump's offending tweet, however, the perpetually "failing" New York Times quoted:
a senior White House official,' who doesn't exist, as saying "even if the meeting were reinstated, holding it on June 12 would be impossible, given the lack of time and the amount of planning needed." WRONG AGAIN! Use real people, not phony sources.
The official in question, later identified as National Security aide Matt Pottinger by roving reporter Yashar Ali , is a real and non-phony person who said exactly what the Times reported he did:
(Ali was not at the briefing but obtained one of the dozens of recordings of it, and therefore was not constrained by the off-record agreement.)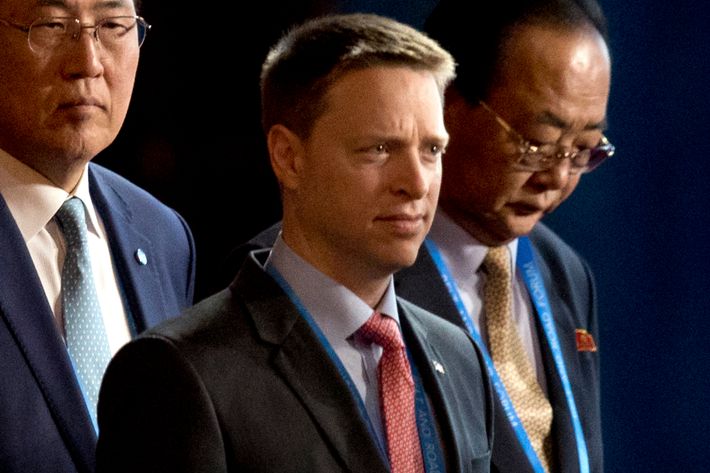 Pottinger was speaking on background for reporters, a routine practice in any White House (even this one). Not surprisingly, many journalists who cover the Trump administration flipped out on Saturday over Trump's "demonstrable falsehood," as New York Times reporter Maggie Haberman and a few other journalists referred to Trump's big lie:
One possible interpretation of this incident is that Trump was lying even more blatantly than usual, essentially daring reporters to violate their off-record agreements if they wanted to expose him. Trump spends about as much time trying to discredit the media as he does golfing, and he knows the harassment pleases his base. Saturday's whopper may be an escalation of this behavior, evidence that Trump is testing the limits of his lies while vilifying journalists by using their own rules against them.
A more plausible explanation is that the president is a reality television star who doesn't understand or care about what happens in the White House, so long as it doesn't expose his own inadequacies. In this context, Trump assumes, or pretends to assume, that every unnamed White House official who doesn't project his thoughts and feelings is a figment of the New York Times's imagination. And no one in the White House knows what it's like to be fake better than this president.