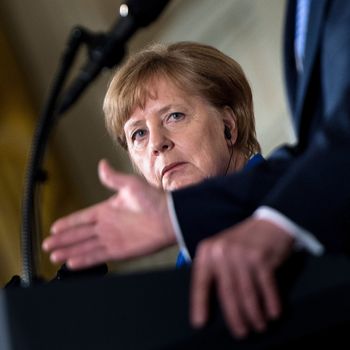 Angela Merkel had a great time with Trump at the White House last week.
Photo: Brendan Smialowski/AFP/Getty Images
Hours before a deadline on whether to impose impose major steel and aluminum tariffs on the European Union, Mexico, and Canada — 25 percent on steel, 10 percent on aluminum — the Trump administration delayed its decision by a month, perplexing its allies who had been hoping for a permanent exemption from the rules.
The deadline for the decision was midnight on Monday; the administration said it would revisit the issue by June 1. In the meantime, it will try to get European countries to make concessions that would avoid the tariffs altogether, like importing less metal into the U.S. But EU leaders have not been enthusiastic about giving in to avoid Trump administration threats.
The U.S. did come to preliminary agreements with Argentina, Australia, and Brazil that would exempt those countries from the tariffs permanently.
The Trump administration had controversially cited "national security" as the reason for introducing the duties, an extremely dubious justification that drew disbelief from many corners — and may inspire challenges to the World Trade Organization.
"The U.S. decision prolongs market uncertainty, which is already affecting business decisions," the European Commission said in a statement after the delay was announced. "The EU should be fully and permanently exempted from these measures, as they cannot be justified on the grounds of national security."
The EU has said that if the tariffs do go into effect, it will retaliate with similarly punitive measures, targeting all-American products like Harley Davidson motorcycles.
A likely reason for the delay is that, while there is no good time for an unnecessary trade war, the current moment is particularly fraught. The U.S. is on the brink of pulling out of the Iran nuclear deal over the fierce objections of European leaders, and is engaged in marathon negotiations with Mexico and Canada to redesign NAFTA more to America's liking — delicate talks that make it particularly unlikely that the Trump administration would slap those two countries with new penalties.
Meanwhile, the U.S. already imposed the same steel and aluminum tariffs on China last month. As the country signals that it is unlikely to back down to American demands, Trump is sending a delegation of his best economic minds to China to stave off a full-blown trade war.
Even the Trump administration has its limits for allowable amounts of chaos at any given time.