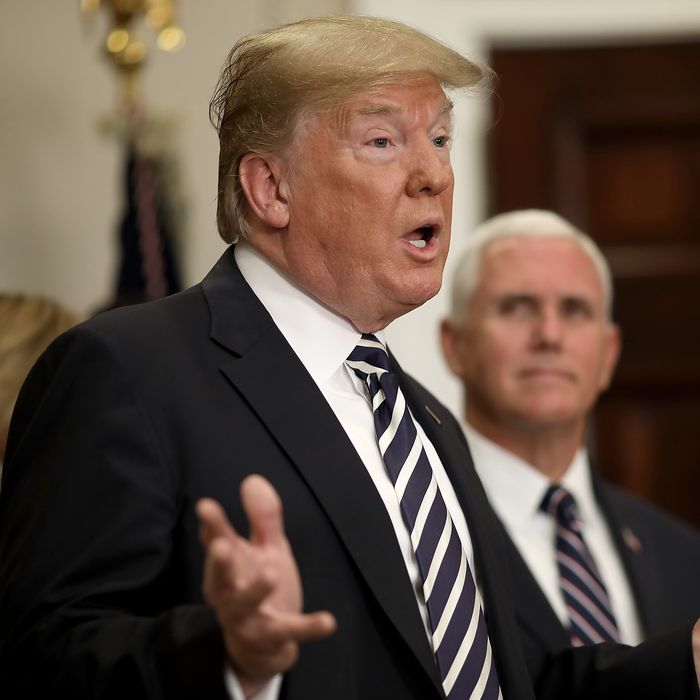 It's off.
Photo: Win McNamee/Getty Images
As the world processes the cancelation of the U.S.–North Korea summit scheduled for next month, President Trump's allies are spinning it as an example of his negotiating prowess. On Trump friend told Politico it was about "the art of the deal," boasting, "he's not taking the guy's shit."
But as we learn more about what led to the meeting's cancelation, another narrative is emerging: Trump made the call without much planning or deliberation, and wound up generating a lot of unnecessary chaos.
That's very similar to how the summit was born back in March. After months of careful maneuvering on the part of Kim Jong Un, the North Korean leader told South Korean officials that he would be up for direct talks with the U.S. Officials anticipated days of deliberations on how to respond, according to the New York Times. But when South Korean official Chung Eui-yong arrived at the White House, he was unexpectedly summoned into the Oval Office and Trump immediately agreed to meet with Kim. Around 7 p.m., just hours later, Chung stepped out onto a White House driveway and announced the news to reporters.
This time, it appears Trump at least slept on the decision, but it was still a dizzying reversal. The Washington Post reports that National Security Adviser John Bolton informed Trump around 10 p.m. Wednesday that North Korea had issued a statement calling Vice-President Mike Pence a "political dummy," and warning that the U.S. could either "meet us at a meeting room or encounter us at nuclear-to-nuclear showdown."
Trump was reportedly worried that Kim was maneuvering to back out of the summit and make the U.S. look desperate. Instead, Trump decided to quit first, making the call the next morning, before he'd even emerged from the residence:
As dawn broke Thursday, senior U.S. officials congregated in the West Wing, and by 7 a.m., they were discussing options over the phone with Trump, who was still in his private chambers. The president arrived at a swift decision to cancel the summit.
This sent the officials scurrying between various offices as they finalized their plan, and Trump dictated a bizarre letter to Kim, telling "His Excellency" that the meeting was off "based on the tremendous anger and open hostility displayed by your most recent statement."
Foreign officials found out the summit was off just before 10 a.m., the same time as the rest of the world, when the White House distributed Trump's letter to reporters. That was intentional; while some advisers were worried about insulting South Korea and other U.S. allies, Trump didn't want to give them a heads-up because he was afraid the news would leak.
The chances of the summit actually happening had been dwindling since last week, when North Korea dropped the diplomatic tone it had been using for weeks and threatened to cancel the meeting if the U.S. kept pushing "unilateral nuclear abandonment." (They also complained specifically about Bolton referencing the "Libya model," which they viewed as a threat.)
On Thursday we learned that Pyongyang was making other moves behind the scenes that suggested they wouldn't follow through with the summit. During a conference call with surrogates, Deputy Assistant to the President for Asian Affairs Matt Pottinger said U.S. officials were recently "stood up" by North Korean negotiators during a scheduled planning meeting in Singapore.
"There they waited for three days," Pottinger said. "The North Koreans never showed up. They never told us anything. They just stood us up."
"Over the last six days the United States made numerous attempts to communicate with the North Koreans and they never responded to any of those efforts to communicate and to coordinate in advance of the 12 June summit," Pottinger added.
Advisers had been warning Trump that he should be prepared for the summit to be called off (though he'd already publicly mused about his Nobel Peace Prize), and in recent days he started tempering expectations. While meeting with South Korean president Moon Jae-in on Tuesday, Trump warned reporters that the summit "may not work out for June 12," but suggested it could happen at a later date.
In private, however, it appears Trump was gung ho on the meeting as recently as Wednesday. Representative Peter King said that while flying with Trump to Long Island, he said he believed the "screws" had been put to Kim and he was ready to make a deal.
"If I had to bet right now, he had no intention of calling it off," King said. "He was throwing out different ideas — nothing dramatic, but obviously thinking through what they were going to be doing over the next few days to get ready and make plans for the summit."
Though, it didn't sound like Trump was personally toiling away at summit preparations. Recent reports suggested that Trump was still resisting the detailed briefings on North Korea's nuclear capabilities that were given to previous presidents. A former U.S. official familiar with the administration's planning expressed relief that the summit had been canceled, telling Politico that Trump had intended to "wing it" in Singapore.
Trump may still get an opportunity to show off his lack of familiarity with North Korea's nuclear-weapons program. On Friday North Korea issued its response to Trump's cancelation of the summit, flipping back to language suggesting it fell victim to the whims of a madman.
"The unilateral cancelation of the summit was unexpected and very regrettable," said Kim Kye Gwan, a vice–foreign minister of North Korea. "But we remain unchanged in our willingness to do everything we can for the peace and stability of the Korean Peninsula and of the humanity, so with a broad and open mind, we are willing to give the United States time and opportunity."
Kim concluded that North Korea remains "willing to sit down with the United States any time, in any format, to resolve the problems." Who knows, maybe Trump will suddenly announce that the summit is back on.