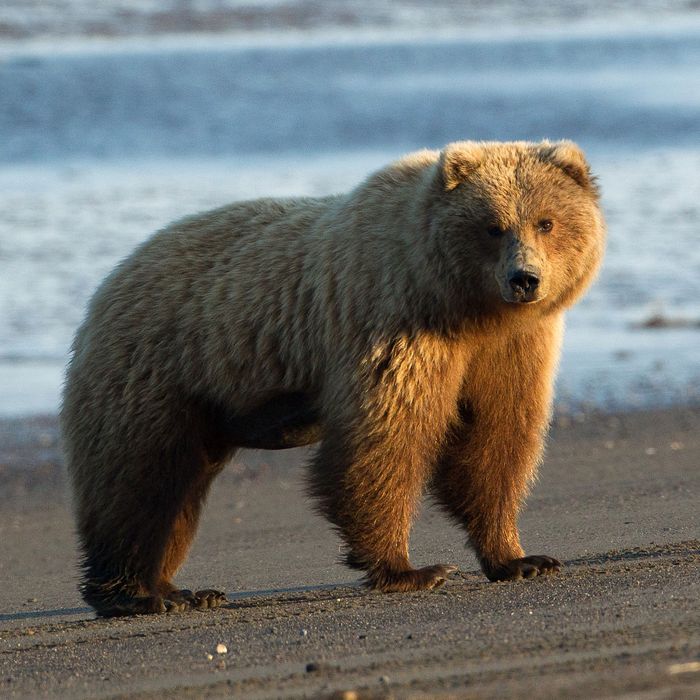 Don't eat the doughnut!
Photo: Greg Morgan/Barcroft Media via Getty Images
It's the sort of thing that drives animal-rights advocates and other elite bunny-hugging liberals wild, to the delight of politically incorrect red-blooded MAGA-men. As NBC News reports, the Trump administration is bringing back savage hunting techniques to federal lands in Alaska:
The Trump administration is moving to reverse Obama-era rules barring hunters on some public lands in Alaska from baiting brown bears with bacon and doughnuts and using spotlights to shoot mother black bears and cubs hibernating in their dens.
There are a lot of humans, much less bears, who can't resist bacon and doughnuts. But before you can say "Sarah Palin," there's more:
Under the proposed changes, hunters would also be allowed to hunt black bears with dogs, kill wolves and pups in their dens, and use motor boats to shoot swimming caribou.




These and other hunting methods — condemned as cruel by wildlife protection advocates — were outlawed on federal lands in 2015. 
That was, of course, under President Obama, who hated Real Americans.
The rationalization for this particular action is to make federal "predator control" guidelines match state laws. But there's not much doubt a culture change in Washington has a lot to do with it, as The Hill observes:
Secretary Ryan Zinke has met a number of times with representatives of the National Rifle Association as well as the big game hunting lobby, the Safari Club.




Last fall, on the heels of news that hunting was dropping within the U.S., Zinke announced October would be National Hunting and Fishing Month and installed a "Big Buck hunter" shooting game in the lobby of Interior Department Headquarters.




Since then the administration has come under fire for changing protections to other groups of animals, including a Fish and Wildlife Service decision to allow elephant trophy imports back into the U.S. on a "case by case" basis — a reversal of an Obama-era ban on imports of the animal.
There's also probably an influential lobbyist or two in the White House pushing policy in the same direction:
President Donald Trump's sons are also avid trophy hunters who have made past excursions to Africa and Alaska.
Whatever else is going on, Team Trump is probably quite happy to provoke the wrath of people more concerned about preventing cruelty to animals than protecting the feral pleasures of trophy hunters. There is evidence that backlash to animal-cruelty restrictions is a good mobilization tool for rural conservative voters. In 2014 a ballot initiative in Maine to "ban the use of bait, dogs or traps in bear hunting except to protect property, public safety, or for research" was defeated by a big turnout of rural voters who also, as it happens, reelected atavistic conservative Governor Paul LePage in an upset.
Bear cubs may be adorable, but to a lot of Americans, they're not only predators but prey.