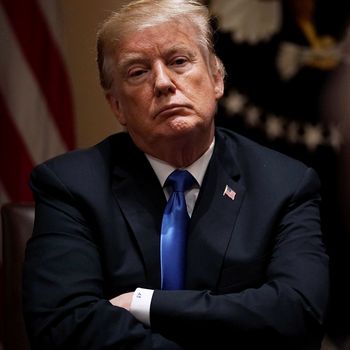 Donald Trump says it's time to go for hundreds of thousands of people from countries where return could be perilous.
Photo: Alex Wong/Getty Images
The Trump administration's determination to convince Congress to seriously restrict legal immigration is well-known, as is its desire to rein in protections for undocumented immigrants and ramp up deportations.
But there's another whole area where the administration can act on their desire to get rid of immigrants without congressional approval: targeting those legally in the United States under what is known as the Temporary Protected Status (TPS) program. To qualify for TPS, you have to be from a specific country "experiencing armed conflict, the aftermath of environmental disaster, or other extraordinary and temporary conditions," as one description explains it. Until the Trump administration came in, TPS beneficiaries who might face perilous (or even deadly) circumstances if forced to return home have been allowed to stay in the U.S., even if the original emergency that led to TPS status has ended. But now the government is briskly ending TPS status for various countries one by one, placing these migrants on a schedule for either deportation or illegal status.
As the New York Times explains, the last big category of TPS beneficiaries, from Honduras, has now been denied further relief, and will lose their protection in January of 2020:
Tens of thousands of Hondurans who have lived in the United States for up to two decades must prepare to leave, government officials announced Friday, a decision that effectively spells the demise of a humanitarian program that has protected nearly half a million people who had sought refuge from unstable homelands.




The Trump administration is ending temporary protected status for Hondurans who have been allowed to live and work in the United States since 1999, following a hurricane that ravaged their country. With an estimated 86,000 people currently registered, Hondurans represent the second-largest group of foreigners who have benefited from the program.
The largest category, from El Salvador, was stripped of protections in January, when 200,000 migrants were notified they'd need to go home by September of 2019. Smaller groups from Haiti (45,000 people) and Nicaragua (2,500) also lose TPS status next year.
But of all these countries, Honduras is perhaps the most volatile. The Central American nation has one of the highest homicide rates in the world. Irregularities in last November's presidential election have led to massive street protests, which have turned violent.
The Hondurans not only face terrible risks if they go home; they also leave behind productive, peaceful lives in this country.
According to the Center for Migration Studies, Hondurans with protected status have 53,500 American-born children; 85 percent participate in the labor force, compared with 63 percent of the overall United States population; and nearly 20 percent have mortgages.
Their voices are barely being heard in the larger cacophony of the immigration debate. But their fate reflects the broader conflict between an administration that will use any technicality (and it is correct in arguing that the "temporary" nature of TPS has changed) to reduce the number of non-citizens in the country, and those who argue that they should be left in peace so long as they are obeying the law, contributing to their communities, and escaping peril back home.
Ultimately Congress could resolve this and other immigration problems, but as a spokesperson for Catholic Legal Services complained to reporters from McClatchy, the administration isn't really interested in solutions:
They're willing to cut back these protections from deportation to end people's work authorizations and then say somewhere down the road we'll find some congressional solutions…. Yet when congressional solutions become part of the debate and it actually moves somewhere and we see progress, we have a complete misdirection from the administration.
In the long run, though, Team Trump clearly does favor one direction for people like the Hondurans: out.