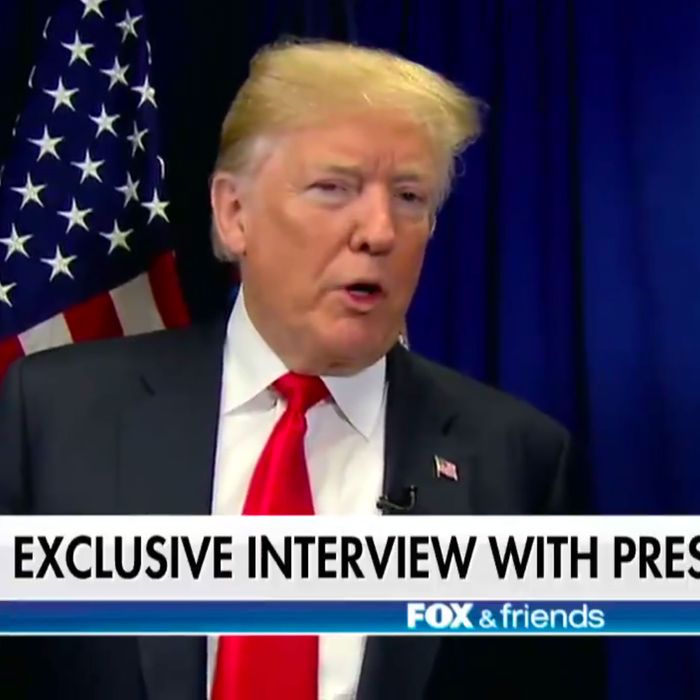 All in all, he just wants another few bricks in his wall?
Paul Ryan's caucus is currently locked in a civil war over immigration. Tired of letting their far-right counterparts have all the mutinous fun, moderate Republicans are pushing a discharge petition that would force the Speaker to allow a vote on a series of immigration bills, including one that would provide Dreamers with a pathway to citizenship — without giving Donald Trump his border wall or restrictions to legal immigration. Such legislation would enrage most of the Republican caucus, but could plausibly pass the House, anyway, on the strength of overwhelming Democratic support.
Conservative hard-liners have responded by demanding a vote on Judiciary Committee chairman Bob Goodlatte's very Trump-y immigration bill. That legislation is unlikely to pass the House in its present form, but conservatives believe that bringing it to the floor would immediately nullify the moderates' discharge petition (for complicated procedural reasons). To put muscle behind their demand, the Freedom Caucus killed Ryan's Farm Bill last week, arguing that Goodlatte's proposal should be taken up first.
Now, Ryan is tentatively planning to hold votes next month on multiple immigration bills, with each flank of his caucus getting a chance to back at least one piece of legislation that comports with its preferences. But for these proceedings to amount to more than Kabuki, something is going to have to give: To this point, President Trump has publicly insisted that amnesty for Dreamers must be paired with cuts to legal immigration — but Mitch McConnell couldn't even marshal 40 Senate votes for such cuts back in February, let alone the 60 that they would need to pass.
The most plausible compromise between the moderates' "pathway to citizenship for border-control pork" proposal, and the conservative hard-liners' "give Dreamers temporary legal status for a border wall and steep cuts to family-based migration" package, would be some species of "wall for amnesty" deal.
Back in January, Chuck Schumer made Trump precisely that offer. The president turned him down, insisting on measures that would reduce America's intake of legal immigrants (particularly, those from "shithole countries"). Two months later — after his desired proposal went down in flames in the Senate — the White House told Republican congressional leaders that the president was open to a deal "to protect young immigrants from deportation in exchange for border wall funding."
Now, in a Fox & Friends interview that aired Thursday morning, Trump suggested that his red-line on immigration is wall funding — not lower quotas. Asked by Brian Kilmeade if he could support any of the bills moving through the House, the president replied "unless it includes a wall … and unless it includes very strong border security, there'll be no approvals from me."
When asked if this meant that he could settle for a bill that did not include all of his priorities, Trump did say, "I think it's time to get the whole package." But this president is not known for qualifying his ultimatums with "I think." Regardless, it is significant that the demand at the top of his mind was the wall, not ending so-called "chain migration." Given the fact that he floated a "wall for DACA" deal in March, there is reason to believe that Trump would be willing to (at the very least) provide a reprieve for his 800,000 hostages, so as to secure his monument to American xenophobia.
In March, Trump's tentative offer was "a three-year extension of the DACA program in exchange for three years of wall funding," according to a report from the Washington Post. That would likely be too austere an amnesty to attract much Democratic support in the Senate. But recent history suggests that "a pathway to citizenship for full funding of the border boondoggle" just might fly (until Stephen Miller gets Trump alone, anyway).