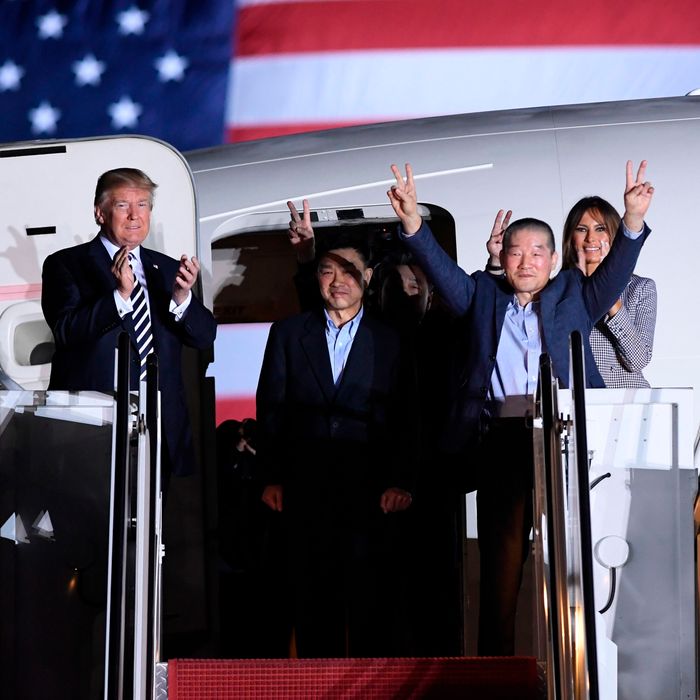 Trump with Kim Dong-chul (2nd right), Kim Hak-song (behind) and Tony Kim (2nd left) upon their arrival at Joint Base Andrews in Maryland.
Photo: SAUL LOEB/AFP/Getty Images
Three Americans who were imprisoned in North Korea were welcomed home early on Thursday morning by President Trump, along with other top government officials. Kim Hak-song, Tony Kim, and Kim Dong-chul flashed peace signs as they emerged from the airplane, and they appeared to be in decent health.
The men were all taken captive in the last three years, and spent months in brutal North Korean prison camps. They were released ahead of Trump's summit with North Korean leader Kim Jong-un, which is expected to take place in mid- to late June, possibly in Singapore.
Secretary of State Mike Pompeo retrieved the men during a trip to Pyongyang to finalize the details of the summit. After being flown to a U.S. military base in Japan, the men were taken to Joint Base Andrews in Maryland.
The president and First Lady boarded the plane to meet the freed hostages around 3 a.m., as Pompeo, Vice-President Mike Pence, and Second Lady Karen Pence waited on the tarmac. Trump then emerged from the plane, followed by the three men.
Trump offered a compliment to the North Korean dictator, saying "We want to thank Kim Jong-un, who really was excellent to these three incredible people."
Kim Dong-chul described his time in the North in less pleasant terms, saying through an interpreter, "We were treated in many different ways. Me, I had to do a lot of labor, but when I got sick, I was also treated by them." He said being back in the U.S. felt "like a dream. We are very, very happy."
Just before boarding Marine One and heading back to the White House, Trump noted that the men must be getting great ratings. "I think you probably broke the all-time-in-history television rating for three o'clock in the morning," he said.