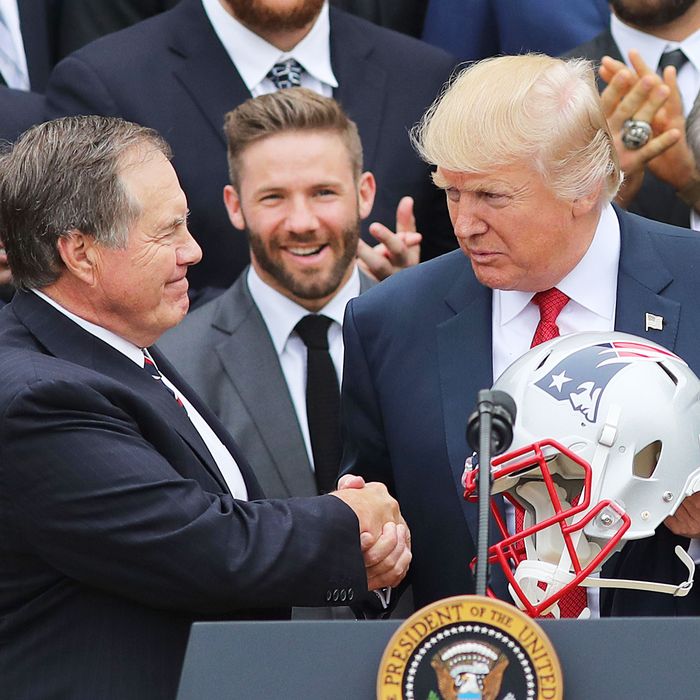 Trump and Bill Belichick.
Photo: John Tlumacki/Boston Globe via Getty Images
Last week, as the heads of North Korea and South Korea prepared for a historic summit, world leaders agonized over the fate of the Iran nuclear deal, and another personnel embarrassment marred the West Wing, President Trump found time to address a question weighing on the minds of many NFL fans: Will Tom Brady play football in 2018?
The New England Patriots quarterback and noted MAGA-hat owner spent much of the off-season playing coy about his 2018 plans. Trump wanted answers, so he called New England Patriots head coach Bill Belichick and had a long chat, according to a Times piece about John Kelly's growing isolation in the White House.
Mr. Kelly, for his part, is sanguine about how little control he has over how the president chooses to spend his time. At a breakfast event last week for Senator Tom Cotton, Republican of Arkansas, Mr. Kelly marveled that Mr. Trump had spent a long time the day before on the phone with Bill Belichick, the New England Patriots coach, talking about the status of Tom Brady, the star quarterback, according to two people familiar with his remarks, one of whom was present.
As it happens, Brady and Kelly find themselves in similar positions right now. Both are working under famously mercurial authoritarians, and both have lashed out in moments in discontent. Brady, though, has made it clear that he'll still be working for his iron-fisted boss through the end of the year. That doesn't seem nearly as likely for Kelly.