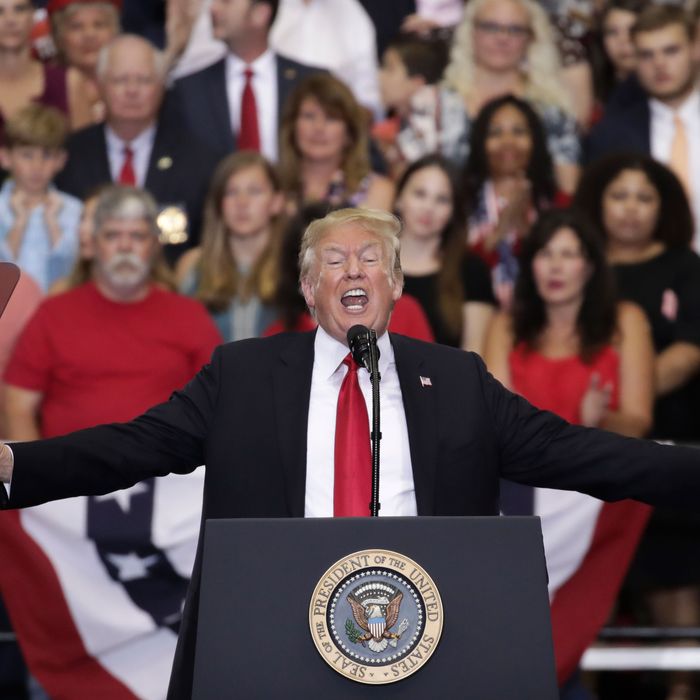 President Donald Trump speaks during a rally at the Nashville Municipal Auditorium, May 29, 2018, in Nashville, Tennessee.
Photo: Drew Angerer/Getty Images
Two days ago, the New York Times reported that President Trump berated Attorney General Jeff Sessions for recusing himself from the Russia investigation. (The recusal was a slam dunk, as Sessions had a clear and glaring conflict of interest in an investigation of a campaign he was part of on a subject he misled Congress about.) Now Jonathan Swan reports that Trump did not give up when the recusal was explained to him. He urged Sessions to take back control of the Russia investigation at least four separate times, "until fairly late in the year."
Trump tried to tell Sessions that he would be "a hero" to Republicans if he "did the right thing" — not only on the investigation of Trump, but also by opening up investigations of Trump's Democratic enemies. "Much of his desire for investigating Clinton and Barack Obama comes from a desire for retribution," people who have discussed this with the president tell Swan.
This falls into the category of "shocking, but not surprising," the kinds of Watergate-level abuses of power we learn about every week. Trump believes he is entitled to run the federal law-enforcement apparatus for his personal and political benefit, sparing his friends and subjecting his allies to merciless harassment. Trump is incorrigibly authoritarian, and the conservative habit of analyzing this conflict as if Trump is not bent on corrupting law enforcement into an authoritarian tool is a way of avoiding the central issue. The Constitution is not going to be safe as long as Trump occupies the Oval Office.