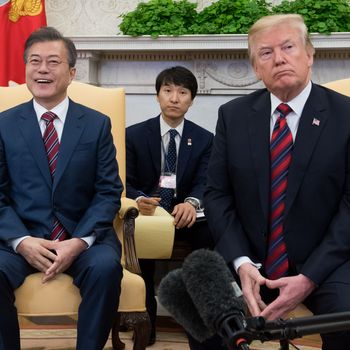 President Trump meets South Korean president Moon Jae-in at the White House on May 22, 2018.
Photo: SAUL LOEB/AFP/Getty Images
I admit it: I thought the Trump administration was serious about canceling its June 12 summit in Singapore with North Korean leader Kim Jong-un — or at least, that Trump's breakup-letter maneuver would have the effect of scotching the summit regardless.
But the North Koreans understood Trump better than I did. They interpreted his letter (correctly, it seems) as a ploy to put himself back at the top of the news updates — to be the man of action, any kind of action, rather than the man acted upon. Pyongyang made conciliatory statements and presented a united front with South Korean president Moon Jae-in. The two nations said that a U.S.–North Korean summit was still possible and desirable, affirmed that their own meeting would continue as planned, and even added an additional mini-summit, making Moon the first South Korean leader to have met his northern counterpart twice.
It also looks as if the Koreans had allies in the State Department and CIA, as well as in the person of Defense Secretary Jim Mattis. Even as it seemed Trump's letter might spark an escalation of rhetoric or worse, various U.S. officials made summit-friendly public statements. Preparations for the June 12 summit continued, with Secretary of State Mike Pompeo joining a senior North Korean official for dinner in New York on Wednesday.
It's easy to see why so many commentators were ready to believe that the summit would be canceled. They're well aware that on substance, the two sides remain miles apart, and the outcomes they seek, or claim to seek, are fundamentally incompatible.
Washington says it's committed to the North's "denuclearization," which administration officials have defined as the removal of nuclear weapons from North Korea (that's the so-called Libyan option; the materials and equipment Muammar Qaddafi agreed to turn over went to Tennessee for dismantling). They also want extensive investigations of North Korean facilities, with inspectors permanently able to enter even military and intelligence installations at will to verify that Pyongyang is not secretly rebuilding.
There are just a few problems with that. First, no country has ever submitted to that level of intrusive inspection. The U.S. and Russia maintain off-limits facilities under their nuclear-arms-control agreements (which each claims the other is violating). The Iran nuclear deal was the most intrusive such agreement ever negotiated, with an extensive role for inspectors from the International Atomic Energy Agency. The good news is that the inspection and verification procedures appear to have worked well, and no outside intelligence agency has found evidence that Iran was not complying. The bad news, of course, is that the Trump administration and key American conservatives — including Pompeo, who's now leading the preparations for the North Korea summit — rejected the terms of the Iranian deal as inadequate, and tore it up.
Second, the Iran deal took most of President Obama's eight years in office to negotiate. Any deal with North Korea would be exponentially more complicated, because the country already has functional weapons and missiles capable of reaching U.S. possessions. Sig Hecker, a Stanford professor who formerly ran the Los Alamos nuclear research complex and is one of the few outsiders to see Pyongyang's nuclear facilities, says he believes it would take 15 years to dismantle the program safely and verifiably. (That takes us through two terms of Ivanka, plus a few years.)
We know the American security bureaucracy is capable of sustaining such a complex negotiation — or at least, it was before so many career officials departed in the last 18 months. If this or any other administration were willing to let the bureaucracy do its work, experts have laid out paths by which initial confidence-building measures could build to full denuclearization over a period of years. If the North later backtracked, as has happened after prior thaws and high-level meetings, Washington would have given up little beyond the international status it has already conferred on Kim Jong-un by agreeing to a meeting and speaking so positively of him.
However, nothing in the Trump administration's negotiating history to date suggests that its political leaders are capable of letting experts manage negotiations quietly. And there is another problem. The slowness of a phased denuclearization process, and the carrots the North is likely to require along the way, are out of sync with the public positions of leading Democrats as well as Republicans.
For decades, administrations of both parties have demanded that the North surrender weapons and materials, and commit to full disarmament. Carrots of economic assistance would be offered along the way, and others — like a peace treaty and alterations of the U.S. military posture in the region — would come at the end of the process.
A few prominent voices — notably Richard Haas, the president of the Council on Foreign Relations, who served at the State Department under George W. Bush — have acknowledged that this position is not tenable now that the North has many operable weapons and the means to deliver them. Others will be tempted to stick to this strategy, and will judge a summit, whenever one takes place, to be a failure by this standard. Instead, they should ask themselves — by what criteria do they want a president in 2021, or 2025, to be judged? How many weapons do they want the North to have if and when their side has a chance to lead the negotiations?
The U.S.–North Korea summit's true standard of success should be twofold: First, does it return the level of hostility on the peninsula to what it was before Trump and his team jacked it up with belligerent Twitter rhetoric, giving Kim's regime the attention and status it had long dreamed of? And, second, does it rebuild bonds of trust with our regional allies, who shoulder much of the burden and most of the risk of living with a nuclear-armed autocracy? By any historical perspective, that's a sorry standard for American diplomacy — but here we are.