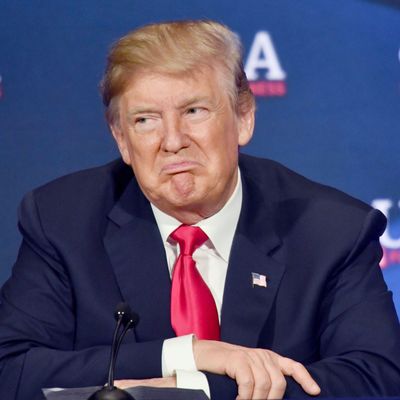 President Trump: You can't make me stay on topic, I'm the president.
Photo: Nicholas Kamm/AFP/Getty Images
Since Donald Trump continues to waver about his intention to give Robert Mueller an interview, his staff is simultaneously preparing the president to answer Mueller's questions while making the case that he couldn't possibly be asked to do something so demanding. Peter Nicholas reports that Trump's lawyers argue that being forced to testify "would be a serious distraction to his work as president." The problem, of course, is that everything is a serious distraction for Trump. "Anyone can see he has great difficulty staying on a subject," a source tells Nicholas.
How great is the difficulty? Nicholas reports, "In an informal, four-hour practice session, Mr. Trump's lawyers were only able to walk him through two questions, given the frequent interruptions on national-security matters along with Mr. Trump's loquaciousness, one person familiar with the matter said."
Two questions in four hours! That's really bad. Of course, if they have already found four hours, minus the occasional national-security interlude, it would further suggest Trump has plenty of time in his day to prepare for Mueller, even without eating into his generous Executive Time cable television binge-watching allotment. Instead, Trump's lawyers appear to be arguing that no amount of time is sufficient to prepare him for Mueller because Trump is unable to think or speak in an organized, sequential manner.