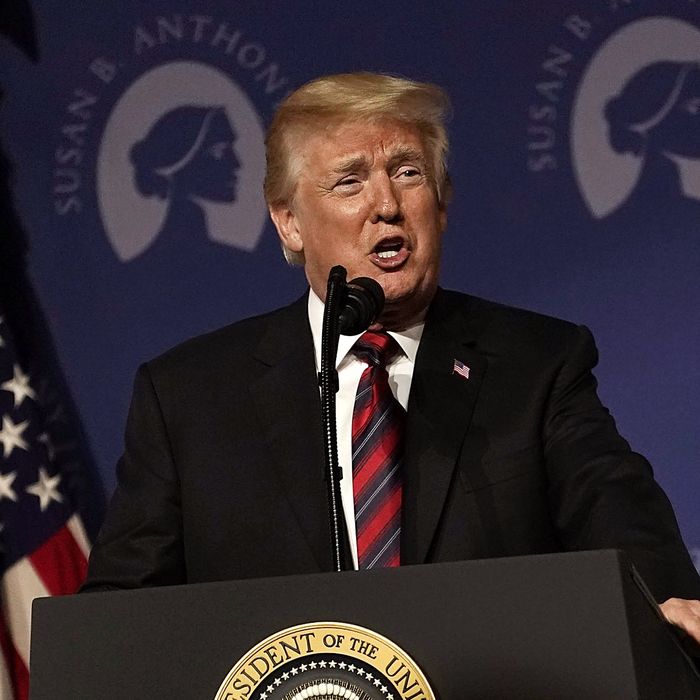 Get out and vote this November! Or don't, just make sure you show up in 2020.
Photo: Alex Wong/Getty Images
It's widely acknowledged that Democrats have a good shot at flipping the House in the fall, and might even be able to take the Senate. If Republicans lose control of one or both chambers, that could seriously impede President Trump's policy agenda, and possibly even lead to his impeachment.
In a speech before the anti-abortion group Susan B. Anthony List's annual gala on Tuesday night, President Trump tried to get Republicans fired up for the midterms by warning that their complacency could give Democrats a chance to "reverse these incredible gains" he's implemented.
"Every values voter must be energized, mobilized and engaged. You have to get out there," Trump said.
But since Trump always has to be number one, he could not bring himself to put the November race on the same level as his glorious 2016 win.
"Your vote in 2018 is every bit as important as your vote in 2016," Trump read off the teleprompter — then he broke from the script. "Although I'm not sure I really believe that. I don't know who the hell wrote that line," he joked.
As the audience laughed, he added: "But it's still important, remember."
Though Trump was clearly joking, the quip probably left GOP leaders queasy. Last month the New York Times reported that the president has rejected warnings that Republicans may suffer serious losses in November. When Senate Majority Leader Mitch McConnell and White House Director of Legislative Affairs Marc Short pressed this point during a dinner with congressional leaders, Trump brushed off their concerns.
"That's not going to happen," he reportedly told them at several points.
At other times he's seemed to acknowledge that Republicans are in a difficult spot — but he expressed these doubts about the GOP's prospects in front of a crowd. At a rally in Pennsylvania in March, Trump said he could "feel the love" in the room, but didn't know if that would translate into midterm wins.
"I don't know if it's transferable, I'm not sure if it is. They all like me, they're all going to vote for me and say I'm going to do great in 2020 but they don't know if it's transferable," he told a group of college Republicans. "I hope it is because we have to do our agenda in 2018 and win, we need more Republicans."
Sure, Trump would like to enact his policy goals and serve out the remainder of his term, but it's more important that everyone knows he's a winner, and doesn't associate with losers.