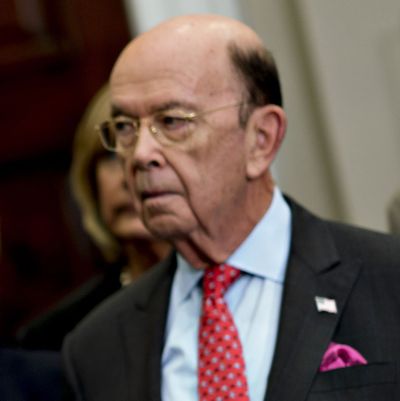 Wilbur Ross will be traveling to China next weekend to pursue Trump's demands for major changes in Chinese trade practices.
Photo: Andrew Harrer/Bloomberg via Getty Images
In what appears to be an effort to ratchet up pressure on China to make greater concessions in ongoing trade negotiations, the Trump administration announced today it was moving forward with tariffs and other trade restrictions associated with U.S. claims of intellectual property theft by Chinese enterprises. But the actions will not be implemented until mid-June or early July. The New York Times describes this statement as a gesture designed to ensure that Beijing does not misunderstand recent conciliatory remarks from Washington as indicating any change of heart on the underlying issues:
The White House said in a statement that the United States would move ahead with its plan to levy 25 percent tariffs on $50 billion of imported Chinese goods, despite recent remarks by Steven Mnuchin, the Treasury secretary, and other administration officials that the tariffs would be suspended while the countries continued their negotiations …




The White House said the Trump administration would also move forward with restrictions on Chinese investment and with stronger export controls meant to limit the access that Chinese people and companies have to American technology — a measure the administration said was for national security purposes.
The final list of items subject to the new tariffs will be released on June 15, with formal imposition of these duties occurring a few days later. And the investment and export control actions will be officially promulgated on June 30.
With Commerce Secretary Wilbur Ross heading to China this weekend for the next round of negotiations, there is some doubt about the administration's ultimate objective: Is it trying to change the nature of China's economic system, or does it simply want to improve the trade balance between the two countries?
Mr. Trump has often talked about challenging what he has described as China's unfair trade practices, but his advisers are deeply divided over the best course for doing so. Some, like Mr. Mnuchin, have focused on a potential compromise deal that would require China to buy huge amounts of American products while still forestalling the possibility of a trade war.




Other advisers have pushed for tougher action, demanding that China make substantial reforms to its economy to end the subsidies it provides to developing industries and to allow American companies equal access in the Chinese market. Those requests in particular have provoked a backlash from China, which has threatened its own potential set of tariffs on $50 billion in American goods.
Tensions between the U.S. and China may have been reduced somewhat by Trump's action last week to ease sanctions that threatened the viability of Chinese telecom giant ZTE, in response to a personal request from President Xi Jinping. Today's announcements were a reminder that a trade war remains entirely possible.