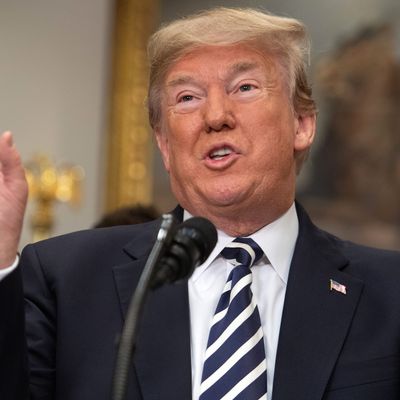 Trump speaking Thursday.
Photo: Nicholas Kamm/AFP/Getty Images
In his first comments since abruptly canceling next month's planned summit with North Korean leader Kim Jong-un, President Trump warned that the U.S. military is "ready" if any "foolish or reckless acts" are taken by Pyongyang.
Trump called the cancellation "a tremendous setback for North Korea and, indeed, a setback for the world." But he maintained that it may still happen if Kim agrees to get rid of his nuclear weapons. "If and when Kim Jong-un chooses to engage in constructive dialogue and actions, I am awaiting. In the meantime, our very strong sanctions, by far the strongest sanctions ever imposed, and max pressure campaign, will continue."
Trump also alluded to war with North Korea, mentioning the strength of the U.S. military several times in the short statement. He added that Japan and South Korea are onboard and ready to shoulder "any of the costs associated by the United States in operations if such an unfortunate situation is forced upon us."
As eager as Trump is to boast about the strength of the U.S. military — "Our military, as you know, has been greatly enhanced, will soon be at a level that it's never been before," he said Thursday — and as much as North Korea talks about annihilating the U.S. — North Korean Vice Foreign Minister Choe Son-hui said this week that North Korea "can also make the U.S. taste an appalling tragedy it has neither experienced nor even imagined" — it's important to remember that war between the two nations remains unlikely. But that won't stop the leaders of the U.S. and North Korea from talking a big game.