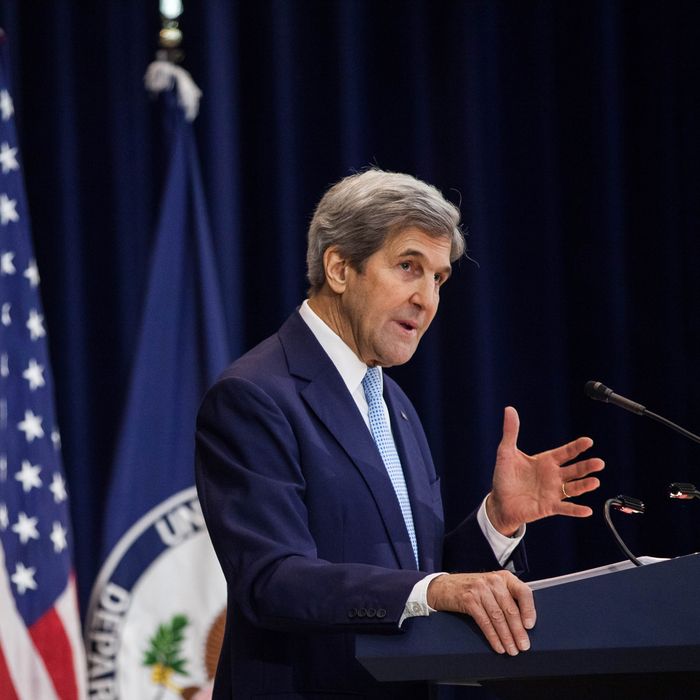 How was I the flip-flopper?
Photo: Zach Gibson/Getty Images
Speaking at an NRA convention in Dallas on Friday, President Trump was in a relaxed, insult-comic kind of mood as he veered way off topic.
Trump did a "bit" on the perceived meekness of President Obama's stance on North Korea, then slammed the Iran nuclear agreement he is likely to pull out of in the coming days, getting the ultrafriendly crowd to boo the previous administration and John Kerry (not a tough task around gun enthusiasts). The president followed with an extended riff on the time Kerry broke his leg during a break from high-pressure negotiations crafting the agreement.
"John Kerry … not the best negotiator we've ever seen," Trump said. "He never walked away from the table except to be in that bicycle race where he fell and broke his leg."
The crowd exploded with laughter.
"That was the only time," Trump continued. "I said, 'Don't tell him you broke your leg. Just stay inside. Say you don't want to negotiate. You'll make a much better deal.
But he broke it. And I learned from that — at 73 years old, you never go into a bicycle race. You just don't do that. I'm not 73 — he was, okay — but I'll be there."
Beyond the childishness, Trump was, shockingly enough, wrong on the facts. Kerry was 71 years old — the same age Trump is now — when he hit a curb and fractured his femur in 2015, while biking in the French Alps, about 25 miles from Geneva. There is no evidence that he entered a race, as Trump claimed, though he was riding on a section of the Tour de France when the accident occurred.
As Trump attacked Kerry's athletic abilities, the Boston Globe reported that the former secretary of State was making a last-ditch, unofficial diplomatic effort to salvage the deal he was instrumental in creating.