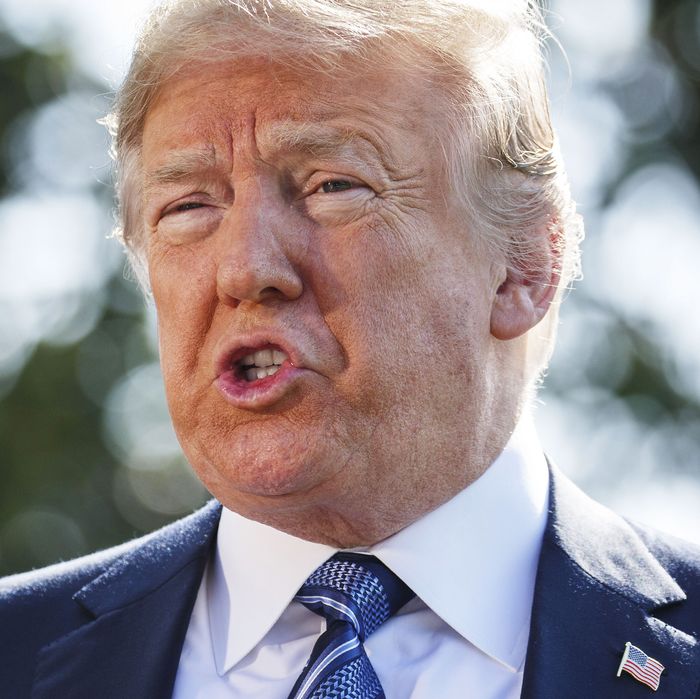 Leaker-in-chief.
Photo: Joshua Roberts/Bloomberg via Getty Images
At a Manhattan fundraiser last week, President Trump told a group of wealthy supporters about a battle in Syria that saw the U.S. military kill between 100 and 300 Russians, Politico reports. Problem is, details of that battle are classified.
The $50,000-a-head fundraiser was held at the Lotte New York Palace Hotel in midtown, where Trump pulled in around $5 million for his campaign and the Republican National Committee. Bragging to the crowd about U.S. military might, Trump reportedly revealed that American F-18 pilots bombarded Russian mercenaries for around "ten minutes" last February, leading to mass casualties. A New York Times report from last week broadly confirms the details Trump provided the crowd.
Politico explains why the skirmish, which the White House has "tried to avoid discussing," is classified and why Trump talking about it could be a problem:
American officials have long feared that a clash with Russian forces in Syria would add tension to the already strained relationship between the two countries, and they intentionally avoided Russian targets last month when they bombed the country in response to Bashar Assad's use of chemical weapons.
Trump also bragged to the crowd about moving the U.S. Embassy in Israel to Jerusalem. He said he understood why previous presidents hadn't done so and revealed that "kings and queens" lobbied him against it. In the end, though, his singular strength allowed him to see it through, he said.