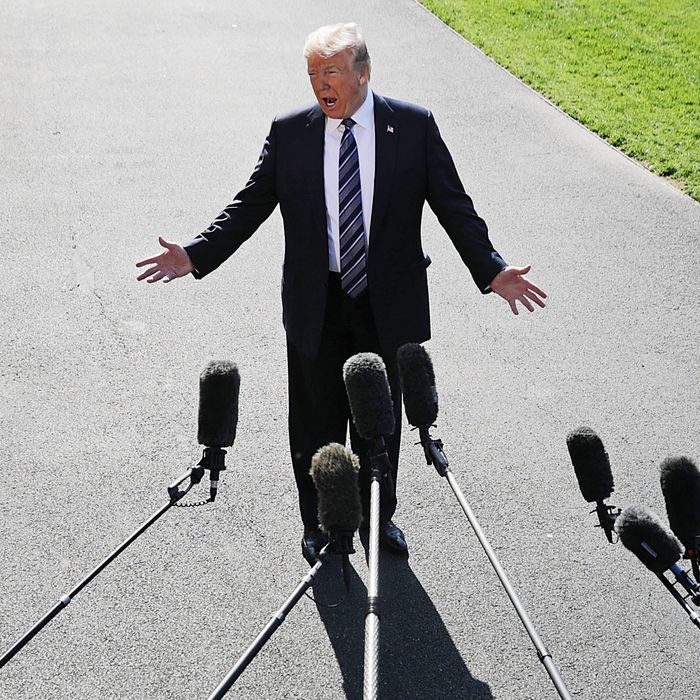 Photo: Chip Somodevilla/Getty Images
President Trump on Friday praised the "warm and productive statement" North Korea released after he canceled his planned meeting with Kim Jong-un Thursday and said the U.S. has restarted talks with Pyongyang.
"We're going to see what happens. We're talking to them now," Trump told reporters a day after the summit was canceled, in part because North Korea had stopped direct communication with the U.S.
He also said holding the summit on June 12 in Singapore is still a possibility. "We'll see what happens. It could even be the 12th. We're talking to them now," he said. "They very much want to do it. We'd like to do it."
Earlier Friday, Trump tweeted praise of the North Korean response to the meeting's cancellation.
The response, issued by Kim Kye Gwan, a vice–foreign minister of North Korea, called the meeting's cancellation "unexpected and very regrettable." It went on: "But we remain unchanged in our willingness to do everything we can for the peace and stability of the Korean Peninsula and of the humanity, so with a broad and open mind, we are willing to give the United States time and opportunity."
Friday's gentle tone stands in contrast to the threats shot back and forth between Pyongyang and Washington this week, which included a North Korean threat to "make the U.S. taste an appalling tragedy it has neither experienced nor even imagined" and a warning from Trump that the U.S. military is "ready" to respond to "foolish or reckless acts" from Kim's regime.
Defense Secretary Jim Mattis echoed Trump's optimism on Friday. "We have got some, possibly some good news on the Korea summit, where it may, if our diplomats can pull it off, may have it back on even," he told reporters. "The diplomats are still at work."