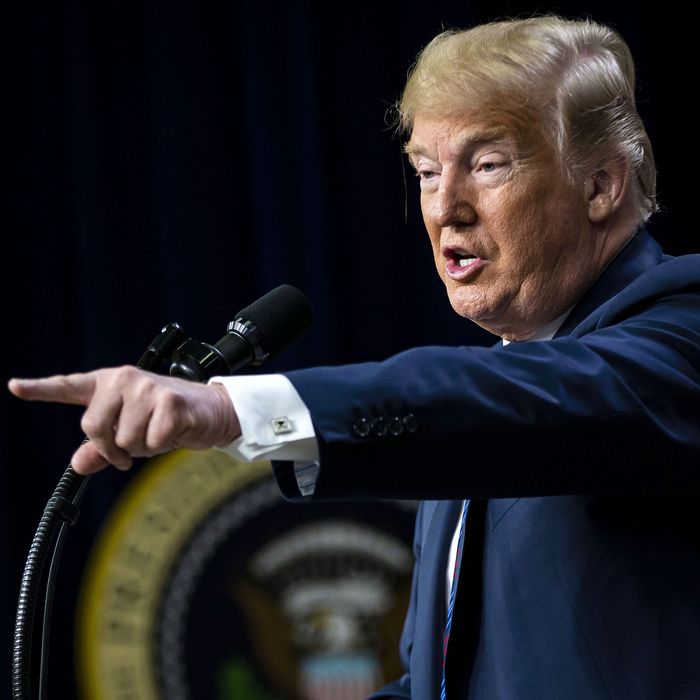 President Trump has identified the culprit in the Russia scandal.
Photo: Al Drago/Bloomberg via Getty Images
President Trump has been making the novel argument that the real flaw in the Russia scandal lies with the FBI, which allegedly failed to warn Trump that his campaign was being targeted by Russian intelligence. "Why didn't the crooked highest levels of the FBI or 'Justice' contact me to tell me of the phony Russia problem?," he complained last weekend. Today, Trump approvingly quotes Rush Limbaugh repeating his argument:
In fact, the FBI did tell Trump. As NBC reported last December, in "a high-level counterintelligence briefing by senior FBI officials" the candidate "was warned that foreign adversaries, including Russia, would probably try to spy on and infiltrate his campaign."
At the time, of course, Trump was publicly dismissing the FBI's warnings that Russia had stolen Democratic emails, insisting it might be China or a 400-pound man, while also publicly asking Russia to expand its email theft. His campaign was also swarming with secret Russia contacts, most prominently a meeting in Trump Tower with Russian spies promising dirt on his opponent.
So, to recap: Trump's campaign was holding secret meetings with Russians who wanted to help his campaign. The FBI warned Trump about Russian campaign infiltration. Trump did not tell the FBI about the secret meetings his campaign held, and publicly dismissed their conclusions about Russia's intentions. And now his position is that this is the FBI's fault for failing to warn him.