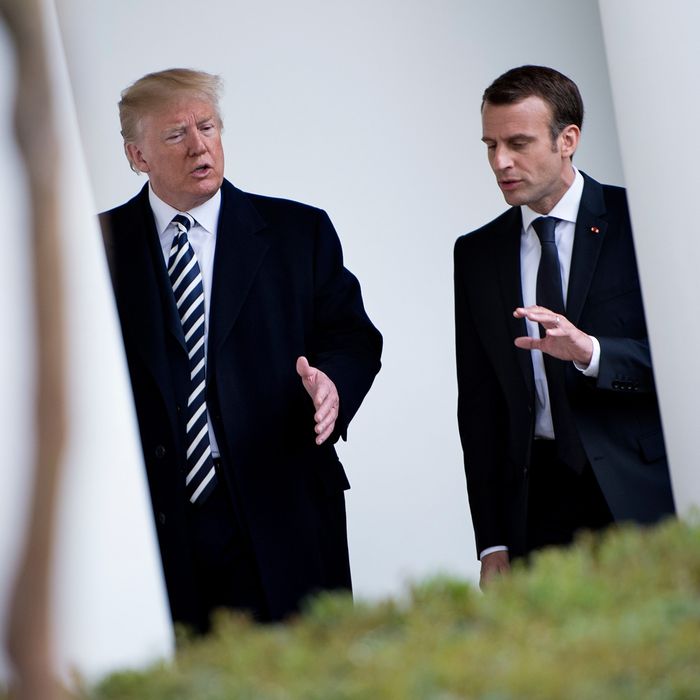 French president Emmanuel Macron implored Trump to remain in the agreement.
Photo: Brendan Smialowski/AFP/Getty Images
Donald Trump withdrew the United States from the Iran nuclear agreement Tuesday, and moved to reimpose economic sanctions against Tehran.
In a speech justifying his decision Tuesday afternoon, the president did not once claim that Iran had violated the terms of the deal that it struck with the United States in 2015 — a tacit concession to the fact that Tehran has complied with the agreement. Instead, Trump argued that the Iranian regime was a uniquely malevolent actor in the Middle East; that Barack Obama could have gotten a better deal in 2015, as the U.S. had "had maximum leverage" back then; and that Israel had uncovered evidence that Iran had lied about its intention to develop nuclear weapons — years before it entered its agreement with the U.S.
Then, in one of the more Orwellian pieces of rhetoric any U.S. president has ever deployed, Trump suggested that the United States' decision to violate an agreement that it had reached with Britain, France, Germany, China, Russia, and Iran — a little over two years ago — proved that America keeps its word, and thus, will make it easier for the White House to reach a denuclearization deal with North Korea:
Today's action sends a critical message. The United States no longer makes empty threats. When I make promises, I keep them. In fact, at this very moment, Secretary Pompeo is on his way to North Korea in preparation for my upcoming meeting with Kim Jong-un. Plans are being made, relationships are building. Hopefully, a deal will happen, and with the help of China, South Korea, and Japan, a future of great prosperity and security can be achieved for everyone.
Of course, this is the opposite of the truth: To reach any significant deproliferation deal with Pyongyang, Washington will need to convince Kim Jong Un that America's promises to rogue regimes can be trusted. Today's announcement is hard proof that they cannot be.
But the diplomatic difficulties created by Trump's decision won't be limited to North Korea. All of the other signatories to the 2015 accord remain committed to it — which means that they will, ostensibly, continue to have economic relations with Iran. But if the United States reimposes its previous sanctions on Tehran, then America will need to economically penalize European companies that trade with Iranian ones. Which is to say: A new front just opened up in Trump's trade war.