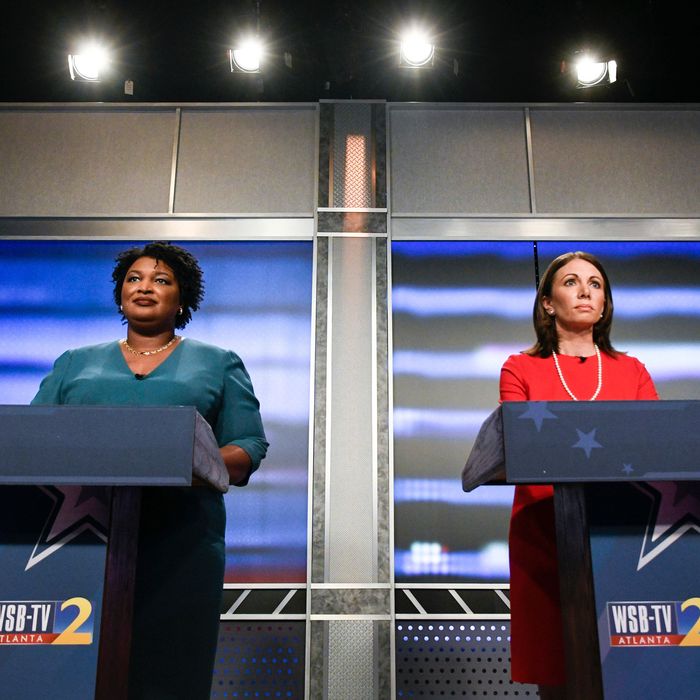 The "Two Staceys" gubernatorial primary in Georgia between Stacey Abrams and Stacey Evans is the headliner for May 22.
Photo: John Amis/AP/REX/Shutterstock
As the primary season intensifies, May 22 features contests in three southern states — Arkansas, Georgia, and Kentucky — and runoff elections in Texas (for races where no one secured a majority in the March 6 primary).
The marquee primary from a national point of view is probably the two-party gubernatorial event in Georgia.
The state was among the last to fall to the GOP in the great southern regional realignment that began with the civil-rights revolution, with Republicans finally winning the governorship in 2002 and control of the state legislature in 2004. But Democrats haven't won a gubernatorial or Senate race since 2002, and the GOP won every statewide office in 2010 and 2014. The steady rise of Georgia's minority population, along with in-migration from more liberal parts of the country, has made the state a likely jurisdiction to join Virginia and North Carolina in trending back toward Democrats; Hillary Clinton briefly contested the state in 2016 (Trump eventually won by just over five percent). Georgia was also briefly at the center of the post-2016 anti-Trump wave when Democrat Jon Ossoff raised a small fortune and narrowly lost a special congressional election in a north metro Atlanta district that had gone Republican for decades.
The two Democratic candidates for governor this year (nationally known as "the Two Staceys," since both have that same first name) nicely encapsulate the debate over how the Donkey Party can best get over the hump in Georgia. Former state legislative leader Stacey Abrams stands for a strategy of mobilizing young and minority voters while fellow legislator Stacey Evans is trying to replicate the more traditional method of focusing on swing voters (and particularly alienated Republicans). They really don't differ much on issues (although Evans has relentlessly tried to make an issue of a deal her opponent once cut with Republicans curtailing eligibility for the wildly popular HOPE scholarship program), and are both well to the left of any statewide Democratic candidate in living memory. Race has inevitably overshadowed the competition, since Abrams is African-American while Evans is white. Both have biracial support and endorsements, but the sizable majority of the expected Democratic primary electorate that is African-American has given Abrams an advantage from the get go.
Abrams has also gotten a lot of national attention, and has secured endorsements from EMILY's List, Planned Parenthood, and major LGBTQ groups; from both Bernie Sanders and Hillary Clinton; and from Senators Cory Booker and Kamala Harris. And despite a pretty impressive effort by Evans, Abrams is the odd-on favorite, leading 43/24 and 58/19 in the two public polls taken this month.
The Republican contest to choose a successor to term-limited governor Nathan Deal has revolved around two questions: can the long-time front-runner and three-term lieutenant governor Casey Cagle win without a runoff (Georgia requires a majority vote for party nominations)? And is there any limit to the right-wing demagoguery that Cagle and his rivals will indulge in to secure the nomination?
Polls have differed on Cagle's proximity to a majority in the first round, though the two public polls in May place him at well under 40 percent. Two other candidates who began the race with some name ID, Secretary of State Brian Kemp (best known prior to this race as a champion voter-suppresser) and former state legislator Hunter Hill, appear to be jousting for a runoff spot opposite Cagle. The whole GOP race has been a testosterone party, with virtually the entire field of white male candidates emphasizing their "toughness," their affection for guns and Donald Trump, and their hostility toward undocumented immigrants. The immigrant-bashing has really gotten out of hand, with Kemp promising to use his "big pickup truck" to personally "round up criminal illegals"; Cagle crusading to have a small inner suburb of Atlanta declared a "sanctuary city"; and a long-shot candidate, Michael Williams, driving a "deportation bus" around the state.
Assuming there is a July 24 runoff for the Republicans, that will mean nine more weeks of ranting and snarling for the candidates, giving the Democratic nominee (who will be established in the first round since there are only two people running) a good opportunity to seize the high ground. One general-election trial heat showed both Abrams and Evans with only a mid-single-digit deficit against Cagle.
There are two interesting Democratic primaries for potentially competitive U.S. House races in Georgia. While Jon Ossoff took a pass at another run at Karen Handel in the Sixth District, there are three viable Democrats in that race: former local news anchor Bobby Kaple; partial self-funding businessman Kevin Abel; and national gun-control spokesperson Lucy McBath. And in the nearby Seventh Congressional District, three Democrats are together out-fundraising incumbent Representative Rob Woodall. EMILY's list is backing academic Carolyn Bourdeaux; businessman David Kim is self-funding; and attorney Ethan Pham has raised some dough as well. Kim and Pham are testaments to the rapidly growing Asian-American population in this suburban district. Runoffs are likely in both the Sixth and Seventh districts.
Other than the Georgia primaries, the May 22 contest getting the most national attention is a Democratic runoff in the Seventh Congressional District of Texas (in and just outside Houston), currently represented by veteran GOP Representative John Culberson. That's mainly because the Democratic Congressional Campaign Committee made a ham-handed intervention in the March primary, attacking progressive candidate Laura Moser, whom it feared was too lefty for the district. But Moser won a runoff spot against EMILY's List favorite Lizzie Fletcher, and reams of attention. Fletcher remains the favorite, but either way there may be some bruised feelings to overcome before the general election in what remains a GOP-leaning district.
In another, even more Republican-leaning district, the 21st (which has no incumbent), located between San Antonio and Austin, the candidate the national party is backing (Joseph Kopser) has a much bigger financial advantage over a self-proclaimed progressive, minister, and former teacher Mary Wilson. The GOP primary in this district drew an incredible 18 candidates; former Ted Cruz chief of staff Chip Roy is expected to dispatch a perennial candidate in the runoff.
In the highly competitive 23rd District, a majority-Hispanic district in the Rio Grande Valley represented by Republican Will Hurd, Gina Ortiz Jones, a former Air Force intelligence officer backed by national party groups and EMILY's List, is expected to defeat self-proclaimed Bernie Sanders fan Rick Treviño, who has raised very little money.
One more competitive House district, the 32rd, in the Dallas suburbs, has a Democratic runoff to choose an opponent to Representative Pete Sessions. Former NFL player Colin Allred is favored over former USDA official Lillian Salerno, mainly thanks to local endorsements and a financial advantage.
Although Texas GOP governor Greg Abbott is heavily favored for reelection, Democrats have a gubernatorial runoff between former Sheriff Lupe Valdez and self-proclaimed "conservative Democrat" Andrew White, son of former governor Mark White. Valdez is favored, but White is spending a lot of his own money.
Democrats are targeting the Little Rock–based Second Congressional District, represented by Representative French Hill. The front-runner is state legislator Clarke Tucker, and the big question is whether he can avoid a runoff against one of his three opponents (teacher Paul Spencer has been the best funded), all of whom carry the progressive label and favor a single-payer health-care system.
The one House race in the Bluegrass State expected to be competitive is in the Lexington-based Sixth District, represented by Republican Andy Barr; Democrats have done well there in the recent past. The Donkey Party has two manifestly strong candidates in the field: former Lexington mayor Jim Gray (who carried the Sixth in his 2016 Senate race against Rand Paul) and former Marine lieutenant colonel and pioneering combat pilot Amy McGrath (who has done very well raising money). The two candidates are similar on the issues, though McGrath has more of a "Resistance" feel to her campaign while Gray has focused on electability. And the third candidate, state legislator Reggie Thomas, has campaigned as a more progressive candidate, but has raised little money. Kentucky does not have a majority-vote requirement so the winner on Tuesday night will be the nominee.
For political junkies, the May 22 primary night should not go too late, absent near-ties: polls in Kentucky close at 6:00 p.m. local time (the state is split between EDT and CDT); Georgia's close at 7:00 p.m. EDT; Texas's at 7:00 p.m. local time (the state is mostly CDT, with parts of West Texas in MDT); and Arkansas's at 7:30 p.m. CDT.