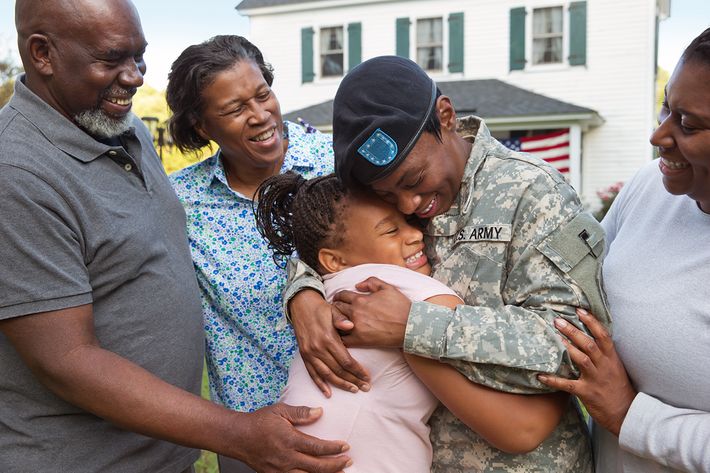 There's no guidebook for making the transition from soldier to civilian life — there's also no doubt that the journey is difficult.
Depression, anxiety, and post traumatic stress disorder (PTSD) are just a few mental health maladies that often affect veterans. Even a run to the grocery store can be overstimulating for a veteran accustomed to living in constant "fight or flight" mode during combat. While researchers have studied manifestations of PTSD and anxiety among veterans extensively, less attention is typically given to the family members on the sidelines who don't understand what's happening, and why their loved one has "changed."
But now, one program is bringing the members of veterans' support systems front and center. The UCLA/VA Veteran Family Wellness Center, which operates in partnership with the VA Greater Los Angeles Healthcare System, emphasizes family resilience training for vets in the L.A. area and around the U.S. It's the first center of such scope and scale in the country.
"We now know that supporting the family is critical to recovery," explains Dr. Patricia Lester, a psychiatrist and director of the Nathanson Family Resilience Center at UCLA, who works with families experiencing trauma.
Dr. Hilary Aralis, an adjunct assistant professor in biostatistics at UCLA, also works at the Family Resilience Center, collecting and analyzing data across time and location. "Years ago, after being first asked to calculate and compare self-reported PTSD symptom levels between service members and their civilian spouses, I was surprised to find higher levels of traumatic stress symptoms among the sample of spouses," she recalls.
"And unfortunately," she adds, "family members often didn't have access to the same government-funded support services their spouses would."
FOCUS and a Family-First Approach
Dr. Aralis first joined the Family Wellness Center as a student researcher while receiving her doctoral degree at UCLA, and she's assisted in shaping the center's services through data analysis. Dr. Lester has helped UCLA develop mental health tools for veterans on a different front: The crux of her work in the field is FOCUS (Families OverComing Under Stress), a method she helped create while working with families at Marine Corps Base Camp Pendleton. Over 10 years, Dr. Lester and UCLA have been deploying FOCUS as a set of programs for active-duty installations all over the country, and they've supported more than a million people to date.
Fueled by FOCUS and its success rates, UCLA's Family Wellness Center launched on the neighboring VA campus (the university has partnered with the campus for more than 70 years) in August 2017 as a dedicated space for family-based treatment. One unique approach at the center, Dr. Lester explains, is encouraging a family to develop a 'shared language' on the road to recovery.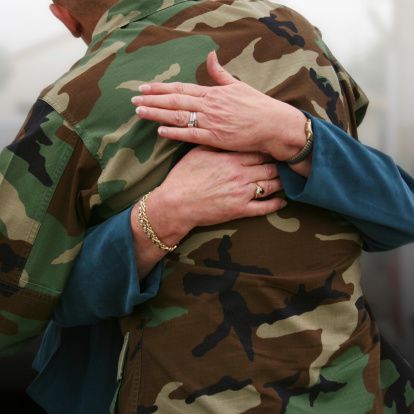 For example, routine family outings like a trip to the movies might cause stress for a veteran returning from combat. The cacophony of the theater, throngs of people, and pops of the popcorn machine might dredge up memories of panic and gunfire. But young children might misunderstand mom's or dad's avoidance of family fun as apathy or anger. Couples, too, may struggle to adapt to civilian life after a veteran returns home: For a soldier accustomed to combat conditions, it may initially be more comfortable to sleep in a tent in the backyard than in bed with his or her significant other. Until this behavior is explained and understood, it can leave a partner feeling rejected and confused.
As research evolves, Dr. Aralis and the Family Wellness Center team continue to evolve their outreach. "For each program in which we are able to demonstrate positive impact, a dozen follow-up questions arise," she explains. "How can we adapt the program to meet the needs of wounded warriors, dual service member families, or single parents?"
Giving Veterans and Their Families a Voice
From soft lighting and comfortable seating to the friendly faces of the expertly trained staff, the Veteran Family Wellness Center is unmistakably welcoming. Tess Banko, executive director of the UCLA/VA Veteran Family Wellness Center, appreciates the center's ethos on a level that goes beyond mere professional admiration: She's a veteran herself. After serving in the U.S. Marine Corps, Banko was discharged at the age of 24 with a catastrophic injury. "Knowing first-hand the many challenges that veterans and families face, [I'm] able to assist in meaningful ways based on experience, education, and the role that resilience has played in my own life," she says.
The center's core programming focuses on relationship skills, emotional regulation, parenting, and more. Kids and caregivers receive special attention through both group workshops and individually tailored services. Being located on a VA campus gives the program access to additional resources: A mindfulness center that features yoga and meditation, for example, and family-oriented activities like cooking classes in the VA kitchen downstairs.
Kids, often overlooked in the equation of veteran health, are a particular focus here. Often, children of veterans who act out at school or at home may be channeling frustrations, or experiencing their own depression or anxiety. "I think the experience of veterans' children is a really important national story," says Dr. Lester.
At the Family Wellness Center, some families come back over and over, while others get the tools they need in just a few visits. "The Center represents the first time that families and children have been offered resilience-based wellness services alongside their veteran within the VA system," says Banko. To help geographically distributed families connect to treatment options, the Family Wellness Center even features a tele-program for virtual assistance, which Dr. Aralis notes is especially important for new research.
Looking to the Future
Additional programs are planned to enhance the center's offerings and outreach, leveraging UCLA's tremendous resources. Dr. Lester said there are ongoing conversations about a future art-therapy program targeted to veterans and their families, for example, hosted in conjunction with the UCLA School of the Arts and Architecture. The Family Wellness Center also plans to continue implementing technology-based platforms — mobile apps and web-based tools — so that veterans have access to resources long after they've physically left the premises.
"The ultimate goal," says Dr. Lester, "is to bring scientifically supported, evidence-based programming to as many families as possible. We want to be able to serve a range of families, whether or not they can get here geographically."
Dr. Aralis agrees that she's excited to inform the future of the Family Wellness Center through her work with data: "Although the vast majority of my working hours are spent behind a computer, I feel incredibly connected to the population we serve and am dedicated to the mission of … further improving the lives of these resilient service members and their loved ones."
Think you or a loved one might benefit from the services offered at UCLA's Family Wellness Center? Come by in person to speak with a professional about options and center programming: UCLA's Family Wellness Center is located at 11301 Wilshire Boulevard on the VA campus, Building 220 (Ste. 316), Los Angeles, CA 90073.
This is paid content produced for an advertiser by New York Brand Studio. The editorial staff of Daily Intelligencer did not play a role in its creation.