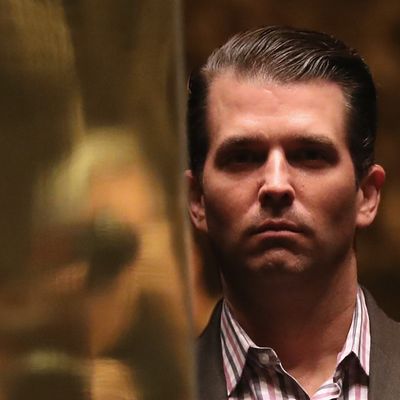 Donald Trump Jr. was at it again.
Photo: John Moore/Getty Images
It seems the Russians weren't the only foreign power trying to hook up with Donald Trump Jr. and give a boost to the Trump campaign ahead of the 2016 election. The New York Times reported on Saturday there was yet another secret Trump Tower meeting during the campaign where the president's son and aides met with shadowy foreigners offering to help Make America Great Again. On August 3, 2016, instead of Russians offering dirt on Hillary Clinton, an emissary for the crown princes of Saudi Arabia and the United Arab Emirates said the de facto rulers were eager to help Trump win the White House,
and the offer reportedly got an approving response from Trump Jr. An Israeli expert in "social media manipulation" was there too, and explained how his company could give the Trump campaign an advantage. Both offers, if accepted, would have violated U.S. election laws, and special counsel Robert Mueller's investigators have already been looking into this and other subsequent meetings.
Here's what we do and don't know about the newly revealed meeting, how big a deal it is, and how, unlike with Russia, these new potential colluders have already gotten what they've wanted out of Trump:
Who Was There
The Gulf state emissary was George Nader, the Lebanese-American businessman whose ties to Trumpworld have already fallen under the scrutiny of the Mueller investigation. Nader has worked as a close adviser to Crown Prince Mohammed bin Zayed Al Nahyan of Abu Dhabi, known as MBZ, who essentially rules the United Arab Emirates. The Times reports that as soon as Trump locked up the Republican nomination in 2016, Nader began making inquiries as to how MBZ could support Trump's campaign. Nader also said at the meeting that we was an emissary of Crown Prince Mohammed bin Salman, or MBS, who pulled off a stunning power grab to consolidate his control of Saudi Arabia last fall.
Also present at the meeting was Joel Zamel, an Israeli businessman with close ties to top Emirati officials. Zamel owns some private consulting firms focused on social media, war games, and intel gathering. One of those companies, Psy-Group, is staffed by several former Israeli intelligence officers and specializes in collecting information and conducting manipulation using social media and other tactics. ("Shape reality" is their official slogan, and one of the many services they offer in their marketing materials is "honey traps.") Another company in Zamel's portfolio, Wikistrat, "uses a network of experts to analyze geopolitical problems and was contracted to conduct war game scenarios on Islamist political movements in Yemen for the UAE," according to the Wall Street Journal.
The man who arranged for Trump Jr. to meet the two men was GOP donor and informal Trump adviser Erik Prince, the founder of the controversial private security firm Blackwater and brother of current education secretary Betsy DeVos. Prince knew Nader because he had worked as a business agent for Blackwater in Iraq following the U.S. invasion. Prince has also repeatedly done business with the UAE
It's not clear what other Trump campaign aides attended the meeting, but President Trump's senior policy advisor, Stephen Miller was reportedly present in Trump Jr.'s office when Prince, Nader, and Zamel arrived.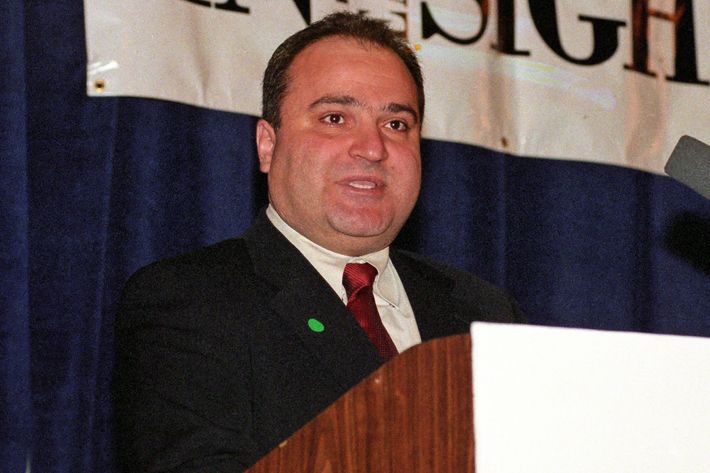 What Happened at the Meeting
After being introduced by Prince as someone who was close with Arab world leaders, Nader reportedly told Donald Trump Jr. that MBZ and MBS "were eager to help his father win election as president." According to Nader, the crown princes thought Trump would be a strong leader who "would fill the power vacuum that they believed Mr. Obama had left in the Middle East" and "that he and his friends would be glad to support Mr. Trump as much as they could."
Zamel reportedly marketed his services as a social media specialist. What's not clear, however, is if Zamel referenced the proposal that the Times reports his company, Psy-Group, had already prepared "for a covert multimillion-dollar online manipulation campaign to help elect Mr. Trump" that would use "thousands of fake social media accounts to promote Mr. Trump's candidacy on platforms like Facebook." It is also not clear who commissioned that proposal, or if it was ultimately executed, but the plan obviously sounds remarkably similar to Russia's efforts to interfere in the election on behalf of Trump — efforts which were already well underway at that point. (Zamel's lawyer now says no pitch was made, or accepted.)
Trump Jr. "responded approvingly" to the two men's offers, per the report. If he or the campaign ultimately accepted either of them, it almost certainly would have been illegal. Foreign nationals are banned from contributing to or coordinating with U.S. political campaigns. Zamel's Psy-Group reportedly knew that too, as it did some due diligence with a U.S. law firm on the subject.
The meeting lasted about a half hour and ended with an exchange of business cards. Nader apparently offered to set up a meeting between Trump Jr. and MBZ, but the president's son declined. No one publicly disclosed the meeting, even after an earlier Trump Tower meeting with assistance-offering foreigners came to light early last year. In that instance, two months prior to the meeting with Nader, Trump Jr. had met with Russian nationals who allegedly told him and other Trump officials they could provide incriminating information on Hillary Clinton. As two people "familiar with the meetings" explained in an understatement to the Times, "Trump campaign officials did not appear bothered by the idea of cooperation with foreigners."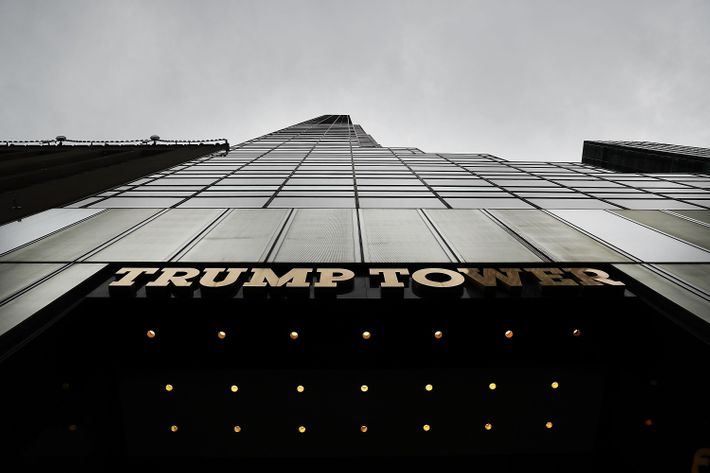 What Happened After the Meeting
Whether Trump Jr. or other campaign aides embraced Nader and Zamel's offers or not, the meeting clearly got Nader into Trumpworld. He went on to frequently meet with members of Trump's inner circle, including son-in law Jared Kushner, national security adviser Michael Flynn, and Trump campaign chairman Steve Bannon. His relationship these top officials later intensified in the final weeks of the election and afterwards during the transition.
Then on December 15, 2016, Kushner, Flynn, and Bannon secretly met at Trump Tower with Nader and MBZ. That meeting, which the crown prince did not give advance notice about to the Obama administration, set off red flags national security officials at the time. It was also one of several meetings with foreign officials that Kushner failed to later disclose on his security clearance request form.
The Times notes as Nader was meeting with the Trump officials, he was also promoting a secret plan to destabilize Iran, the primary enemy of the UAE and Saudi Arabia in the Middle East. The Emiratis and Team Trump shared an interest in driving a wedge between Iran and Russia, and the Washington Post has reported that after the Trump Tower meeting in December, Erik Prince approached MBZ on behalf of Trump to suggest MBZ set up a backchannel meeting with a Putin associate in the Seychelles. The meeting happened right before Trump's inauguration. Prince later told the House Intelligence Committee that it was nothing more than a chance encounter, but that seems unlikely at this point.
Over the next year, Nader visited the White House several times to meet with Trump officials, and the Times reports that on one of those occasions, he again came with Zamel to meet with Kushner and Bannon.
The Trump Jr. meeting may have paid off for Joel Zamel too, though it's not yet clear why he was paid. The Times reports that Nader paid Zamel as much as $2 million after the election, but heard conflicting accounts as to what it was for, while a source told the Journal that the payment was not related to the Trump campaign. The Times also reports that, less than two months after the election, Nader reportedly hired a third company linked to Zamel, a Philippines-based firm called WhiteKnight, to create a "presentation demonstrating the impact of social media campaigns on Mr. Trump's electoral victory." Why such a presentation was needed, or who it was intended for, has not been revealed.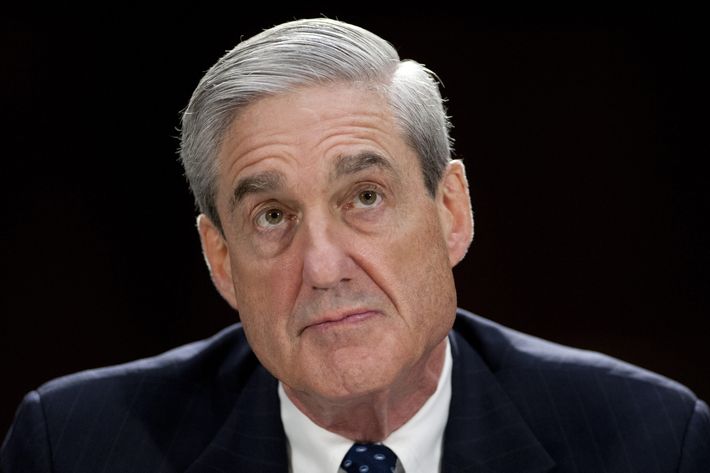 Yeah, Mueller Knows About All This
This past January, Nader returned to the U.S. with the intention of traveling to the Trump family's Mar-a-Lago resort to celebrate the one year anniversary of the president's inauguration. Instead, shortly after landing in Washington, D.C., the FBI served him with search warrants and a grand jury subpoena, seized his personal devices, and questioned him for two hours. He was then requestioned numerous times about his meetings with Trump officials during the campaign, transition, and after Trump's inauguration, as well as about the meeting in the Seychelles. Nader appears to be cooperating with the Mueller investigation and gave testimony before a grand jury less than two months ago.
Zamel has also been questioned by Mueller's investigators about the Trump Tower meeting, and the Times reports that at least two FBI agents have traveled to Israel to interview employees who worked on the Trump campaign proposal at Psy-Group, and that the Israeli police have seized computers from one of Zamel's companies at the special counsel's request. That other Israel-based company may be Wikistrat, which is also drawing Mueller's attention, and which had rented office space in Washington, D.C. to pass for an American firm, even though most of its employees were in Israel, according to the Journal.
The Denials, Pushback, and Suggestion That Don Jr. Is Just a Big Dumb Softie
According to one of Donald Trump Jr.'s lawyers, Alan Futerfas, "Prior to the 2016 election, [Trump Jr.] recalls a meeting with Erik Prince, George Nader and another individual who may be Joel Zamel. They pitched Mr. Trump Jr. on a social media platform or marketing strategy. He was not interested and that was the end of it."
On Sunday morning, Trump whisperer Mike Allen reported at Axios that a source close to Donald Jr. claimed that the president's son barely remembers the meeting and that "nothing came of it," explaining that Don Jr. is just kind of dumb like that:
• The source says Don Jr. is "the king of people wanting to leave a meeting happy, whether or not he intends to follow up."

• Even now, someone will walk up to Don Jr. at the Trump International Hotel in D.C. and want to take a selfie, and a friend will have to warn: "Not that person."

• The source told me: "He just trusts people way too much."
Meanwhile, one of George Nader's lawyers, Kathryn Ruemmler, told the Times that Nader "has fully cooperated with the special counsel's investigation and will continue to do so." And a senior Saudi official claimed that the kingdom has never employed Nader and that he has never been authorized to speak on behalf of the country's crown price.
Joel Zamel "offered nothing to the Trump campaign, received nothing from the Trump campaign, delivered nothing to the Trump campaign and was not solicited by, or asked to do anything for, the Trump campaign," according to a statement his lawyer, Marc L. Mukasey, gave to CNN. The lawyer disputed the idea that Zamel was involved in "social media manipulation," as his companies only "harvest publicly available information for lawful use."
"The [Department of Justice] clarified from Day 1 that Joel and his companies have never been a target of the investigation. My client provided full cooperation to the government to assist with their investigation," Mukasey also told the Times. The Zamel-linked company WhiteKnight said that it "does not talk about any of its clients."
Neither Erik Prince, nor the White House, have thus far responded to requests for to comment on the report, but President Trump launched a tweet storm on Sunday morning. Trump's six-part response began by complaining that the "long and boring" report from the "Failing and Crooked (but not as Crooked as Hillary Clinton) New York Times" just meant that "the World's most expensive Witch Hunt has found nothing on Russia and me so now they are looking at the rest of the World!" Trump then proceeded to blame the Mueller investigation and list other, better witch hunts like the never-ending quest for Clinton's emails.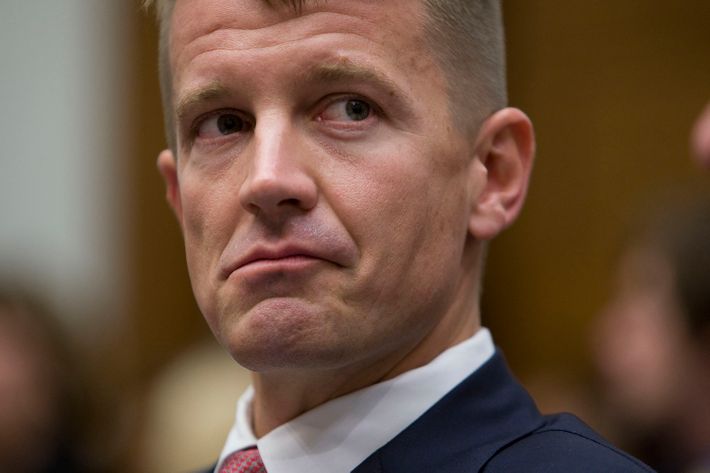 Yes, There are Russia Connections
George Nader traveled to Moscow at least twice during the 2016 presidential campaign as part of his work as an emissary for MBZ, according to the Times. He also seems to have played a role in some of Trump officials' alleged attempts to set up backchannel communications with Russia.
Days before Trump's inauguration, Nader helped organize the secret meeting in the Seychelles between Erik Prince, UAE officials, and Kirill Dmitriev, a financier who is close to Russian president Vladimir Putin. Under the plan, apparently revealed by Nader during his testimony in cooperation with the Mueller investigation, Prince would speak on behalf of Trump, and Dmitriev on behalf of Putin. The goal for both the Emiratis and Team Trump was to convince Russia to end its support for Iran, possibly in exchange for loosening U.S. sanctions on Russia. The UAE and MBZ were already familiar with Dmitriev, as they had "invested" billions of dollars into a Russian infrastructure fund he managed for Putin, and Dmitriev had become a regular visitor to Abu Dhabi. Put another way, the Emiratis seem to have thought they had found a way to buy access to a world leader by funding his pet projects.
The meeting also came weeks after Jared Kushner and Michael Flynn had infamously talked to Sergey Kislyak, Russia's then ambassador to the U.S., about setting up a line of communications outside of normal diplomatic channels and "arranging a meeting between a representative of Trump and a 'Russian contact' in a third country," according to the Washington Post.
Prince reportedly approached the Emiratis about the meeting, asking MBZ to set it up with the Russians, though he denied that and the other reports about the meeting in testimony before the House Intelligence Committee. Instead, he claimed the meeting with Dmitriev was a chance encounter over drinks at a hotel bar after MBZ had invited him to the island.
There's another Russia connection, too. One of Joel Zamel's companies has reportedly worked for oligarchs Oleg Deripaska and Dmitry Rybolovlev, who both have close ties to Putin and reportedly hired Zamel's firm to go after their business rivals. They also have connections to Trumpworld.
Deripaska, a billionaire aluminum magnate, did millions of dollars of business with former Trump campaign chairman Paul Manafort and his business partner Rick Gates, but eventually sued them for stealing $1.1 million. Manafort also allegedly offered to provide Deripaska with personal briefings about the 2016 U.S. election less than two weeks before Trump accepted the Republican Party's nomination for president. (Manafort and Gates have both been indicted by Mueller, and Gates has been flipped.)
Rybolovlev, a billionaire fertilizer magnate, bought a beachfront mansion in Florida from President Trump in 2008 for $95 million, more than twice what Trump had paid for the property just four years before. ("I'm good at real estate," Trump bragged to Politico in July 2016, when asked about the deal.) A spokesman for Rybolovlev rejects to the reported connection to Zamel, however: "Neither Dmitry Rybolovlev nor any of his employees or representatives have ever contacted Mr. Joel Zamel, or had any relationship with him and his companies whatsoever."
The Times reports that, unsurprisingly, "Nader's visits to Russia and the work Mr. Zamel's companies did for the Russians have both been a subject of interest to the special counsel's investigators, according to people familiar with witness interviews."
The Iran Connection
Nader was also reportedly trying to convince officials in the U.S., Saudi Arabia, and the UAE to drop $300 million on a plan to destabilize Iran using private contractors and economic sabotage in the hope of forcing the Islamic Republic to abandon its nuclear program. The Times says that Nader directly pitched the plan to Saudi Arabia, and he even tried to get Jared Kushner to personally endorse the idea to MBS. Nader also apparently worked on a plan with Erik Prince to convince the Saudis to fund a $2 billion private army to fight a proxy war with Iran in Yemen.
Iran is also a big part of the most troubling aftermath of the meeting: how U.S. policy has become almost perfectly aligned with the Saudis and Emiratis since Trump's inauguration.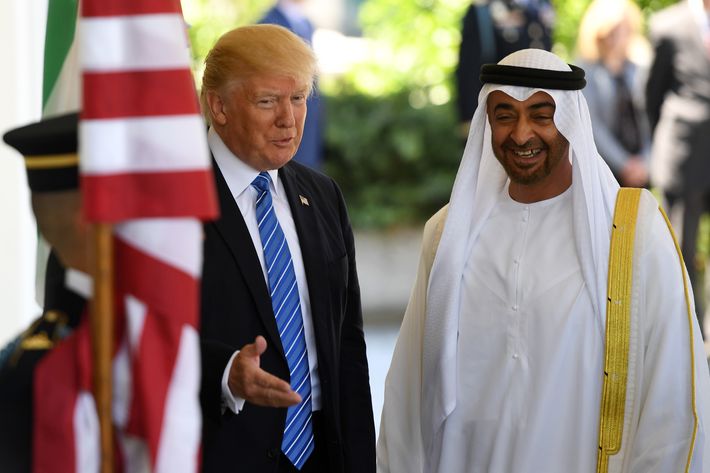 Collusion or Not, Saudi Arabia and the UAE Are Getting Everything They Want From Trump
The United Arab Emirates and Saudi Arabia are longtime U.S. allies, but neither was happy with the Obama administration's foreign policy. President Obama not only set up the landmark nuclear deal with Iran, their enemy, but supported the Arab Spring — a groundswell movement which targeted the region's dictatorships — and opted against intervening more forcefully in the Syrian civil war. During the first year plus of the Trump administration, however, the two countries have gotten virtually everything they wanted.
President Trump has closely aligned himself with both countries, making Saudi Arabia the bizarre first stop of his first foreign trip as president. Almost right after he left, the U.S. shockingly abandoned another key ally in the Gulf, Qatar, as Saudi Arabia and the UAE led an effort to isolate, punish, and contain the rival country, cutting off all economic and diplomatic ties, and even hacking into Qatari state media and planting fake news to spur the crisis. Trump supported the blockade, despite well-reasoned pushback from State Department and Defense Department officials, and despite the fact that Qatar is probably America's most important military ally in the Gulf, as the U.S. Central Command maintains its forward headquarters there. While officials scrambled to contain the damage, Trump nonchalantly tweeted that Qatar was funding terrorism, echoing the Saudi and Emirati line. Instead of bringing Qatar back into the fold and easing tensions, the blockade drove Qatar deeper into the open arms of Iran.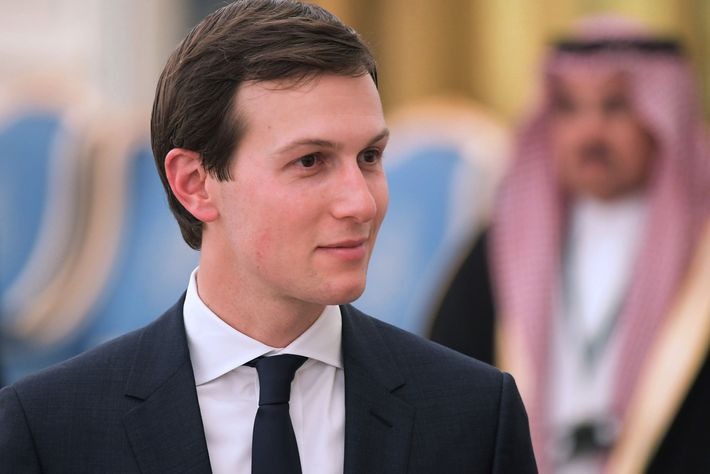 In March, we also learned that White House senior aide Jared Kushner had backed the blockade of Qatar just weeks after the country's minister of finance had refused to invest money in his family business' most important distressed real estate asset in Manhattan. Qatari officials even reportedly considered bringing evidence to the Mueller investigation that Kushner had worked with their Gulf neighbors to hurt their country, but ultimately decided against it.
(Last week, the investor who runs Qatar's sovereign wealth fund claimed that Trump's personal lawyer, Michael Cohen, had unsuccessfully tried to shake him him down for a million dollars after he reached out to Cohen to discuss how to spend an up to $50 billion Qatari infrastructure fund — surely because Michael Cohen is considered an expert on such matters.)
Also in March, MBS, the Saudi Crown Prince, allegedly bragged that he had Jared Kushner "in his pocket" — a plausible claim when you look at the year-long bromance between the Trump's son-in-law and the burgeoning authoritarian.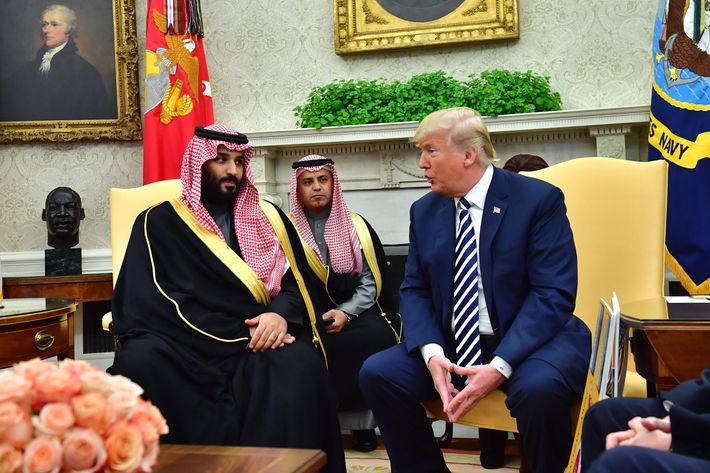 President Trump also gave MBZ and MBS their greatest wish when he recently announced that the U.S. was going to walk away from the landmark 2015 nuclear deal with Iran and reimpose sanctions on the regime, again against the advice of pretty much everyone who actually understood the situation. This was, of course, something Trump had long promised to do, but he was held back by cooler heads in his administration for more than a year. Iran is Saudi Arabia and the UAE's biggest regional rival, and they have been fighting a cold war which has only gotten hotter in recent years amid proxy fighting in Syria, Yemen, and Bahrain.
Indeed, the U.S. has also either looked the other way or provided assistance as the countries have conducted a brutal proxy war with Iran in the already devastated Yemen. And Trump expressed his support for MBS's unprecedented authoritarian power grab within the Saudi royal family in November.
Saudi Arabia and the UAE were also left off the president's so-called travel ban, which mostly targeted Muslim majority countries, yet didn't include the two nations where 17 of the 19 terrorists who conducted the 9/11 attacks were from.
Regardless of how they obtained it, the influence the Saudis and Emiratis have on Trump has been hard to miss.
Also, Erik Prince May Have Perjured Himself
Prince certainly seems to have his own unique version of what happened at the meeting in the Seychelles, testifying that it was not pre-planned, when all the other accounts indicate that it was. The question now is, does Nader or someone else have proof that it was planned, and that Prince was aware of, or a part of, that plan.
Also, Prince testified that he had no formal communications or contact with the Trump campaign, a claim the Times report contradicts.
And at Least Five Shady Foreign Firms are Now Linked to Trump
The three firms connected to Joel Zamel, Psy-Group, Wikistrat, and WhiteKnight, aren't the first shadowy foreign companies to get associated with Trump.
There is also Cambridge Analytica, the controversial data firm which was founded by Steve Bannon and Trump mega-donors Robert and Rebekah Mercer and then subsequently hired by the Trump campaign in 2016. The firm harvested and misused the personal data of tens of millions of U.S. Facebook users in an attempt to build psychographic profiles of voters in order to influence them, and a company whistleblower has accused the firm and its parent company, SCL, of far worse — including interference in foreign elections. SCL also reportedly did business in Russia.
And then there is Black Cube, another private Israeli intel agency (and Psy-Group rival) staffed by former Mossad agents which was reportedly hired to dig up dirt on former Obama administration officials in an effort to discredit the 2015 Iran nuclear deal. One report vaguely linked the May 2017 operation to people associated with President Trump, while other reports indicate it was for a private sector client looking to profit off of sanctions on Iran. Now that we have learned about George Nader's efforts to target Iran, and his and Erik Prince's pitch to deploy a $2 billion private army against Iran-backed forces in Yemen, the possible link between Black Cube's Iran deal op and someone in Trump's orbit seems a little more plausible.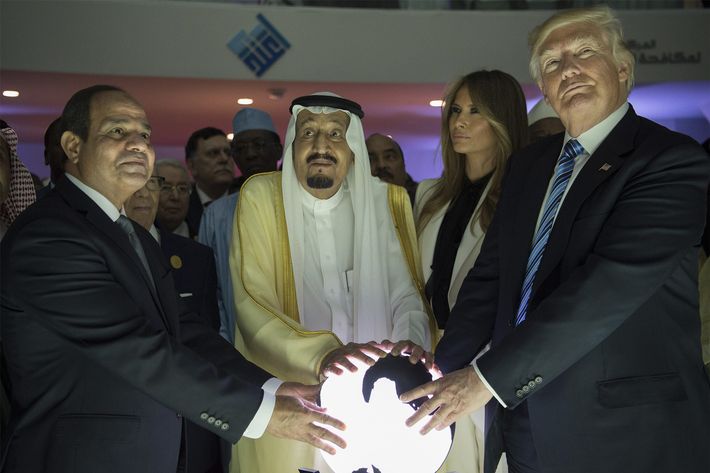 So Is This a Big Deal? Is There Some Concrete Evidence of Collusion?
Not in this new report. No evidence has been revealed showing that the Trump campaign directly worked with the UAE or Saudi Arabia. But the story nonetheless adds to the pile of very troubling questions about how Trump officials have conducted themselves over the past few years. It also underlines what is surely a widespread perception of the president in many parts of the world, which is that he is someone who is corrupt, or corruptible. The report suggests that multiple foreign governments not only saw an opportunity to interfere in the U.S. democracy in 2016, but that they figured there was a good chance Trump and the people who surrounded him would be receptive to their advances.
It's possible that Nader met with Trump Jr. as a representative of the crown princes and was making some kind of offer on their behalf, but it's also possible he was just name dropping in an effort to ingratiate himself with what was, by most accounts, as an easy to impress audience. Nader reportedly pulled out his phone and showed Trump Jr. pictures of him with the crown princes, insisting they were his friends. Nader clearly has longstanding links to MBZ, but his connection to MBS is not well established. Furthermore, perhaps the greatest accomplishment of the Trump campaign and administration has been its ability to attract bullshit artists, starting at the very top.
But whatever Nader said or offered, and however Trump's inner circle responded, the bottom line is that Nader was subsequently awarded with continued access to the highest reaches of the U.S. government for more than a year, and seems to have helped set up at least two secret meetings between Trump aides and foreign governments. Looking at U.S. foreign policy over that time, there were also several important victories for the governments he claimed to be representing at the meeting. Nader and his potential backers may not have ultimately paid anything, but the Trump Tower meeting clearly paid off.
This post has been updated to include a statement from Dmitry Rybolovlev's spokesman.